Here are nine freezer meals that don't require any cooking ahead of time.  That's right.  NO COOKING.  Simply combine the meats, vegetables, sauces and spices, and freeze!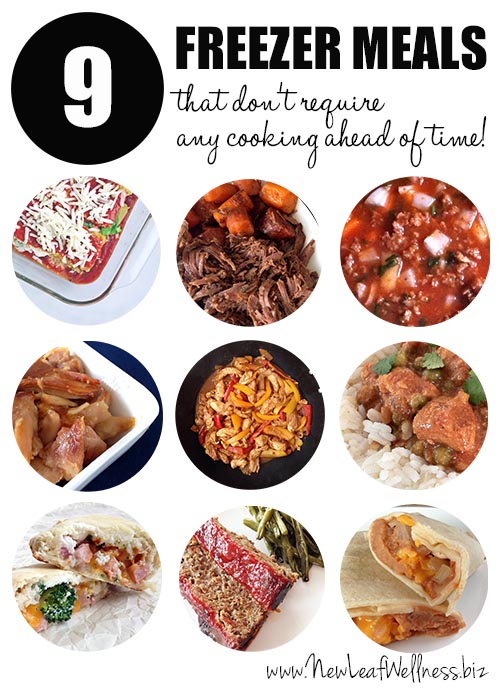 This blog post was inspired by one of my best friends, Heather.  We were at a "girls' night" last week and she mentioned that she loved my 15-Minute Freezer Recipes Cookbook from my cookbook bundle because it focused on 10 "no-cook" freezer meals and provided a grocery list.  She said that she spent two hours making almost all of them and it was so easy to stock her freezer.
That got me thinking about which "no-cook" freezer meals I would make if I had a couple of hours to myself.  (By "no-cook" freezer recipes, I mean recipes that don't require any cooking ahead of time – simply combine the ingredients and freeze.)
I settled on a list of nine recipes that freeze great.  I picked a mix of oven and slow cooker recipes with different flavors so we could even eat from the freezer every night if we want.  Here they are, in case you want to try them too…
Nine Freezer Meals that Don't Require Any Cooking Ahead of Time
Actually, the lasagna recipe makes two pans of lasagna, so I guess this is actually a list of TEN freezer meals.
If you want to go ahead and prep all of them at once, I made printer-friendly versions of the recipes and a complete grocery list:
CLICK HERE FOR THE FREE RECIPES AND GROCERY LIST

Thoughts or questions?  Please leave a comment below.  I'd love to hear from you.