*This post has been updated for 2021.
Are you looking for new recipes to try this month? I've got you covered. I came up with a list of 12 crockpot recipes that are super easy to throw together in the morning. If you're motivated, you can even prep and freeze all of them this weekend (free shopping list below!).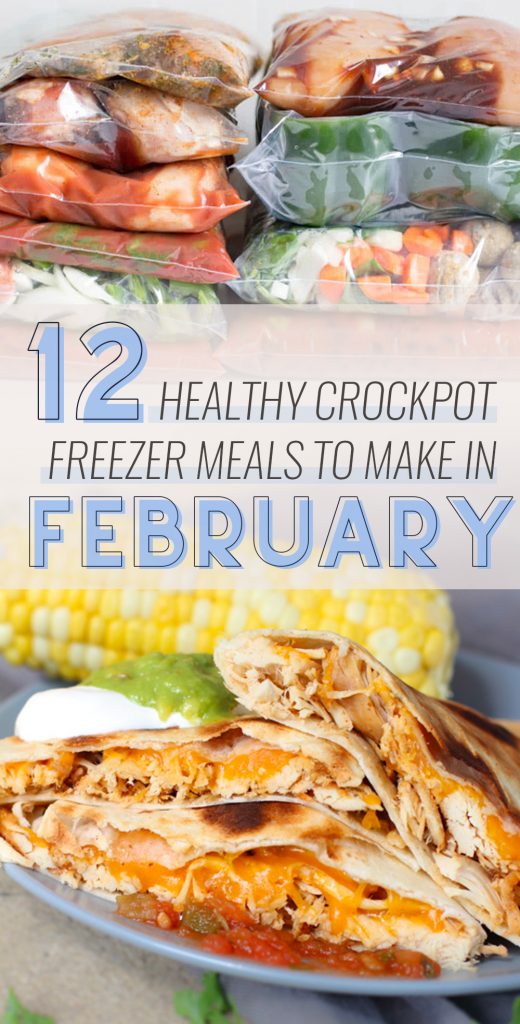 What's so great about these recipes?
They're healthy. (Most of them include seasonal veggies like 

cauliflower, citrus fruits, leafy greens, pears, or sweet potatoes

.)
They can be frozen without any cooking ahead of time. That means they're very quick and easy to prep and cook for the first time in the crockpot. (No "leftover" taste.)
They're delicious! (I tried all of them myself.)
Our life feels very full right now and dinner is the last thing on my mind. I'm juggling five kids (including a newborn), school, work, Tae Kwon Do classes (for my eight year old), and trying to stay sane.  Waiting until 5pm to make dinner is stressful and I hate last-minute trips to the grocery store.
It took some planning ahead of time, but I came up with 12 different crockpot recipes that we could eat this month. These are all recipes that we've made before, so I know that they're healthy and delicious.

12 Healthy Crockpot Freezer Meals to Make in February
Bonus Recipe: Easy Stovetop Gnocchi and Swiss Chard (one of my favorite stovetop recipes that can be frozen without any cooking ahead of time)
If you're motivated to prep and freeze all of the meals at once, here is how I assemble and cook each one (including a full shopping list and meal planning calendar!):
CLICK HERE FOR THE FREE PRINTABLE RECIPES, SHOPPING LIST, AND MEAL PLANNING CALENDAR. NO STRINGS ATTACHED.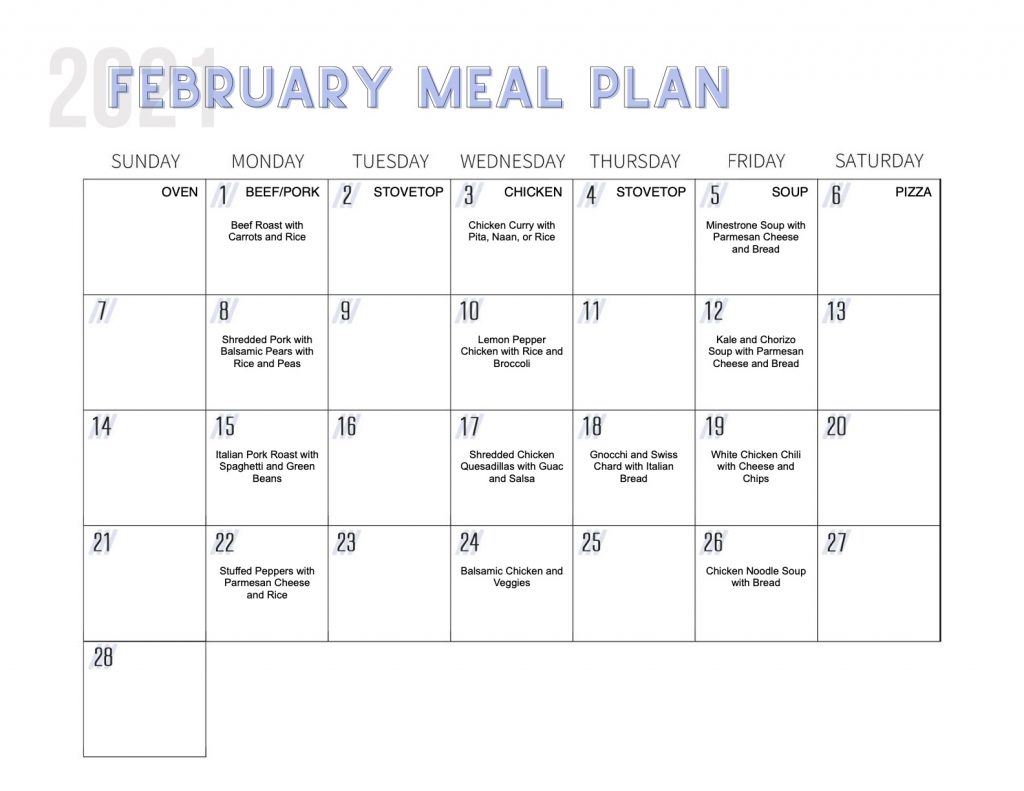 If you look at the calendar above, you'll see that I picked a "theme" for each day of the week and then found seasonal crockpot recipes that would match that theme.  (For example, Beef Roast with Carrots and Rice on a BEEF/PORK-themed Monday.) I also included a variety of tastes and textures so we wouldn't feel like we were eating the same thing everyday.
My husband, Andy, added text boxes to the calendar, so you can swap the meals to fit your schedule, delete the meals you don't want to make, etc. I hope you have a wonderful February, Friends.
Thoughts or questions?  Please leave a comment below.  I'd love to hear from you. XO, Kelly
---
PS. If you want to go ahead and download the entire year's worth of  meal plans, shopping lists, and calendars click the link below. 
CLICK HERE TO DOWNLOAD ALL OF 2018'S CROCKPOT FREEZER MEAL PLANS FOR FREE.