If you love shopping at Costco as much as I do then this post is for you! I made 10 delicious freezer meals using simple ingredients from Costco, including both crockpot and skillet meals to add variety to our menu planning this month. If you would like to make these too, I am sharing my recipes and shopping list below.
Here's what I made:
Crockpot Salsa Chicken from Twin Dragonfly Designs
Orange Ginger Turkey Meatballs from Meal Plan Addict
Crockpot Pesto Pasta Sauce from Twin Dragonfly Designs
Skillet Creamy Parmesan Penne (I added chicken and omitted the pasta)
I made some simple substitutions based on what my family likes and what would be the best use of Costco's bulk meat and produce. Check out my notes on the free printable recipes for more info.
What's so awesome about these freezer meals made with ingredients from Costco?
I bought the ingredients in bulk and saved money. Often when shopping at Costco I purchase meat and vegetables in large quantities. Creating freezer meals with these ingredients ensures that nothing goes to waste. I used spices that I already had in my pantry but Costco carries a wide variety of bulk spices that you can purchase to add to your recipes. The total bill was $150 USD or $15/freezer meal with 4-6 servings in each recipe.
I was able to create 10 meals in 2 hours. They are easy to put together ahead of time. None of these meals require cooking in advance. I was able to prepare the meat, vegetables and create all of my freezer meals in under 2 hours.
They're healthy and delicious! I have already put these meals into my monthly meal planning rotation and I have to tell you, they have been a hit! My kids have particularly raved about the Korean Beef that I cooked up in the skillet like a stir-fry last week.

Tips for creating freezer meals with ingredients from Costco:
Chose recipes with similar ingredients. When you buy ingredients in bulk, it helps to have several recipes that call for the same ingredient. For example, I made recipes with sirloin beef tip, ground turkey, and chicken. Not only did this help me save money and make sure nothing went to waste, but making multiple recipes with the same protein allowed me to use my time wisely and batch out these recipes faster than if I had used a different protein for all ten.
Focus on recipes with SIMPLE ingredients. Costco can sometimes be a tricky place to shop because a product that was in store last month may not be there the next, so be sure to pick recipes with simple ingredients that you know Costco has all the time. I chose recipes with onion, bell peppers, and heavy cream knowing that these are ingredients that can be commonly found at Costco.
Don't be afraid of substitutions. Making simple substitutions is an easy way to take advantage of Costco's bulk foods. For example, some of the recipes that I used called for red wine vinegar or rice vinegar, both of which I could not find at Costco during my shopping trip. I simply substituted these with apple cider vinegar; I could have used balsamic vinegar as well. I also substituted sirloin tip roast for beef chuck shoulder roast in a recipe.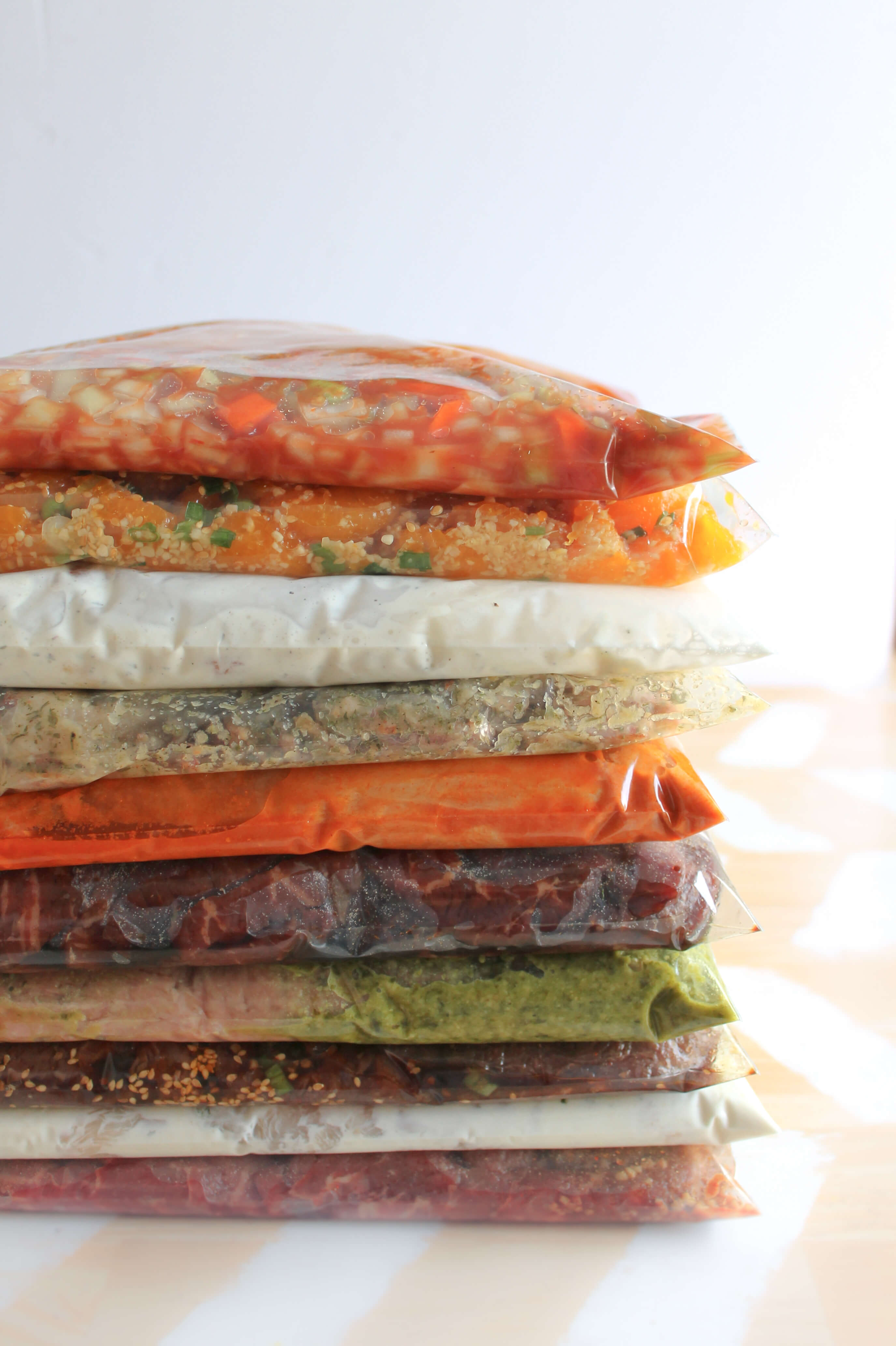 Thoughts or questions? Please leave a comment below. I'd love to hear from you.