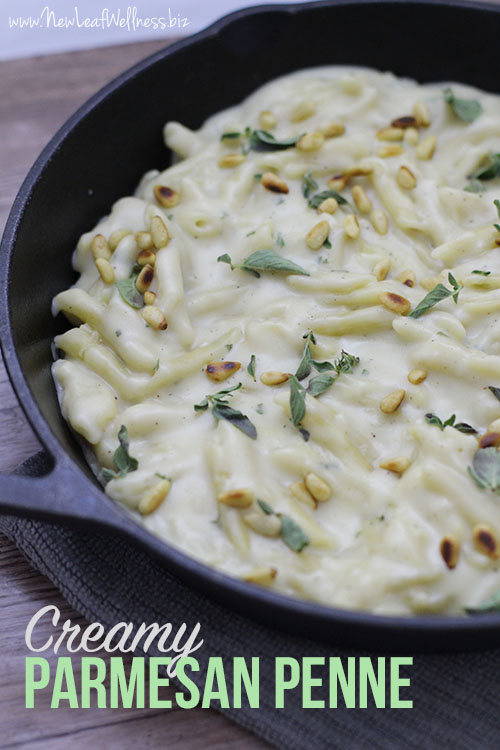 I'm not a vegetarian, but I've made a lot of delicious vegetarian recipes lately. The crockpot curried lentils were so good that I'm kicking myself for not saving the recipe for a future eCookbook, and the veggie lo mein recipe is my kids' new favorite.
This skillet creamy parmesan penne recipe was part of a recent freezer meal prep session that I did for one of my good friends who is pregnant.  She's a vegetarian and I wanted to make a mix of meals that could be cooked on the stovetop, crockpot, and oven.
Just like all of my freezer recipes, this one doesn't require any cooking ahead of time. Simply combine the ingredients in a baggie and freeze! (YES, EVEN THE NOODLES.)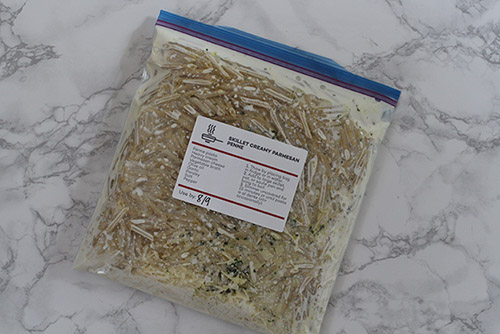 If you want to skip the freezing step and make everything fresh in the skillet instead, that's perfectly fine. I like to make freezer meals for busy weeknights, but this would be easy to make fresh and you'll enjoy the same creamy cheesy-ness either way.  It's like a grown-up version of mac 'n cheese, folks!
Skillet Creamy Parmesan Penne Recipe (Freezer-Friendly)
Yields: 6 servings
Ingredients
16oz heavy cream (2 cups or 1 pint)
4 cloves of garlic, minced
1 cup fresh parmesan cheese, shredded
1 teaspoon parsley
1/2 teaspoon salt
1/2 teaspoon pepper
1-pound box uncooked penne pasta (about 5 cups)
2 tablespoons olive oil
32oz low sodium vegetable broth (not needed until day of cooking)
To Freeze and Cook Later
Label a gallon-sized plastic freezer bag with the name of the recipe, cooking instructions, and use-by date (3 months from the prep date).
Add all ingredients to freezer bag (except broth), seal, and freeze up to three months.
To Cook
Thaw overnight in fridge or before cooking in water.
Pour ingredients into a large non-stick pot, sauté pan, or skillet. Add vegetable broth.
Bring to boil. Reduce heat and simmer for 10 minutes or until pasta is cooked, stirring occasionally.
Top with toasted pinenuts and serve with a salad.