I'm so excited to share these holiday crockpot recipes with you.  They're healthy, delicious, and so easy to make!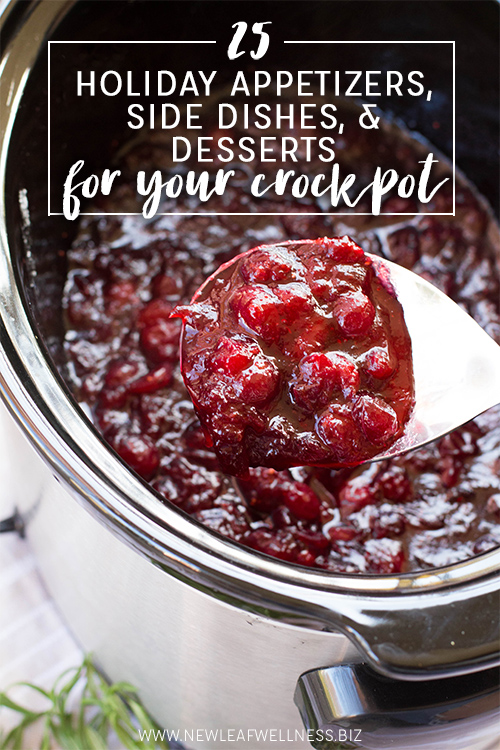 I love my crockpot and use it all the time during the week. I'm willing to spend a little more time making special holiday dishes, but I always make a crockpot recipe or two when we're going to someone else's house. They're easy to make and transport. (My favorite crockpot has a locking lid, but you can use two pieces of packing tape to secure the lid in a pinch.) Plus, they don't take up space in the oven.
My parents are hosting Thanksgiving this year so I promised to bring mac 'n cheese and spiced butternut squash soup in my crockpots (recipes #8 and #25 below).  I thought you might like to use your crockpot too, so I put together a list of my favorite crockpot recipes that are perfect for the holidays.
What's so great about these holiday crockpot recipes?
They don't take up space in the oven.
They're mostly healthy.
They're delicious! (I tried most of them myself.)
25 Holiday Appetizers, Side Dishes, and Desserts You Can Make in a Crockpot
Click the links above for detailed cooking instructions, but I think most recipes will cook perfectly in 4-6 hours on low.
Thoughts or questions?  Leave a comment below and I'll respond as soon as I can.  I hope you have a wonderful holiday season.  xoxo, Kelly