My brother was in town over the weekend, so we loaded up our four kids and went to a farm fall festival with him and my parents.  We had so much fun eating, picking pumpkins, and watching the kids play games.  Then, I brought home a huge bin of apples and got to work.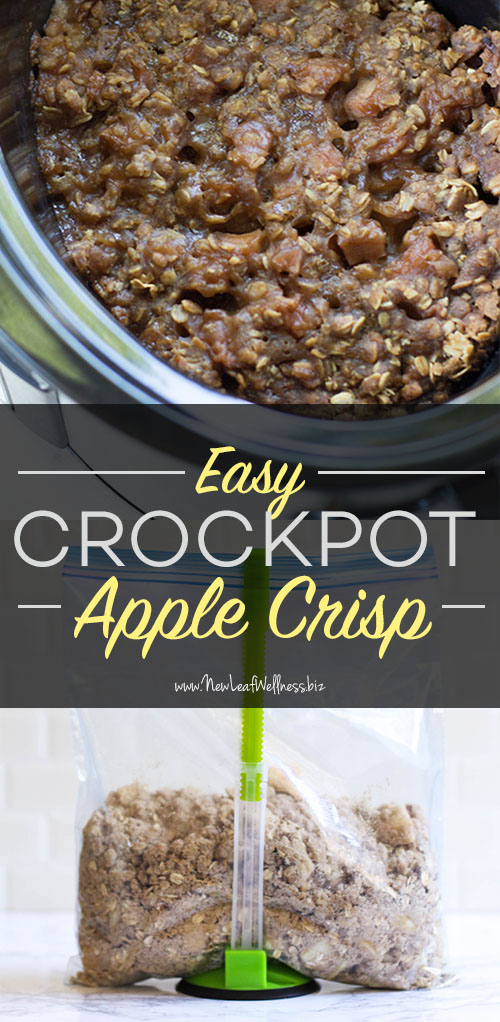 We all love apples, so we'll probably eat most of them raw, but I love cooking with them too.  This crockpot applesauce is my favorite and I'm planing to make a maple pork roast with apples and onions later this week.  I also frozen two bags of this easy crockpot apple crisp.
Why make this apple crisp recipe?
It's super easy.
It's DELICIOUS.
It can be assembled ahead of time and then frozen and cooked later (instructions below).  That means you can make a couple of batches when apples are in season and save for later.  Yay!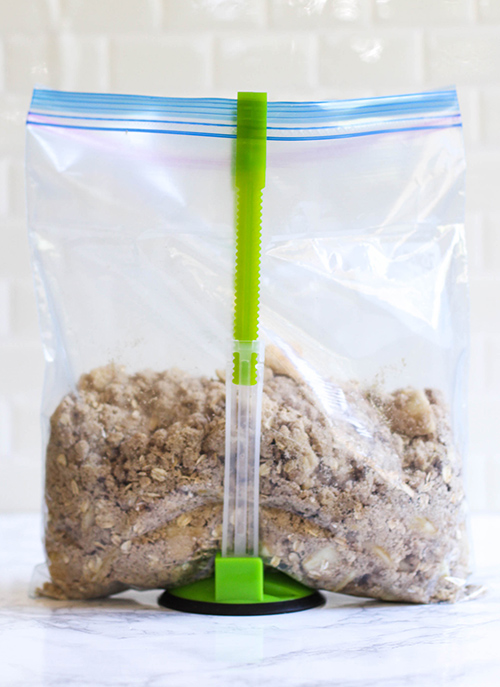 Did I mention that it smells amazing?!
This recipe is different than typical crisp recipes because everything is mixed together instead of cooking the apples on the bottom and the crispy oats on the top.  The final texture reminds me of a cross between a crisp and a muffin, and I wouldn't change a thing about it.
You can probably use any kind of apple to make this recipe, but typically the best apples for baking are tart ones, like McIntosh, Granny Smith, or Empire, so I prefer those.  Feel free to mix a couple of different types together if you want.  Enjoy!

Easy Crockpot Apple Crisp Recipe
Yields: 10 servings
Ingredients
1 pound tart apples (about 4 medium-sized apple or 3 and 1/2 cups), peeled, cored, and chopped (I used McIntosh)
1 tablespoon lemon juice (If you buy a fresh lemon, use the leftover juice and peel to make these awesome garbage disposal cleaning cubes)
1 and 1/2 cups old fashioned oats
1 and 1/2 cups all-purpose flour
1 and 1/2 cups light brown sugar
1/2 cup unsalted butter (8 tablespoons or 1 stick), melted
1 teaspoon cinnamon
To Cook
In a large bowl, combine all ingredients.
Spoon into crockpot and cook on "low" setting for 4 hours in a 6-quart crockpot or 8 hours in a 4-quart crockpot.
Scoop into bowls and serve warm.
To Freeze and Cook Later
Label a gallon-sized plastic freezer bag with the name of the recipe, cooking instructions, and use-by date (three months from when you prepped the meal).
In a large bowl, mix apples and lemon juice (this will keep the apples from browning).
Add oats, flour, brown sugar, melted butter, and cinnamon and stir to combine.
Spoon into freezer bag, remove as much air as possible, and freeze for up to three months.
When ready to cook, dump into crockpot (no need to thaw since it won't freeze solid) and cook on "low" setting for 4 hours in a 6-quart crockpot or 8 hours in a 4-quart crockpot.
Scoop into bowls and serve warm.
Here's the nutritional info for one serving of apple crisp.  If you add a big scoop of vanilla ice cream to the top I won't tell.

Thoughts or questions?  Leave a comment below and I'll respond as soon as I can.  XO, Kelly