All-natural chicken breasts were buy one, get one free at the grocery store last weekend, so I bought 10 packages and turned it into crockpot freezer meals!  It only took me an hour to make the meals and they're healthy and delicious. (We tried all of the recipes before.)  If you want to do the same, I'm sharing my recipes and shopping list for free below.  Enjoy, Friends!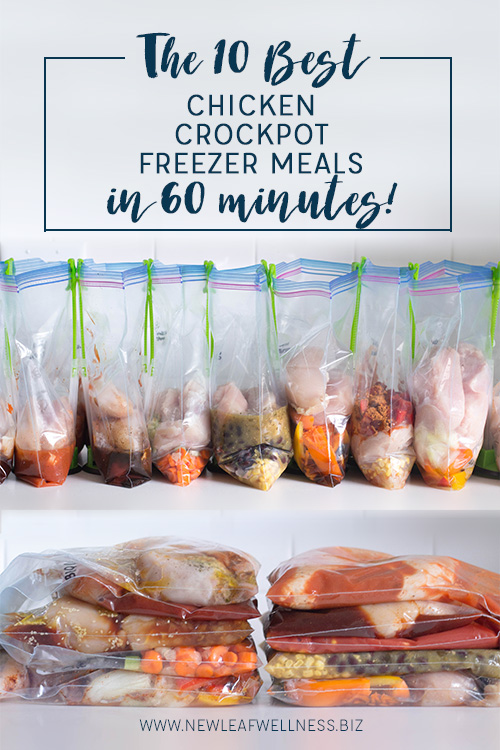 Last time chicken was on sale, I decided to marinate and freeze 10 packs for the grill, so this time I decided to stock up for my crockpot.  I decided to pick our all-time favorite chicken crockpot recipes that we make over and over again.
Here's what I made:
CLICK HERE TO VIEW AND SAVE THE RECIPES & SHOPPING LIST. NO STRINGS ATTACHED.
What's so great about these meals?
They're all made with chicken breasts, so I prepped them when all-natural chicken breasts were buy one, get one free at the grocery store and saved $54!!  (The recipes were pretty simple, and I had a lot of the ingredients on-hand, so I only spent $88 total or $8.80 per meal.)
None of the recipes require any cooking ahead of time, so I was able to make all 10 meals in an hour (6 minutes/meal).
They're healthy and delicious!

How did I make them in an hour?
My time was super limited this week, so I needed to make these meals as quickly as possible.  I put my one year old down for a nap and bribed my "older" kids (ages 7, 6, and 3).  I've made hundreds or thousands of freezer meals in the past so I know exactly what takes the most time during a prep session.  To save time with this set of recipes, I substituted frozen diced onions for fresh ones, garlic powder for fresh cloves, and added the chicken breasts to the bags whole (we'll shred after cooking).  I changed all of the recipes in the printable pdf above to reflect how I made them.
Thoughts or questions?  Leave a comment below and I'll respond as soon as I can.  I'd love to hear from you.  XO, Kelly