After prepping 10 healthy crockpot freezer meals, I decided to freeze some meals for the grill too.  Organic chicken breasts were on sale at the grocery store, so I bought 10 packages, marinated it, and froze it for the grill.  Now we're stocked for summer!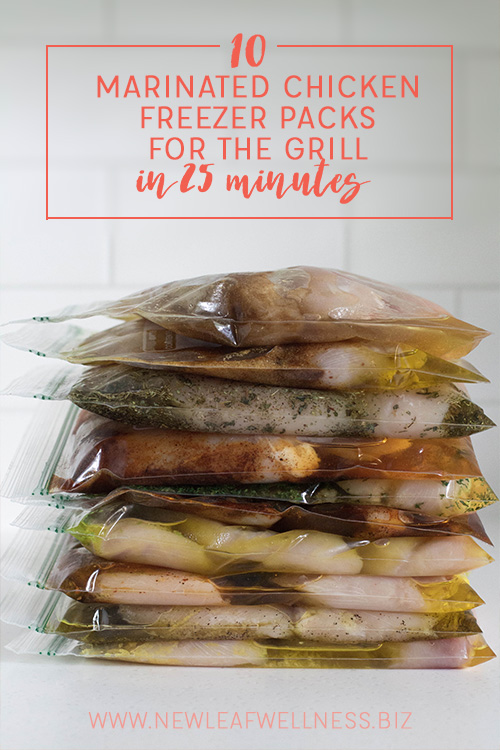 To each freezer bag, I added:
1 package boneless, skinless chicken breasts (1-2 pounds)
1/4 cup olive oil
1 pinch salt
And 3 teaspoons seasoning (1 teaspoon of each):
Lemon Garlic – lemon zest, rosemary, garlic powder
Lemon Pepper – lemon zest, pepper, onion powder
Chili Lime – lime zest, chili powder, red pepper flakes
Spicy Garlic Lime – lime zest, garlic powder, pepper
Basic BBQ – chili powder, paprika, cinnamon
Mild Cajun – paprika, garlic powder, onion powder
Southwestern – chili powder, paprika, and cumin
Mediterranean – onion powder, garlic powder, parsley flakes
Ginger Garlic – garlic powder, onion powder, ginger
Italian – basil, oregano, thyme
Easy, right?!?

Click here to view a free printable version and shopping list:
CLICK HERE FOR THE PDF. NO STRINGS ATTACHED.
What's so great about these marinated chicken freezer packs?
I made all 10 of them in 25 minutes (only 2.5 minutes per pack!).
I already had the bags and seasonings on-hand, and I bought the chicken, olive oil, and lemons/limes on sale for $49 ($4.90 per pack).
They're healthy and delicious!
To Freeze and Cook:
Stack in the freezer for up to three months.
When ready to cook, thaw in the refrigerator overnight or in a pan of water.  Grill for 6-8 minutes or until chicken is cooked through.
Serve with a big salad and rice and dinner is done.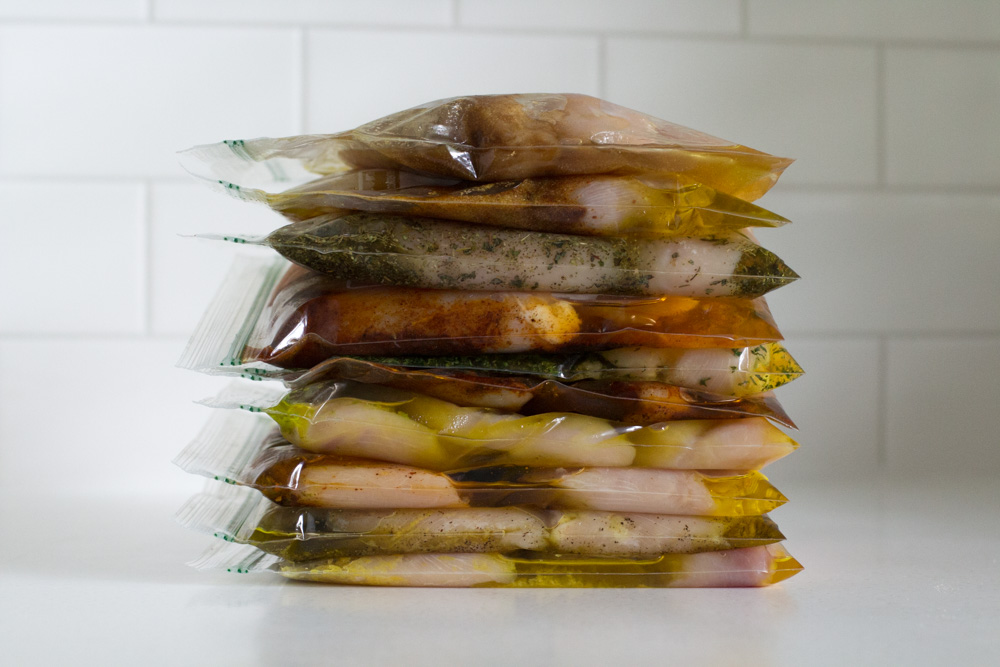 Thoughts or questions?  Please leave a comment below.  I'd love to hear from you. XO, Kelly