Two of my most popular blog posts are 1) a list of gluten-free crockpot freezer meals and 2) a free grocery list for six freezer meals from ALDI. So, I decided to combine those two things and make a bunch of gluten-free freezer meals from ALDI. Genius, right?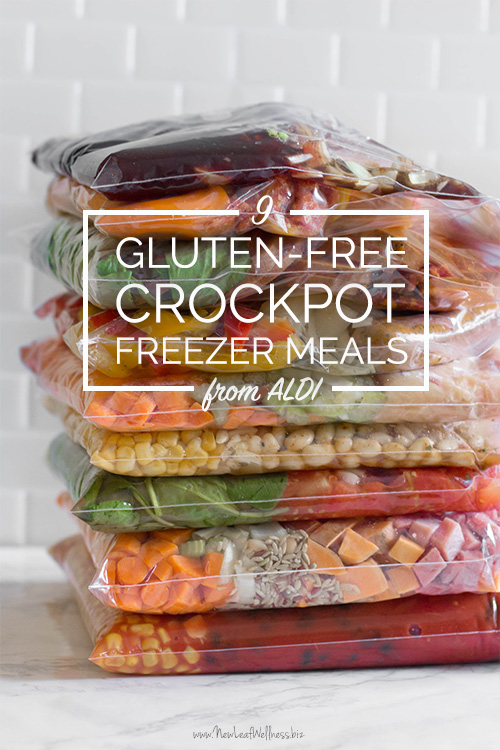 Since I have a lot of great crockpot freezer recipes, I didn't plan out what I was going to make ahead of time.  I drove to ALDI and got inspired by what was available in store.  I started by picking the very best meat (for example, all-natural chicken breasts and organic grass-fed ground beef) and then looked at the fresh produce to decide which recipes to make.
Here's what I made:
White Chicken Chili
Strawberry Balsamic Chicken
Zuppa Toscana with Sweet Potatoes adapted from this recipe
Chicken Sausage and Peppers (inspired by one of the meals I made from Walmart)
Ham and Sweet Potato Soup
Italian Chicken with Baby Spinach
Beef and Black Bean Chili adapted from this recipe
Sausage-Stuffed Mini Peppers (cook in the crockpot or oven)
Chicken and Rice Soup from my freezer cooking eCookbooks and shared for free below
CLICK HERE for my free grocery list and recipes. (No strings attached.)

What so great about these crockpot freezer meals?
They didn't require any cooking before freezing, so I was able to make all of them and clean up my kitchen in 90 minutes. (That works out to only 10 minutes per meal!)
I only spent $85 on groceries ($9.44 per meal).
All of the recipes were healthy and delicious!
My husband took our four kids out of the house, so I actually enjoyed making these meals. I listened to music on Pandora, and drank sparkling water, and thought about how productive I was being. Then everyone came home and I went back to crazy-mom-mode, but those 90 minutes were bliss.

Here's how I structured my time:
I did all of my grocery shopping ahead of time and printed the recipes.
I labeled my freezer bags with a Sharpie marker.
I got out all of the ingredients and organized them like this: produce with a cutting board next to the sink/garbage disposal, canned goods and spices next to that, and meat in the fridge.
Then, I filled the bags in an assembly line in that order.  It took awhile to get through the produce, but then it was smooth sailing.
I sealed all of the bags and stacked them in my freezer.  (Most crockpot freezer meals are good for at least 3 months.  Woot!)
I used these baggy racks to hold my freezer bags upright (super helpful) and chopped everything with my all-time favorite chef's knife (it's actually the only knife that I bought since our wedding, but it's amazing).  I chopped all the onions by hand, but about half-way through I was wishing I used my chop wizard, so if you have one, I recommend using it.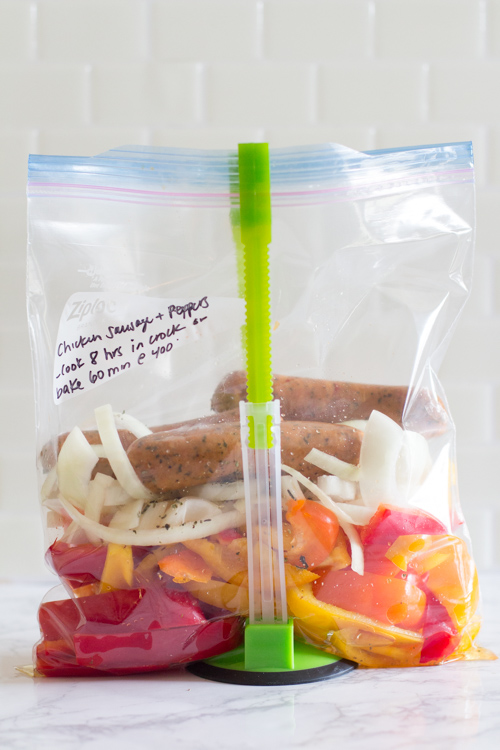 I added as many tips as I could to the printable recipes above.  We already ate three of the meals and loved them, so I know you're going to love them too. Yum!
Thoughts or questions? Please leave a comment below. I'd love to hear from you. X+O, Kelly