Are you hosting a big Christmas dinner this year?  Here are 12 delicious recipes that you can make ahead of time and freeze. Free grocery list below!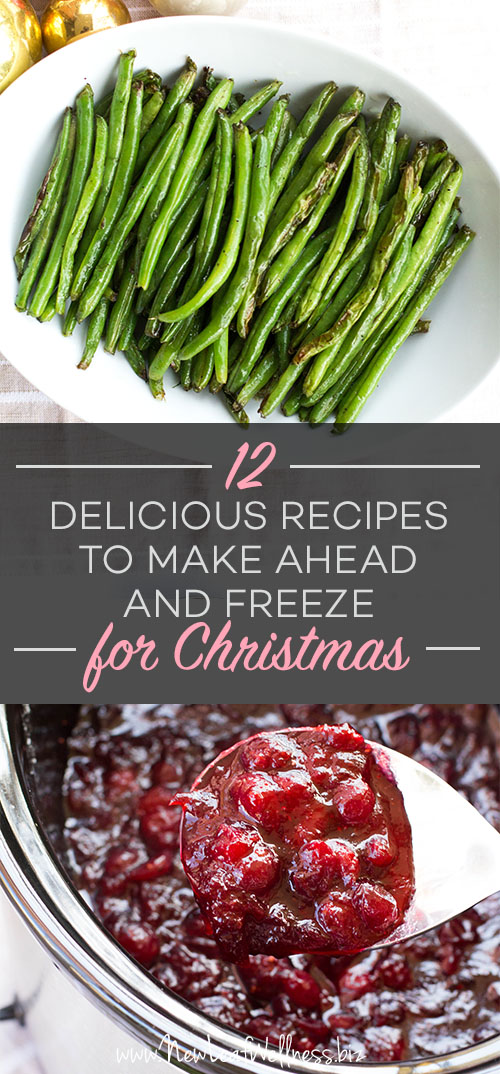 Why make-ahead and freeze?
You can take care of the food now and cross it off your "to-do" list.
You can save time and money by planning ahead.
You'll be able to enjoy the holidays stress-free.  Yay!
I've been thinking about how to simplify the busy holiday season and I think planning ahead is key.  Below, you'll find 12 of my favorite holiday recipes that can be frozen without any cooking ahead of time.  All of them cook for the first time out of the freezer and don't taste like leftovers at all.  Double yay!

12 Delicious Recipes to Make Ahead and Freeze for Christmas
Ham and Veggie Strata (perfect breakfast recipe)
Bacon-Wrapped Dates with Goat Cheese from Pinch of Yum
Crockpot Spinach Artichoke Dip from Damn Delicious
No-Bake Lasagna with Baby Spinach (save for the day-after Christmas)
Cheesy Corn Casserole from Thirty Handmade Days
Cheesy Veggie Casserole with Cracker Topping (recipe in free printable below)
Frozen Peppermint Pie from Thirty Handmade Days
Oreo Triple Layer Pie from Allrecipes
Simple, right?  Add a bag of rolls and dinner is done.  You can even use disposable pans for easy clean-up.
Here are the step-by-step directions for freezing and cooking each dish as well as a full grocery list: 
CLICK HERE FOR THE FREE PRINTABLE RECIPES AND GROCERY LIST. NO STRINGS ATTACHED.
Here's how to time your day to make it run seamlessly:
Day before Christmas – Move all dishes to refrigerator to thaw (except pies). Make crockpot cranberry sauce and store in fridge.
Christmas morning – Bake breakfast strata and honey glazed ham.
Three hours before guests arrive – Add cocktail meatballs and spinach artichoke dip to crockpots.
Thirty minutes before guests arrive – Bake bacon-wrapped dates and put out all appetizers.
An hour before dinner – Bake cheesy corn casserole, cheesy vegetable casserole, green beans, and lasagna (if serving with dinner).
Dinner time – Remove pies from freezer to thaw slightly and serve main dishes and sides.
I hope these ideas help you enjoy the holidays, Friends!
Thoughts or questions?  Please leave a comment below and I'll respond as soon as I can.  I'd love to hear from you. 
---
P.S. I shared these ideas on Thirty Handmade Days last year.