If you've never cooked a ham before, no problem.  Let me walk you through the process of making my family's favorite honey glazed ham recipe.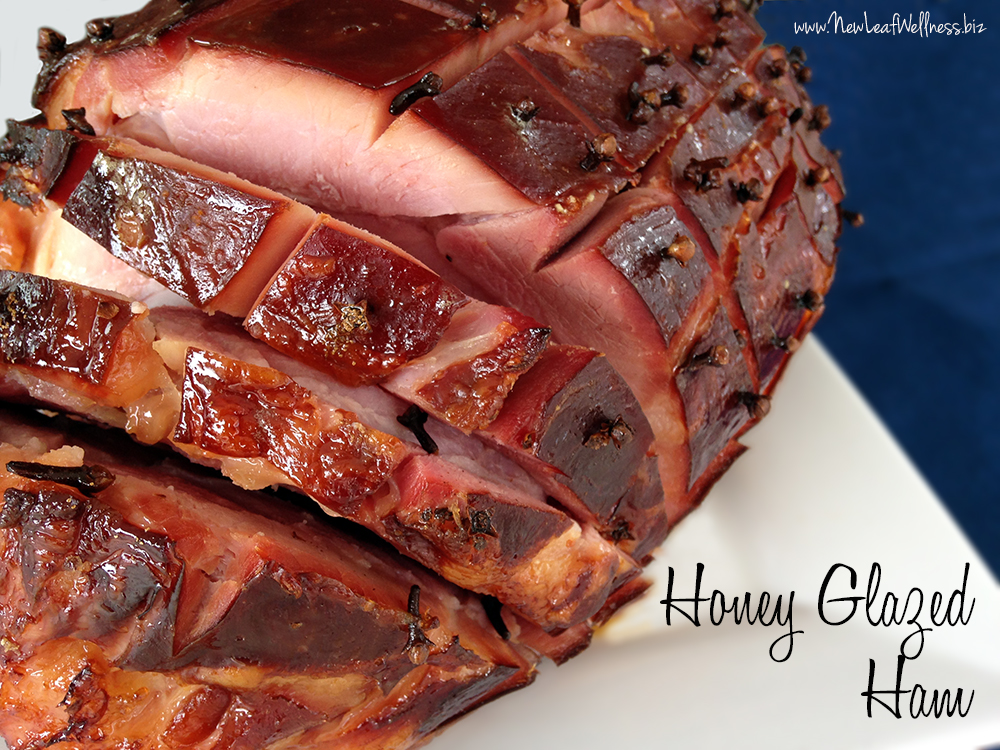 This is a traditional honey glazed ham recipe that's absolutely delicious.  It's my go-to recipe when I'm cooking ham for Easter and my whole family loves it.
Most hams are sold fully-cooked at the grocery store and only need to be heated in the oven to serve for dinner.  Adding my homemade honey glaze will make your ham extra special and win over even the pickiest eaters.
Baking a honey glazed ham is a little more involved than my typical chicken crockpot recipes, but I'm including lots of details in the directions below so your ham will turn out perfect the very first time you make it.
If you have any leftovers, I highly recommend making the ham and veggie breakfast strata and ham and broccoli calzones in my 15-Minute Freezer Recipes cookbook. So yummy!
Honey Glazed Ham Recipe
Ingredients
12-15lb bone-in ready to eat ham
2 tablespoons whole cloves
1/2 cup unsalted butter (one stick)
2 cups honey (24oz)
1/4 cup light brown sugar
Directions
Move oven rack to the bottom of the oven and preheat to 325 degrees F.
Line a large pan or casserole dish with foil and place ham inside.
Score ham by cutting top in a diamond pattern with shallow slices about 1″ apart and 1/4 inch deep.
Stud top of ham with cloves in the center and points of each diamond (and anywhere else you want to use up remaining cloves).
Create honey glaze in a small pan on your stovetop: Add butter, honey, and light brown sugar and stir until melted and combined.
Pour about 1/4 of the glaze over the top of the ham.  Place the remaining glaze back on your stovetop over low heat.
Create a foil "tent" over the top of the ham so it doesn't burn and place it in the oven.
Bake 10 minutes per pound of ham, basting with honey glaze every 20-30 minutes. (A 12-pound ham will take 2 hours to cook.  A 15-pound ham will take 2.5 hours to cook.)
Remove ham from oven and let sit a few minutes before slicing and serving. (Here's a helpful YouTube video about how to slice.)
This honey glazed ham tastes great served with mashed potatoes and roasted carrots or green beans.
Enjoy!