Sick of eating steamed, canned, and frozen vegetables?  Check out this amazing recipe for roasted green beans.  I absolutely love this simple, roasted green been recipe, and my family does too.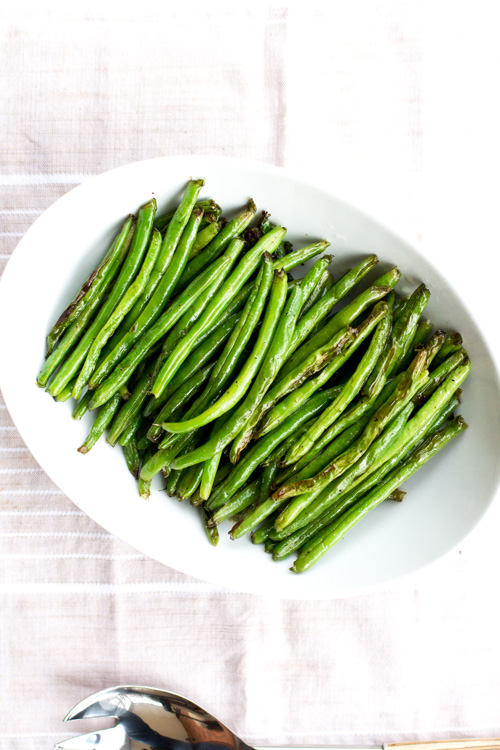 All you need to do is combine fresh green beans with a little bit of oil, salt, and pepper and let your oven take over.  Easy-peasy.
If you've never roasted a vegetable before, you need to add it to your side-dish-cooking-repertoire.  Roasting vegetables just makes them so much sweeter than steaming does.  I swear my husband and daughters will eat so many more vegetables roasted than they will raw or steamed.
While this recipe is for roasted green beans, you can sub any veggie that you like.  We also love roasted carrots, broccoli, potatoes, sweet potatoes, brussel sprouts, asparagus, and beets.  (If the vegetable is particularly hard, just lengthen the cooking time until it's nice and soft.)
Feel free to get creative and whip up a big roasted vegetable medley, too.  For holiday dinner parties, you can even roast a big batch ahead of time and reheat in the microwave or oven the day-of.
Recipe for Roasted Green Beans
Ingredients
1 pound fresh green beans, washed and ends cut off
2 tablespoons of canola oil
Salt and pepper, to taste
Directions
Preheat oven to 400 degrees F.
Toss green beans with oil, salt, and pepper.
Bake 40-60 minutes, until green beans start to soften and brown on each side. (Stir every 15-20 minutes.)
Remove from oven and serve.
ENJOY.
These roasted green beans taste great served with my:
Tell me: Have you ever roasted anything before?  What's your favorite way to cook vegetables?