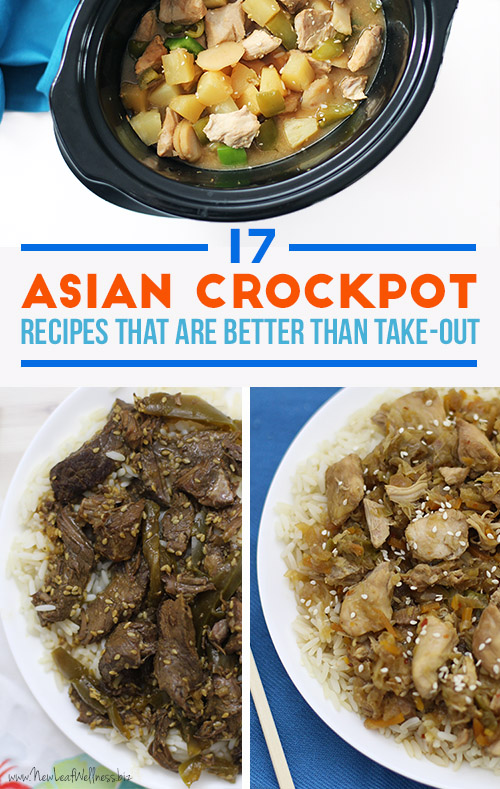 Do you only use your crockpot to make pot roast?  If so, you're missing out.  I use my crockpot to make overnight oats, sweet potatoes, and banana bread.  (Not all at the same time, of course.)
Some of the most popular recipes on my site are Asian crockpot meals and I think it's because readers like making creative dishes in their crockpots.  Plus the crockpot makes Asian recipes less intimidating to the average American home cook.
Since I'm in the midst of writing a mini eCookbook full of Asian crockpot freezer recipes I decided to put together a list of some of my favorites that are available online.  Enjoy!

17 Asian Crockpot Recipes That Are Better Than Take-Out
I love crockpot recipes because all you have to do is combine the ingredients in your crockpot and turn it on.  You can also add all of the ingredients raw to a baggy and freeze for up to three months.  (Yes, it's safe to freeze raw meat and veggies in the same bag.)  That way you can dump a pre-assembled bag into your crockpot instead of ordering take-out.
If you're new to crockpot freezer meals, I wrote up exactly how I would prep and freeze each meal in this printable pdf:
CLICK HERE FOR ALL OF THE FREE PRINTABLE RECIPES AND A FULL GROCERY LIST
Thoughts or questions?  Leave a comment below and I'll respond as soon as I can.  I'd love to hear from you.