Are you looking for healthy freezer meals to make while pregnant? This is the gold mine!  After having five babies myself I decided to put together a list of my favorite healthy freezer meals for new moms – plus the free printable recipes and shopping list! The best part is that all of these meals can be prepped in under two hours for less than $150!!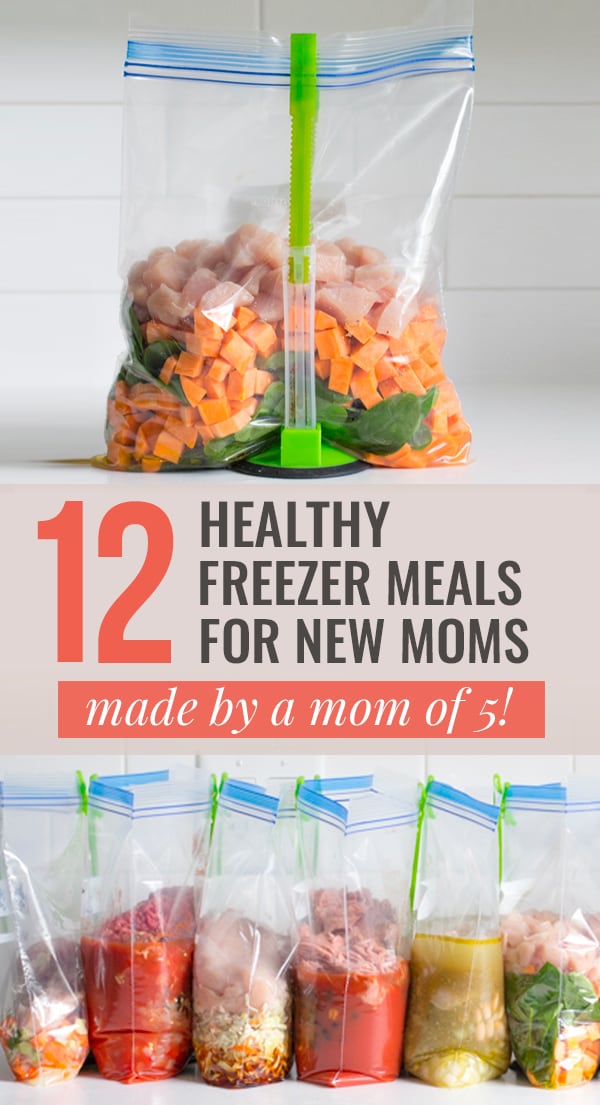 CLICK HERE FOR THE FREE PRINTABLE RECIPES AND SHOPPING LIST. NO STRINGS ATTACHED.
Let me back up and explain: One of ladies at my gym is pregnant with her first baby and, when she found out I had five little kids and a freezer cooking blog, she asked me about the best freezer meals for new moms.
When I was pregnant the first time back in 2009, I didn't even know this type of freezer meals existed…and even if I knew they existed, I wouldn't have thought to make them when pregnant because I had no idea what was coming. I was scared and excited about giving birth and couldn't think beyond that.
So what happened? I basically gave birth, fell head over heels in love with my daughter, and then spent two weeks laying on the couch because everything hurt. I can't remember what I ate, but it was probably too much pizza and sandwiches..which didn't help my body feel any better.
You can bet that I stocked my freezer when I was pregnant with babies 2-5. When I was pregnant with my fourth baby I was a total over-achiever and even made 40 freezer meals before he was born! (Here's a link to the blog post that I wrote about making 40 freezer meals while pregnant with my son.) It was so nice to not have to worry about dinner while recovering and bonding with my new little loves. 
So what are the best healthy freezer meals to make while pregnant?
Now that I've had five kids myself, here are my favorite freezer meals for new moms:
Turkey and Black Bean Chili (crockpot)
Chicken Noodle Soup (crockpot)

Korean BBQ Chicken (crockpot)

Stuffed Pepper Soup (crockpot)

Tuscan Steak and Green Peppers (crockpot)

White Chicken Chili (crockpot)

Chicken and Sweet Potato Hash (stovetop)

Japanese Beef Teriyaki (stovetop)

Chicken Fajitas (stovetop)

Turkey Burger Macaroni (stovetop)

Zucchini "Lasagna" (oven)

Sausage Stuffed Mini Peppers (oven)
CLICK HERE FOR ALL OF THE FREE PRINTABLE RECIPES AND A FULL SHOPPING LIST. NO STRINGS ATTACHED.
Bonus! If you're a member of our freezer meal community, Freezer Meal Pro, I added all of these recipes to a list here so you can delete the ones that you don't want to make and auto-generate a new shopping list like magic!
What makes these freezer meals perfect for new moms?
They're healthy!
They're mostly one-pot meals that only require simple side dishes.
They have a variety of tastes and textures!

Freezer meals are good for three months, so I usually spread out eating them, but these meals are meant to be eaten within a few week's time period when you have a new baby at home, so I purposely picked recipes with different tastes, textures, and cooking methods (crockpot, stovetop, and oven).  
These freezer meals are also kid-friendly, which is HUGE if this isn't your first baby.
More details please!!
Okay, we're not having any more kids, but the thought of having two week's worth of meals planned and prepped sounded like a dream come true, so I decided to go ahead and make all 12 at once for us. Here are the details:
It took me 1 hour and 40 minutes to make all 12 meals and clean up my kitchen.

(That works out to about 8 minutes and 33 seconds per meal.)

I spent $139 on groceries. ($11.58/meal with 6 servings each) I spent $61 at ALDI and $78 at a local grocery store chain called Giant Eagle. This cost included shopping sales and purchasing the suggested side dishes.
All of the meals are healthy and delicious!

AKA no condensed soup or soda pop!
This is super important: None of the recipes require any cooking before freezing so they were very quick and easy to make. Get excited – they're amazing!! This is especially important when you're pregnant and it's hard to stand for long periods of time. I recommend sitting on a high stool when you can!
Can you really eat these freezer meals for one week straight?  Don't they all taste the same?
I get it – you're used to crockpot soups and stews. Yes, it's possible and they taste amazing! When I was planning which meals to freeze, I purposely picked recipes with different tastes, textures, and cooking methods so there would be a lot of variety.  These healthy freezer meals were a huge hit with my family of seven and I'm definitely going to make them again.
I'm very organized so I put together an example meal plan to show you how you could eat all of these meals in two week's time.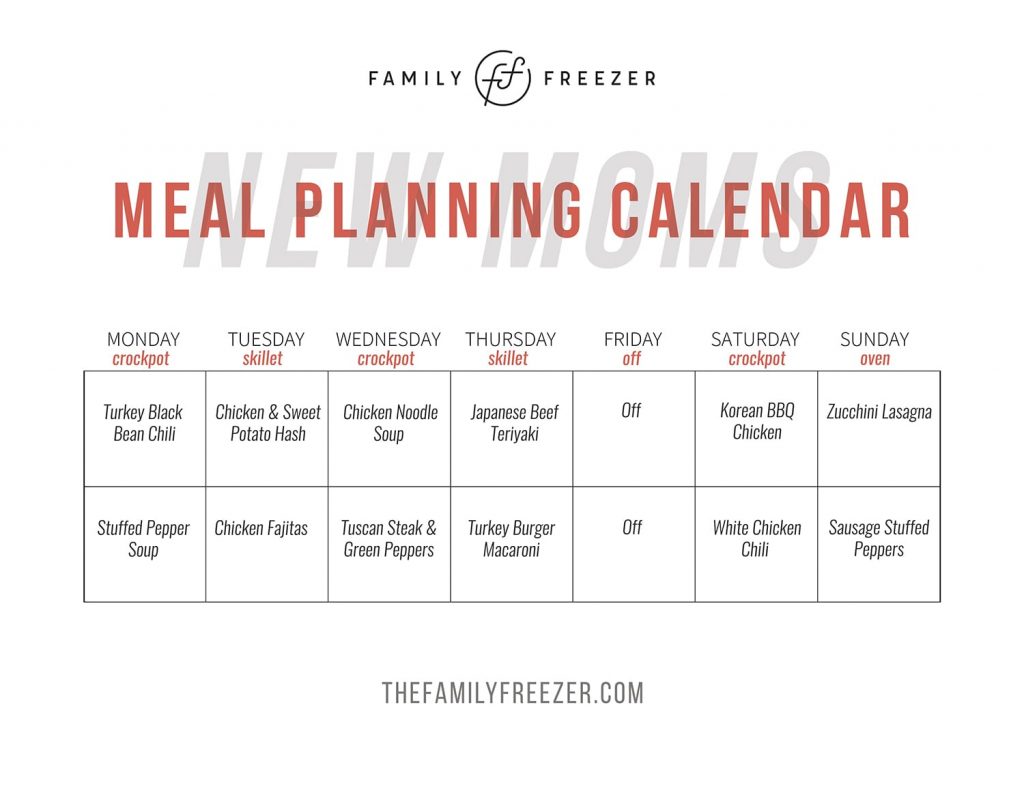 Let me say this though…I wouldn't stress about following this meal plan after having a baby. Obviously, you can't predict which day of the week the baby will be born and you never know when friends and family will bring you meals. When I was pregnant, I tried to plan ahead and then be completely flexible when the time came.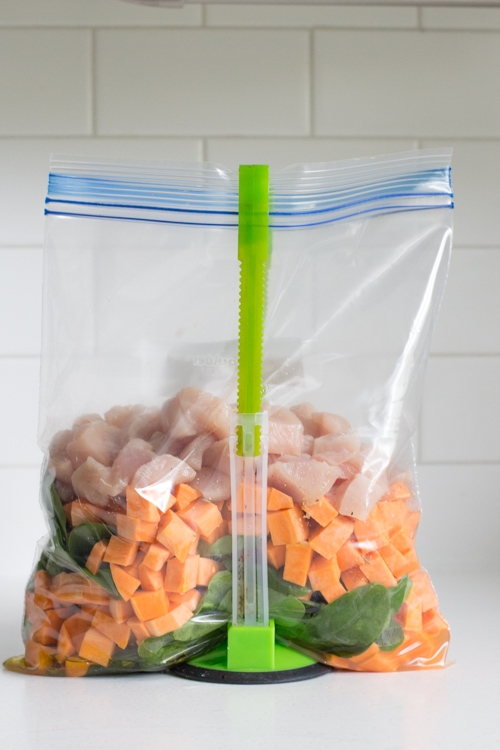 Now, I know what you're thinking…
Can I cook these freezer meals in my Instant Pot instead?
If a recipe has at least a cup of liquid it can be cooked in an Instant Pot pressure cooker.  For my freezer meals, I saute for five minutes to release a little bit of liquid, pressure cook 25-60 minutes (depend on the size/cut of meat), and then do a natural release. Here is another blog post that I wrote with tons of freezer-to-Instant Pot tips.
Are they really all frozen RAW? (Even the meat and veggies?!)
Yes! I totally understand that people are wary of mixing raw meat and veggies, but keep in mind that these meals will be going in the FREEZER – which keeps anything bad from happening.  Then, you cook the meals before eating them so you have nothing to worry about. Trust me, I've made thousands of these freezer meals myself and they always turn out great!
One more thing: Back in 2017, I wrote a blog post called "The Ultimate Guide to Freezer Meals for New Moms". << Go check it out for more info!
More questions? Leave a comment below and I'll respond ASAP. Did you make freezer meals when you were pregnant? I'd love to hear if they worked for you!!