We use our crockpot all year long, so I decided to get started on meal ideas for July.  I'm a bit of an organization freak, so I went ahead and compiled the recipes and full shopping list in a pdf file and shared it below.  I even went ahead and created a calendar so I know exactly when to cook each one.  Now I can spend the month at the pool with my kids and not stress over what's for dinner!

My July meal plan includes 12 healthy crockpot freezer recipes:
Italian Pork Roast (yum!)
Skinny Shredded Buffalo Chicken from Thirty Handmade Days
Chicken Fajitas from Thirty Handmade Days
Chicken Salad Sandwiches (served cold – perfect for a hot night)
Beef Enchilada "Stack" (inspired by this recipe from Damn Delicious)
Shredded BBQ Chicken
Chicken Cacciatore (only 5 ingredients!)
Bonus Recipe: Zucchini "Lasagna" (This recipe is sooooo good.  It's layered in the crockpot like a lasagna, so I make it fresh instead of freezing ahead of time.)
Click here for all of the free printable recipes, shopping list, and meal planning calendar:
CLICK HERE TO VIEW AND SAVE THE PDF. NO STRINGS ATTACHED.
What's so great about these recipes?
They're healthy. (Most include veggies that are in season right now, like corn, green beans, peppers, tomatoes, and zucchini)
They're delicious! (I've made all of the before.)
They can be frozen without any cooking ahead of time. When you're ready to eat, thaw in your refrigerator or in the morning in water and then cook in your crockpot like normal. (They can be frozen for at least three months, so if you don't eat all of them this month you'll have healthy meals ready for August and September.)
I also love that these meals are made in the crockpot so I don't have to heat up my oven this month. Yay!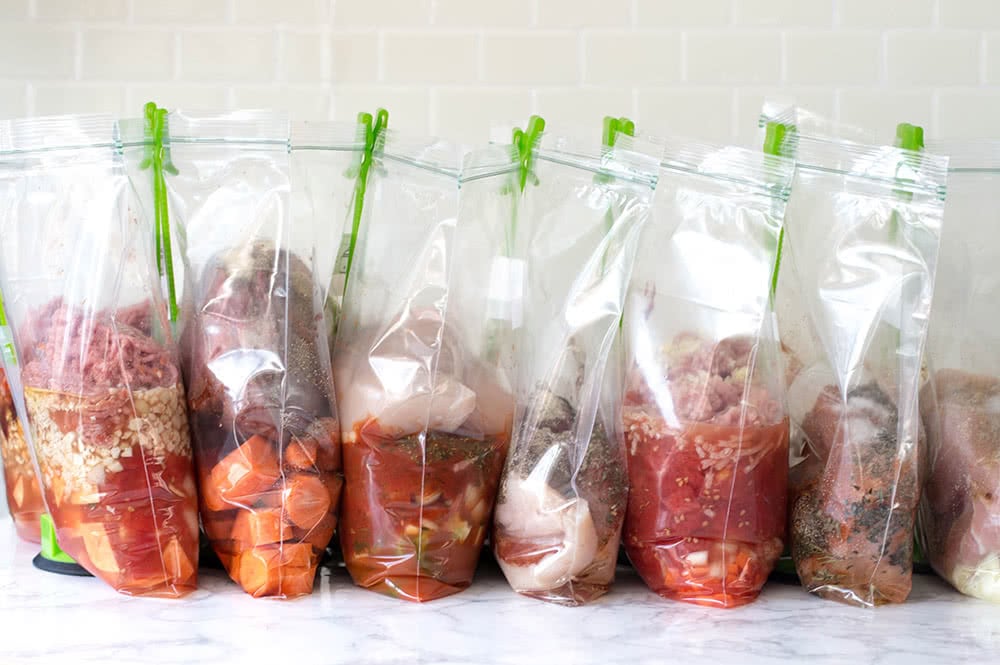 Can you really eat 12 crockpot recipes in a month?
Of course!  Gosh, there are times when we eat from our crockpot five or six nights a week.  The secret is to use recipes with a variety of tastes and textures so you don't feel like you're eating the same thing everyday.
If you look at the meal planning calendar above, you'll see that I picked a "theme" for each day of the week and then found seasonal crockpot recipes that would match the theme.  (For example, an Italian Pork Roast on an Italian-themed Monday.)
My husband, Andy, added text boxes to the calendar, so you can swap the meals to fit your schedule, delete the meals you don't want to make, etc.  I hope this helps simplify your month, Friends!
Thoughts or questions?  Please leave a comment below.  I'd love to hear from you. XO, Kelly