We're in all-out summer mode over here.  We have a neighborhood pool and take the kids swimming every afternoon during the week.  It feels so good to RELAX and let our kids play outside with their friends.  I wish life could be like this year-round.
You know what helps me relax at the pool?  Not having to stress about dinner.  I've been a crockpot rockstar, and I love coming in the door to a finished, healthy meal.
This Crockpot Tuscan Chicken recipe is one that I make over and over again in my freezer meal prep sessions.  I slightly change the ingredients every time I make it, but it always includes chicken, spinach, some kind of tomatoes, and seasoning.  It's so good – we love it.  I realized it didn't have a recipe post of its own though.  That changes now.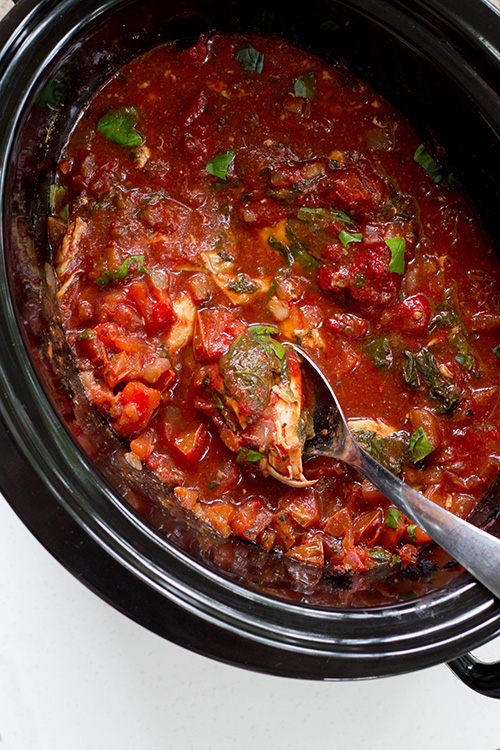 What's so great about this recipe?
Your whole family will love it (even kids).  Add a side of spaghetti and dinner is done.
It's healthy. I made it with fresh tomatoes this time because they're in season, but canned diced tomatoes are also delicious. (You can even sub a 28oz can of tomato sauce and omit the tomato paste.) No matter how you make it, it's dairy-free, gluten-free, Whole30-compliant, etc.  A real winner.
It's super simple and delicious!
Crockpot Tuscan Chicken with Fresh Tomatoes
Yields: 6 servings
Ingredients
2 pounds boneless skinless chicken breasts, fat trimmed
4 medium-sized tomatoes, cored, seeds and juice removed, and diced (You can sub 28oz can diced tomatoes – undrained – if fresh tomatoes aren't in season)
6oz can tomato paste
2-3oz fresh baby spinach
1 small yellow onion, diced (one cup)
1 tablespoon Italian seasonings
1 teaspoon basil
1 teaspoon garlic powder
1/2 teaspoon salt
1/4 teaspoon pepper
1/4 teaspoon crushed red pepper flakes
Directions
Add all ingredients to crockpot and cook on "low" setting for 6-8 hours or until chicken is cooked through and tender.
Shred chicken breasts or serve whole.
To Freeze and Cook Later
Label a gallon-sized plastic freezer bag with the name of the recipe, cooking instructions, and "use by date" (which should be 3 months from when you prepped the meal).  Add all ingredients to your freezer bag.  Remove as much air as possible, seal, and freeze for up to three months.  When ready to cook, thaw overnight in the refrigerator or in the morning in water and follow cooking instructions above.
Top with shredded mozzarella and parmesan cheeses.  Serve over spaghetti. YUM.