Here are 10 easy ways to save money with slow cooker freezer meals.  I'm convinced that there's no faster way to prepare healthy and delicious dinners, and now you can do so at a fraction of the cost.  Yippee!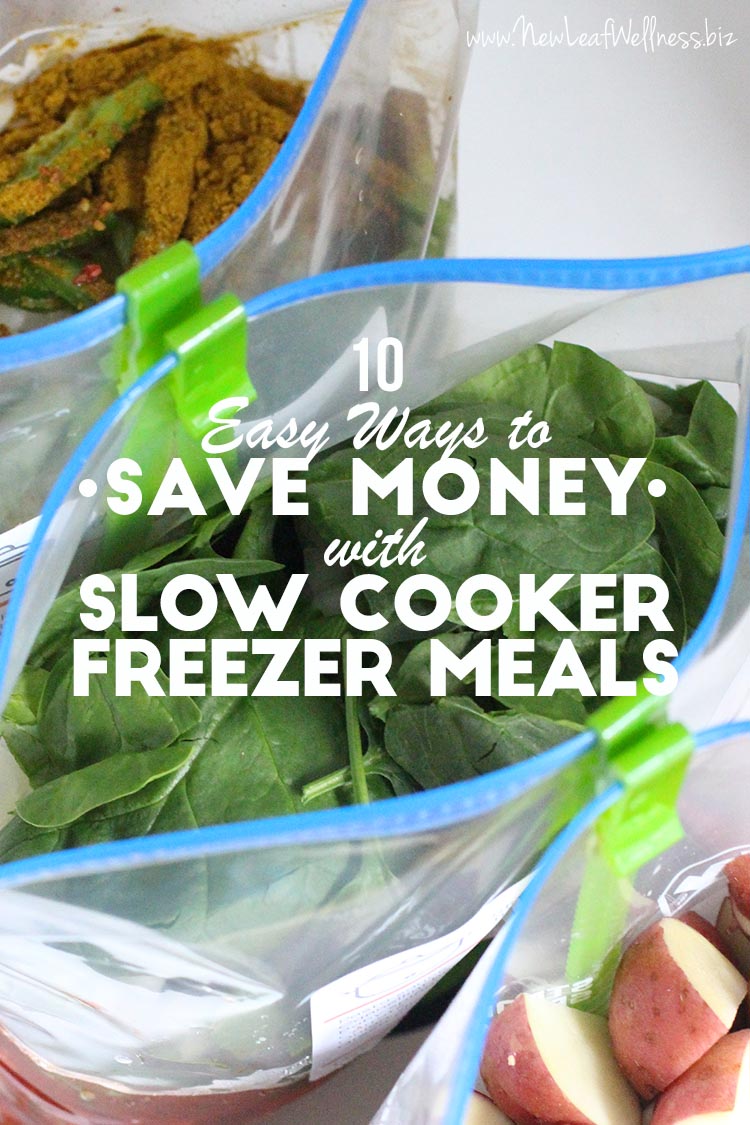 It's no secret that I'm obsessed with slow cooker freezer meals.  I've made hundreds over the past year and shared my favorites in my best-selling freezer meal eBooks.
Here's what I love about them:
There's no cooking required ahead of time so they're super easy to make.  Simply combine the ingredients in plastic freezer bags and freeze for up to three months.
They cook for the first time out of the freezer and don't taste like leftovers at all.
I can save money by stocking my freezer at a fraction of the cost.
Since I love meal planing and budgeting, I decided to compile my best tips for saving money with slow cooker freezer meals.  Enjoy the extra $$$, Friends!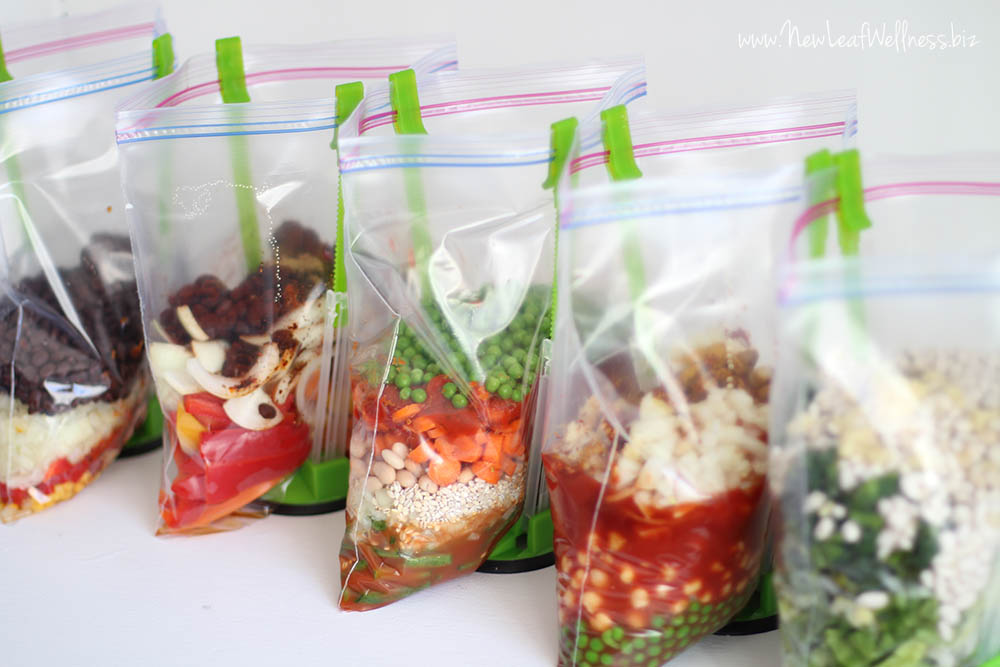 10 Easy Ways to Save Money with Slow Cooker Freezer Meals
1. Avoid take-out and other convenience foods.
With three young children (and a fourth on the way) I would probably order pizza every night if I didn't have a stocked freezer. Instead, all I have to do is pull a meal out of the freezer in the morning, thaw it in water, and pop it into my slow cooker instead. Boy, does it make my house smell good too!
2. Buy meat and produce when they're on sale.
Probably my favorite thing about slow cooker freezer meals is that I can stock up on my favorite meats and vegetables when they go on sale. For example, boneless beef chuck roast is my favorite meat to cook in the slow cooker so when it goes on sale I buy a couple of extra roasts and freeze our favorite beef and carrot recipe, pot roast, and beef barley stew. Most meals will last at least three months in the freezer, so we have plenty of time to eat them (at a fraction of the cost!).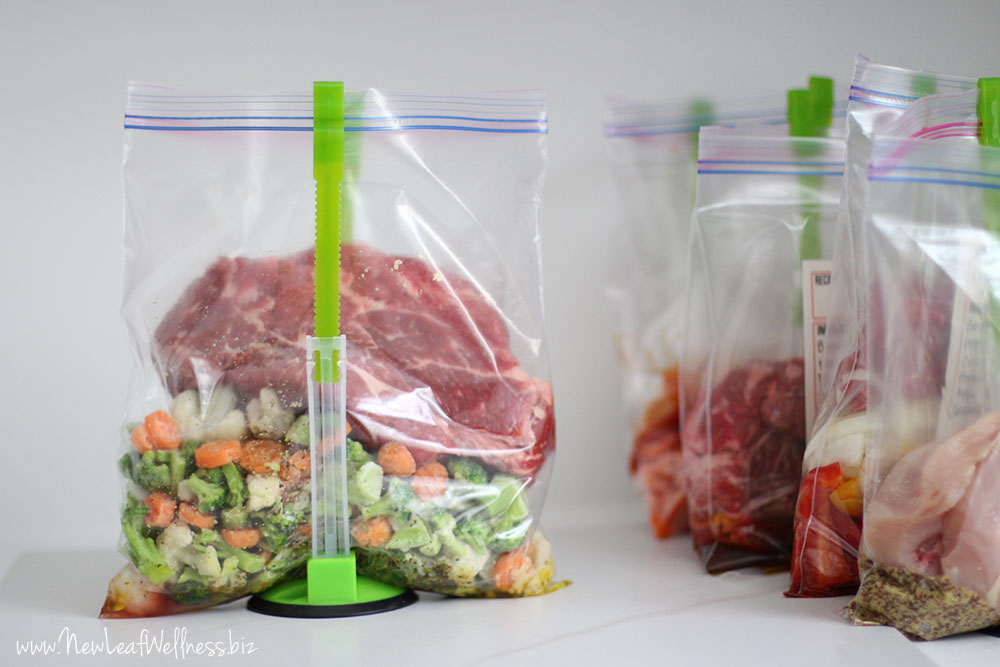 3. Buy ingredients in bulk.
You can save a lot of money simply by buying ingredients in bigger quantities. For example, a one pound package of ground beef might cost $5 per pound while a three pound package costs $3 per pound. Buy the three pound package and freeze it in meals for later!  (Here are some of my favorite ground beef crockpot freezer meals.)
4. Make simple recipes that taste delicious.
It's easy to make simple recipes in the slow cooker that don't require a lot of ingredients. Try this 4-ingredient Slow Cooker Cranberry Pork Roast and become a believer.
5. Cash in on coupons.
I'll admit that I'm not good at using coupons, but when I saw 40 cent off coupons for Prego Traditional Pasta Sauce I bought a couple extra jars to freeze our favorite Simple Meatball Veggie Soup.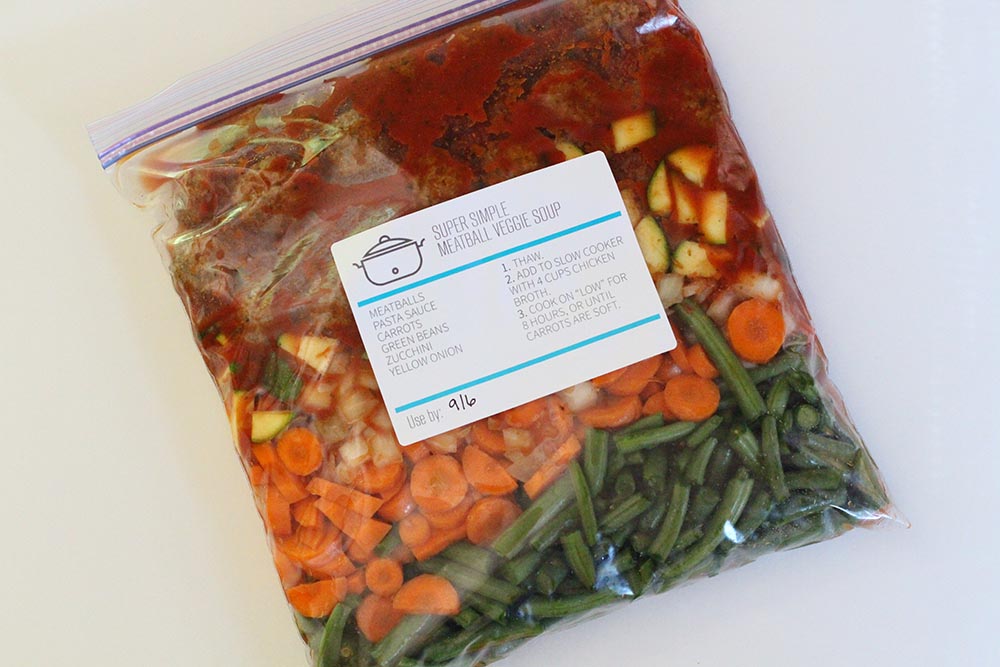 6. Freeze food before it spoils.
Since slow cooker freezer meals don't require any cooking ahead of time, it's very easy to combine the ingredients that you already have on-hand into assembled dinners before they spoil.  Here are some examples: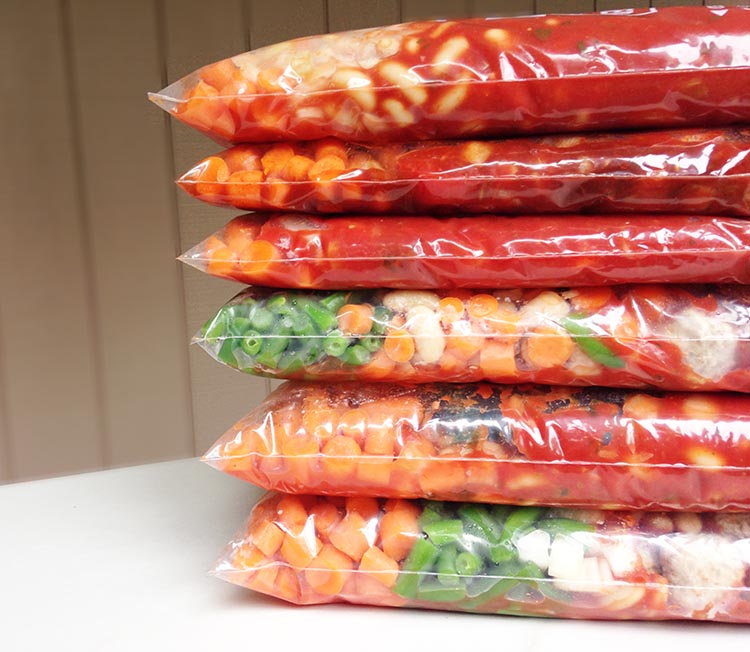 7. Shop around.
I HATE going to more than one grocery store per week, but if I'm making a bunch of slow cooker freezer meals I'm willing to shop around for good deals. When my mom and I prepped 28 healthy slow cooker freezer meals I shopped at ALDI and Costco, and my mom bought the remaining ingredients at a local grocery store.  We spent a total of $241 (which works out to $8.60 per meal or $1.05 per serving).
8. Double and triple recipes.
An easy way to stock your freezer is to double a recipe and make one for dinner and freeze the second. For example, add one batch of this Slow Cooker Turkey and Black Bean Chili to your slow cooker and a second batch to a gallon-sized plastic freezer bag raw. If you buy a 28oz can of petite diced tomatoes and a bag of frozen corn, you can split them between the two meals. So easy!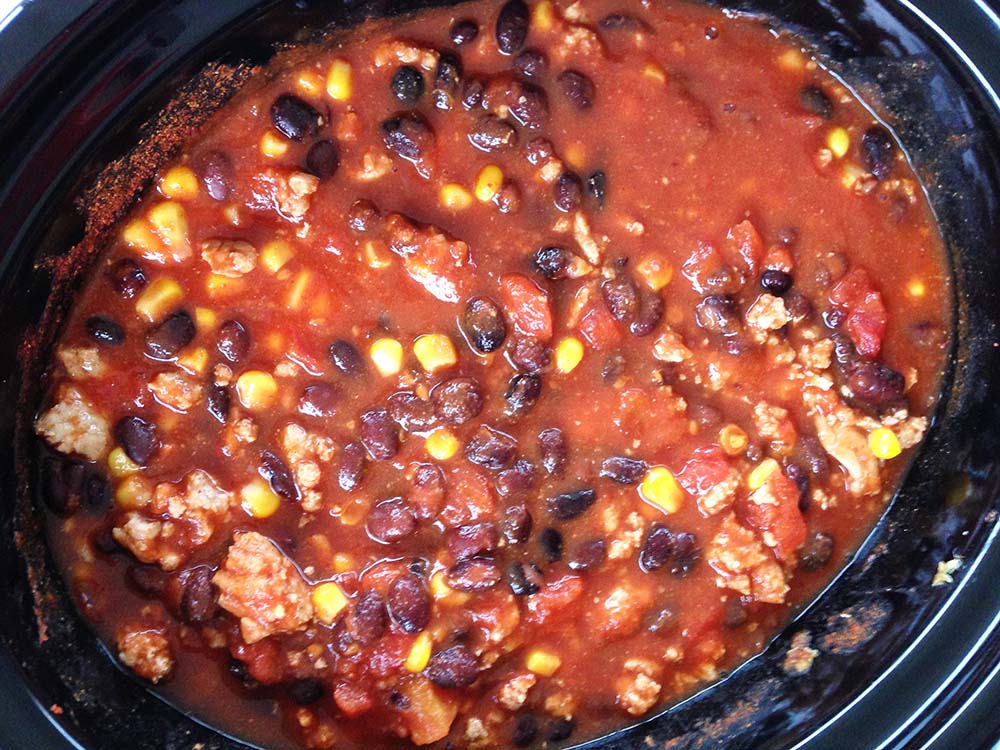 9. Plan ahead for irregular income.
If you're good at planning ahead, you can slowly stock your freezer and save those meals for a time when you'll have less money to spend on food or will need extra money for another purchase. For example, I slowly stocked my freezer with a month's worth of meals when I was pregnant with my third daughter. Adding 1-2 meals per week only made a small difference in our food budget and when she was born we ate for free for a month. (Which was awesome because she was born on Thanksgiving and we were able to put our monthly food budget toward Christmas gifts instead.)
10. Go meat-free once a week.
Meat is the most expensive ingredient in slow cooker freezer meals so finding good meat-free recipes is an easy way to save $$$. Since meat-free meals don't need to be thawed, I like to make them on days when I forget to plan ahead.  Check out my new Slow Cooker Freezer Meals mini eCookbook for my family's favorite meat-free recipes!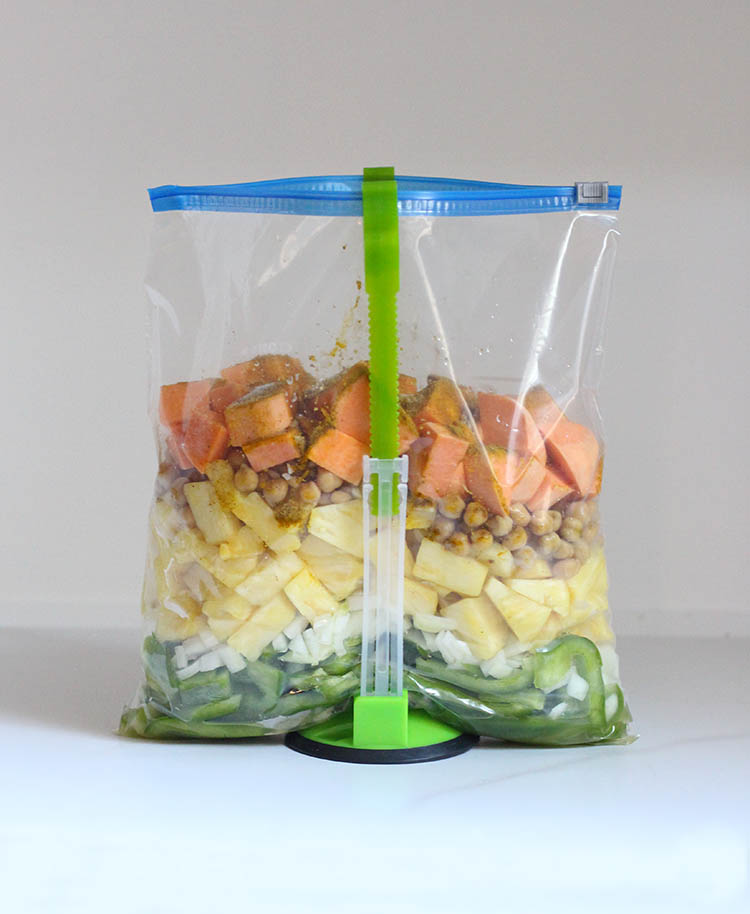 I hope these tips help you save money making healthy and delicious meals!
Thoughts or questions?  Please leave a comment below and I'll respond as soon as I can.  I'd love to hear from you.