After prepping 28 slow cooker freezer meals with my mom I decided to freeze some meals for the grill too.  Chicken breasts were BOGO at the grocery store, so I bought 10 pounds, marinated it, and froze it for the grill.  Now we're stocked for the summer!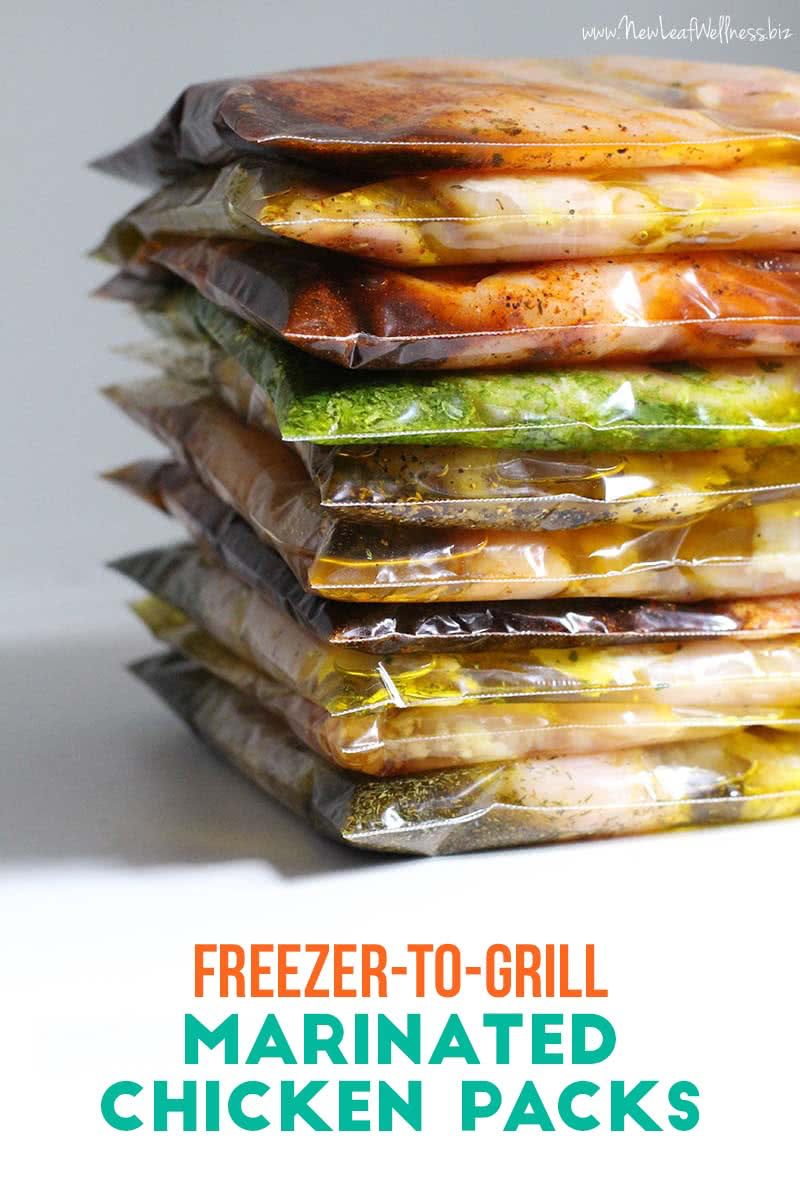 The best part was that these marinated chicken packs were so easy to make.  It took me all of 20 minutes to combine the chicken and marinades in freezer bags and pop them in my freezer.  Now all we have to do is thaw them and put them on the grill.
I already had extra virgin olive oil and seasonings on-hand, so I only spent $32 on ingredients!  That includes 10 pounds of chicken, quart-sized freezer bags, and fresh cilantro and lime for one of the marinades.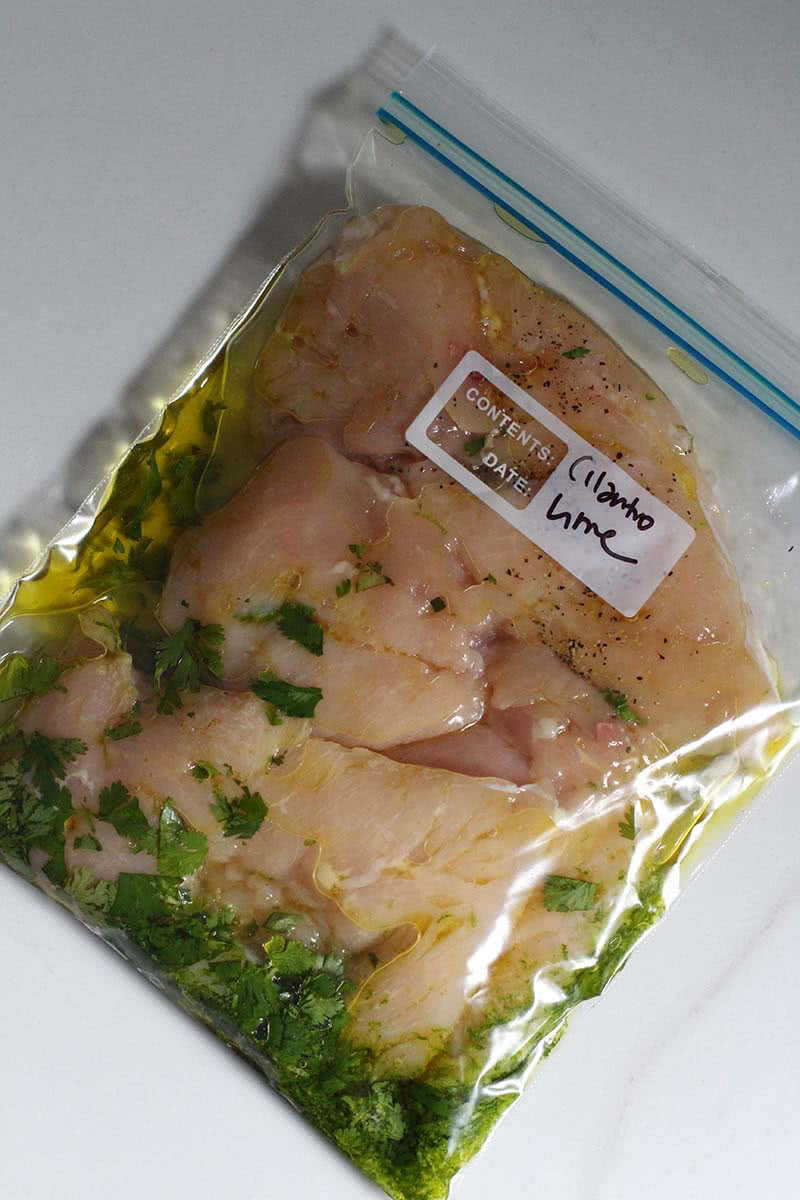 To each freezer bag I added:
One pound boneless chicken breasts
1/4 cup extra virgin olive oil
One tablespoon dried herbs and seasonings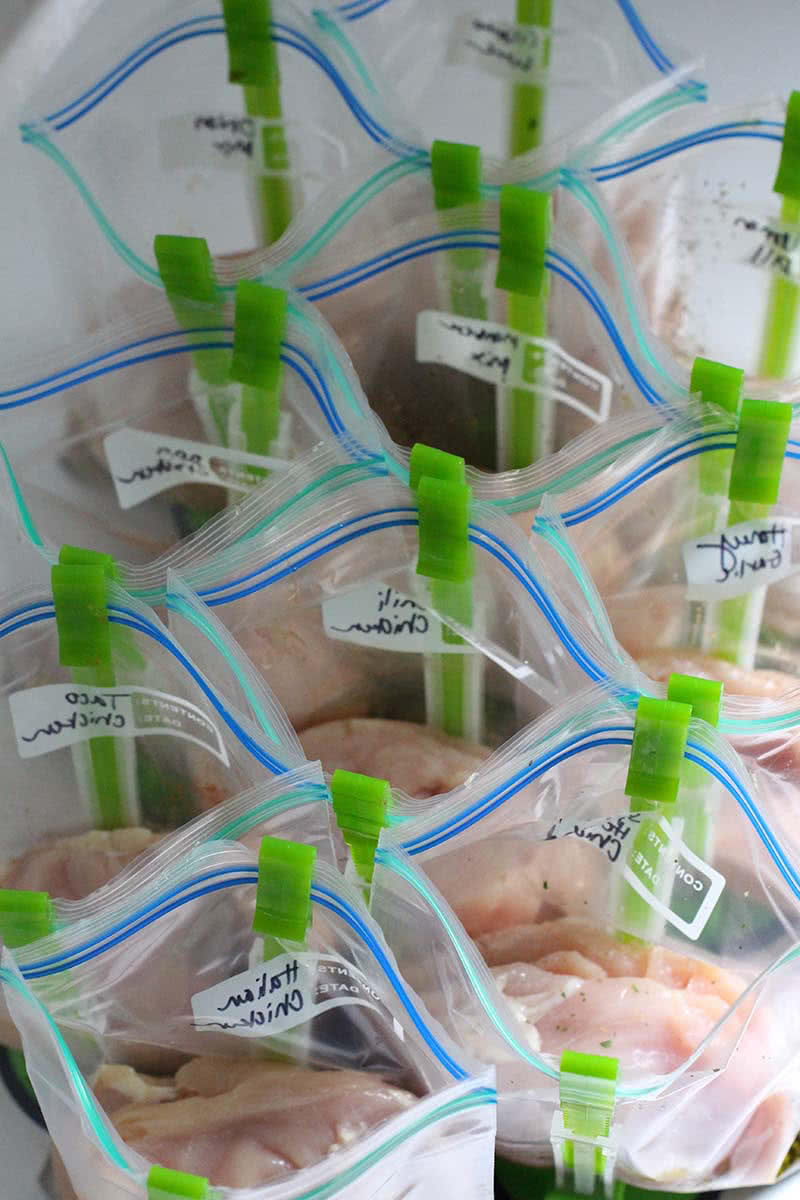 (I use these baggy holders to keep my bags upright while filling.)
I thought about making all of my spice mixes from scratch, but decided to save time with these pre-made spice mixes in my spice cabinet:
Italian Seasoning
Montreal Steak Seasoning
Lemon Dill
Chili
BBQ
Spinach and Herb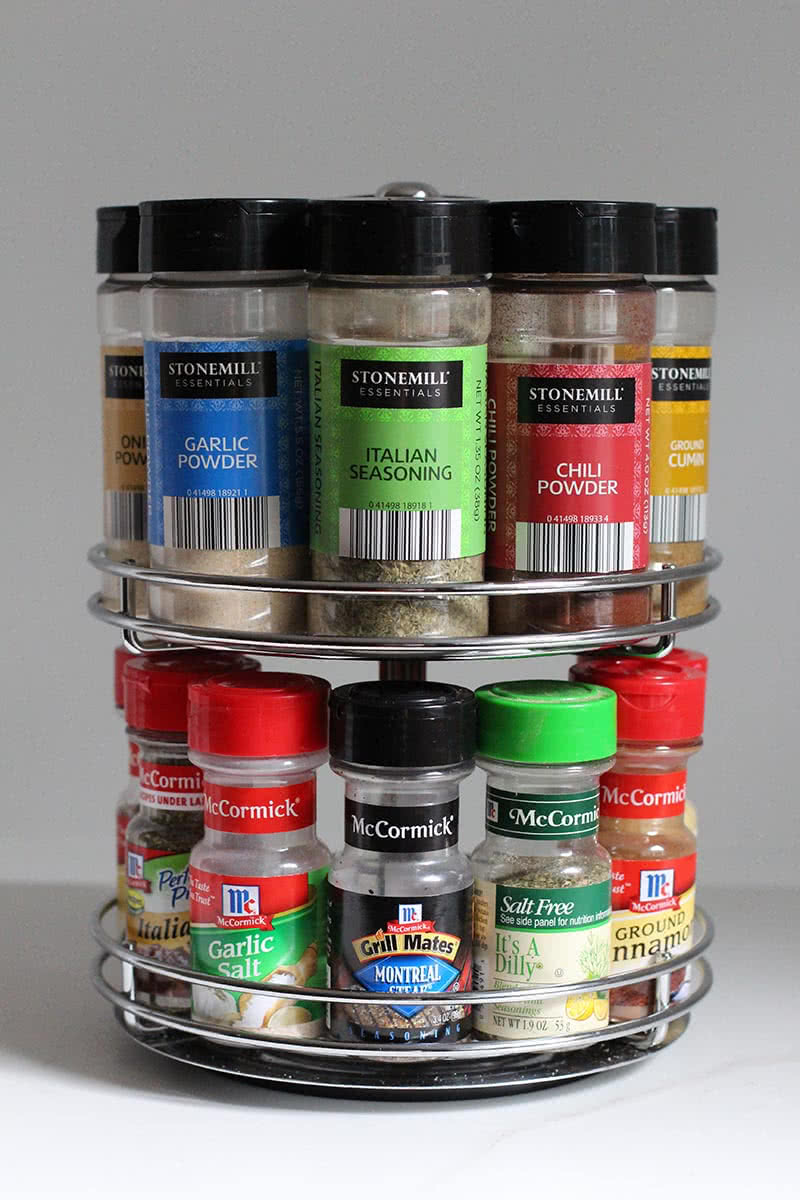 Then, I got a little more creative with these two:
Honey Garlic Chicken Marinade – 3 cloves minced garlic, 1 tbsp honey, and a pinch of salt and pepper
Cilantro Lime Chicken Marinade – 1/4 cup chopped cilantro, the zest of one lime (I read that the juice gives the outside of the chicken a tougher texture), and a pinch of salt and pepper
(Both were added to their own quart-sized freezer bag with a pound of chicken breasts and 1/4 cup of extra virgin olive oil.)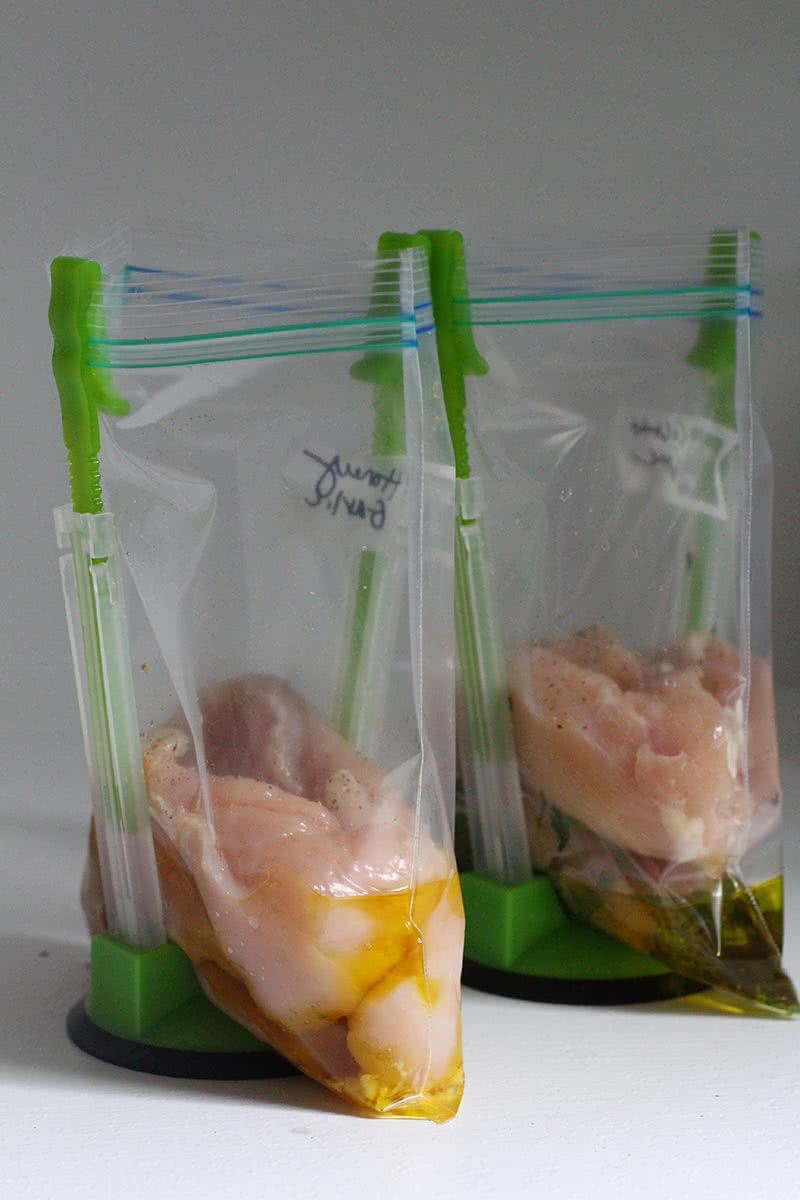 I think these homemade combos would also be delicious:
The zest of one lemon, 1 tablespoon freshly chopped rosemary leaves, and 3 cloves of minced garlic
The zest of one lemon and 1/2 teaspoon pepper
1.5 teaspoons paprika plus 1.5 teaspoons garlic powder
One teaspoon of each: chili powder, paprika, and cinnamon (or cumin)
One teaspoon of each: onion powder, garlic powder, and parsley flakes
Simply add to a freezer bag with one pound of chicken breasts, 1/4 cup of extra virgin olive oil, and a pinch of salt.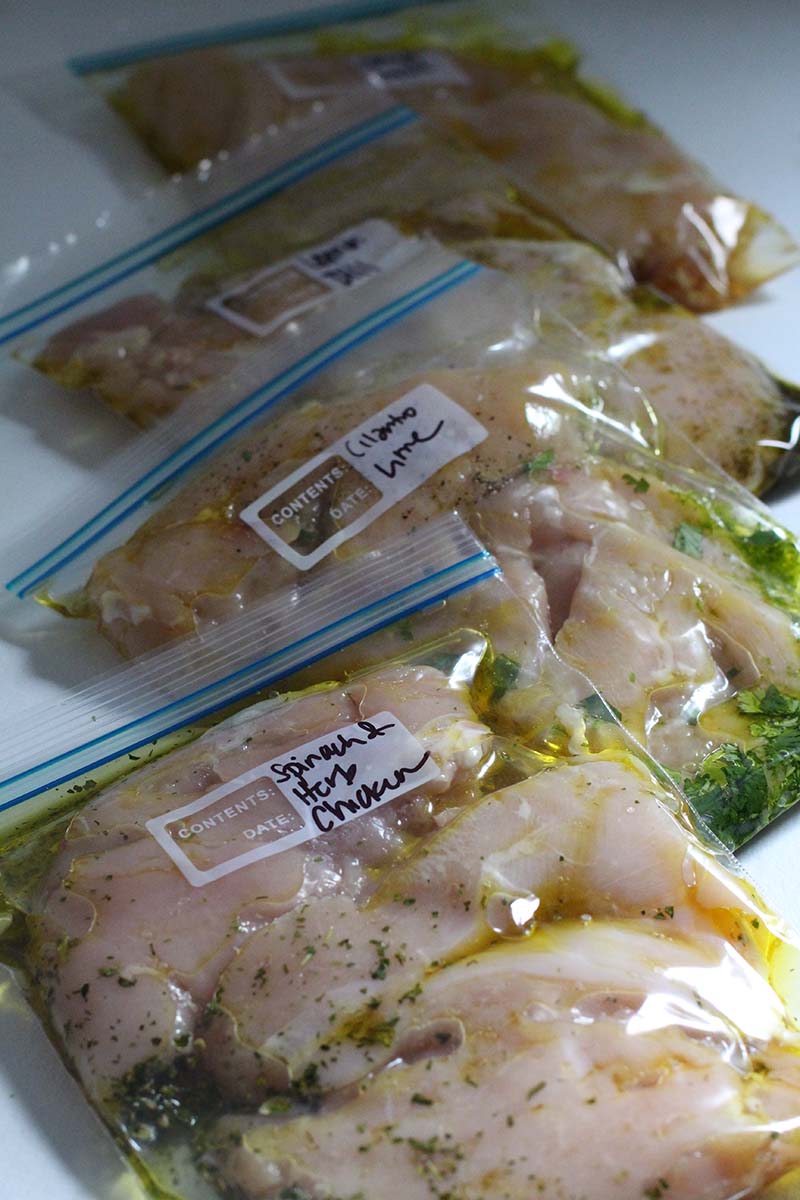 Freezer meals last in a standard fridge/freezer combo for three months so now we're set for the summer.  Serve with a big salad or steamed broccoli with rice and dinner is done.
My plan is to thaw the chicken freezer packs in the refrigerator overnight or in a pan of water before cooking.  Then they only need to be grilled for 6-8 minutes.  So easy!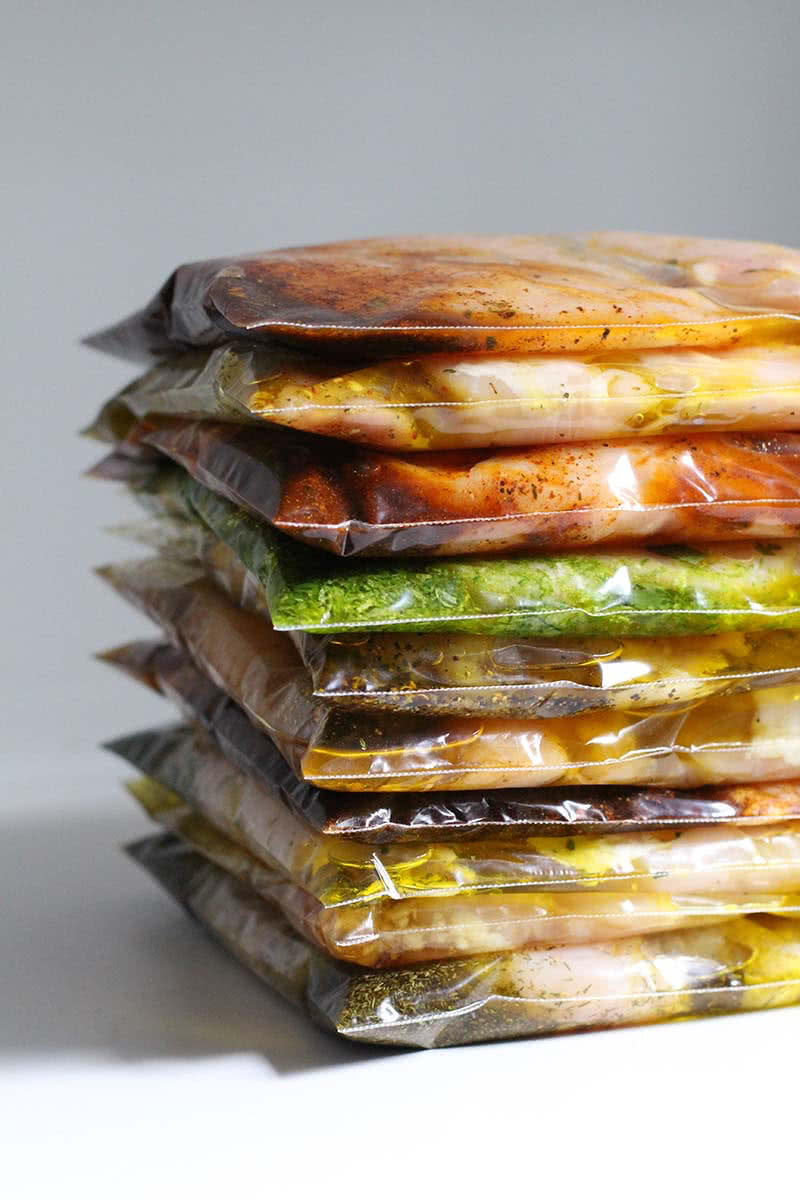 If you've never prepped and frozen meals raw before, prepare to be amazed.  There's no easier way to make cost-effective and delicious meals.  You can find tons of tips and recipes in my "no-cook" freezer cookbooks.

Thoughts or questions?  Please leave a comment below.  I'd love to hear from you.