Question: Does anyone actually use onion soup mix to make onion soup?  We buy packets at the grocery store all the time, but use them to flavor hamburgers, meatloaf, pot roast, and more.  Regardless of what you want to do with your own onion soup mix, I can give you five good reasons why you need to try making it yourself.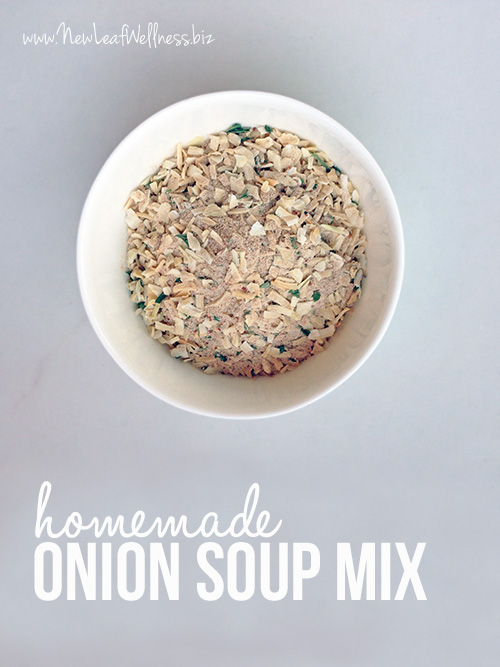 Five reasons why you need to make this homemade onion soup mix ASAP:
It's so easy to make!
It's delicious.
It's much cheaper than store-bought packets.
You'll know exactly what's inside.
You can make a bunch at a time so you always have some on-hand.
The first time that I made my own onion soup mix was for a Crockpot Pot Roast with Green Beans.  It was so delicious that I decided it was totally worth the extra five minutes that it took make it.  I mixed up a big batch of seasoning to keep in my spice cabinet and now I can't wait to try it in my family's favorite brown sugar meatloaf recipe.
Here's the onion soup mix recipe so you can make some too.
Homemade Onion Soup Mix
Yields: The equivalent of one store-bought packet of onion soup mix
Ingredients
1/4 cup dried onion flakes
1 tablespoon beef bullion granules
1/4 teaspoon parsley flakes
1/4 teaspoon onion powder
1/4 teaspoon celery seed
1/4 teaspoon paprika
1/4 teaspoon pepper
Directions
If you want to make a big batch at once, simply multiply the ingredients by four or eight and use 1/3 cup in each recipe.
Thoughts or questions?  I've love to hear from you in a comment below.
---
PS This recipe is based on a recipe from allrecipes.com.  You can also find my favorite homemade taco seasoning mix here.