Will you think I'm totally crazy if I tell you that I made 20 freezer meals this weekend? I didn't plan it that way, it just kind of happened.  Most of the meals were crockpot freezer meals from my trip to Costco on Saturday.  I was able to prep 12 meals in 75 minutes!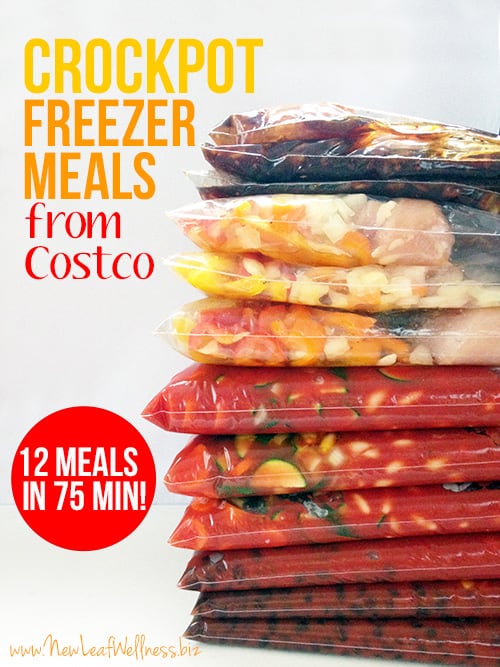 The second freezer session was a bunch of beef roast recipes made with meat on sale at the grocery store.  I promise to share all of those recipes too, but can we focus on Costco for a minute?  I made 12 crockpot freezer meals in a mere 75 minutes, friends!!!
Here's what I made…
CLICK HERE FOR THE FREE RECIPES AND GROCERY LIST
We've eaten all of these recipes before and they're absolutely delicious!

These aren't just run-of-the-mill recipes made with condensed soup either.  If you read my blog post about making six healthy freezer meals in 50 minutes, then you know that I like to make my freezer meals as healthy as possible.
This was only my second time going to Costco, so I didn't plan what I wanted to make ahead of time.  I looked around for good deals on healthy food, and got inspired by these ingredients: sweet peppers, organic carrots, onions, beans, canned organic tomato sauce, chicken breasts, and ground turkey.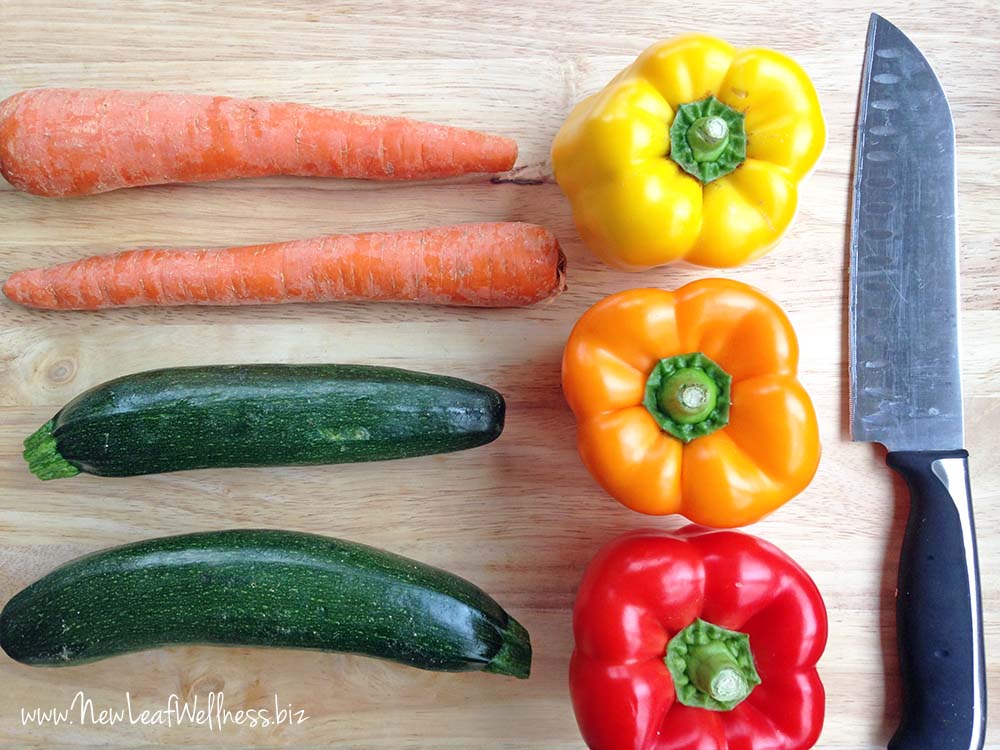 I don't know about you, but preparing 12 meals in 75 minutes was really fast for me.  I even cleaned up my kitchen after making a HUGE mess with tomato sauce.  (Whoops!)  If you're competitive, that means you might be able to finish faster than me.
Here's how I prepped my meals quickly and efficiently…
Instead of making 12 different recipes, I tripled four recipes.  This helped me stay organized, cut back on measuring time, take advantage of bulk sales at Costco, and more.  We absolutely love all of these recipes and will be happy to eat them a couple of times over the next few months.  (Most freezer meals last at least three months in a standard freezer.)
I froze all of my meals raw. (That means they'll cook for the first time out of the freezer and won't taste like leftovers at all.  YUM.)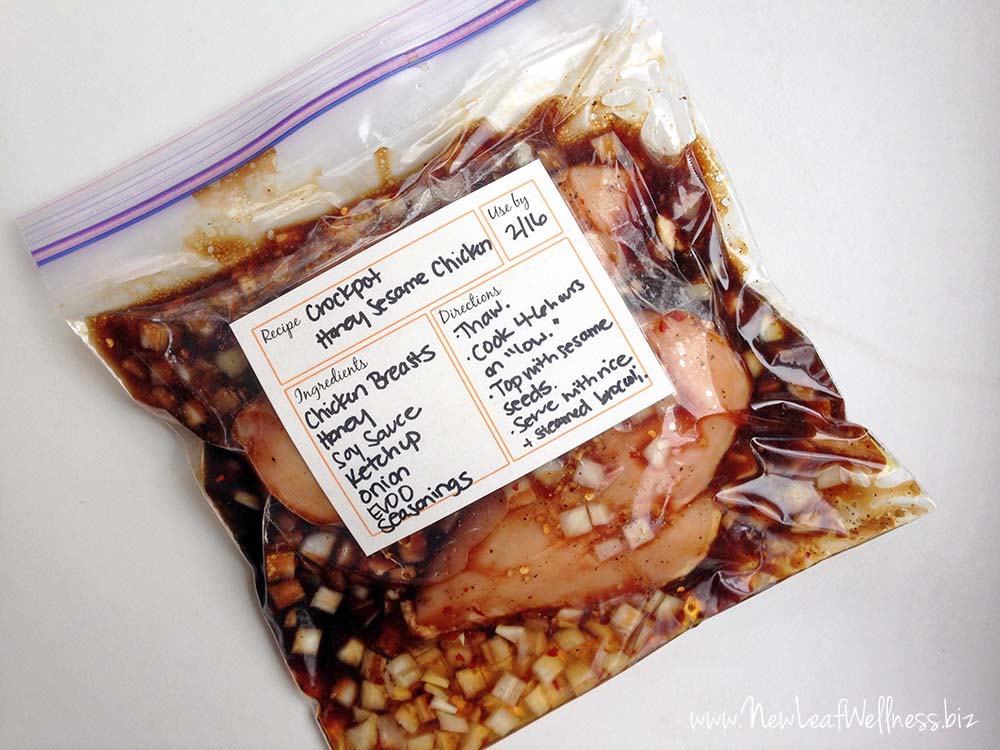 I had most of the spices on-hand and spent $87 on the other ingredients.  All of my recipes are very simple, so you will be able to find the ingredients at your local grocery store too, if you don't have a Costco membership.
If you buy 10-pound bags of onions and organic carrots, like me, you'll have some leftover.  I recommend making some of my favorite crockpot freezer soups with them.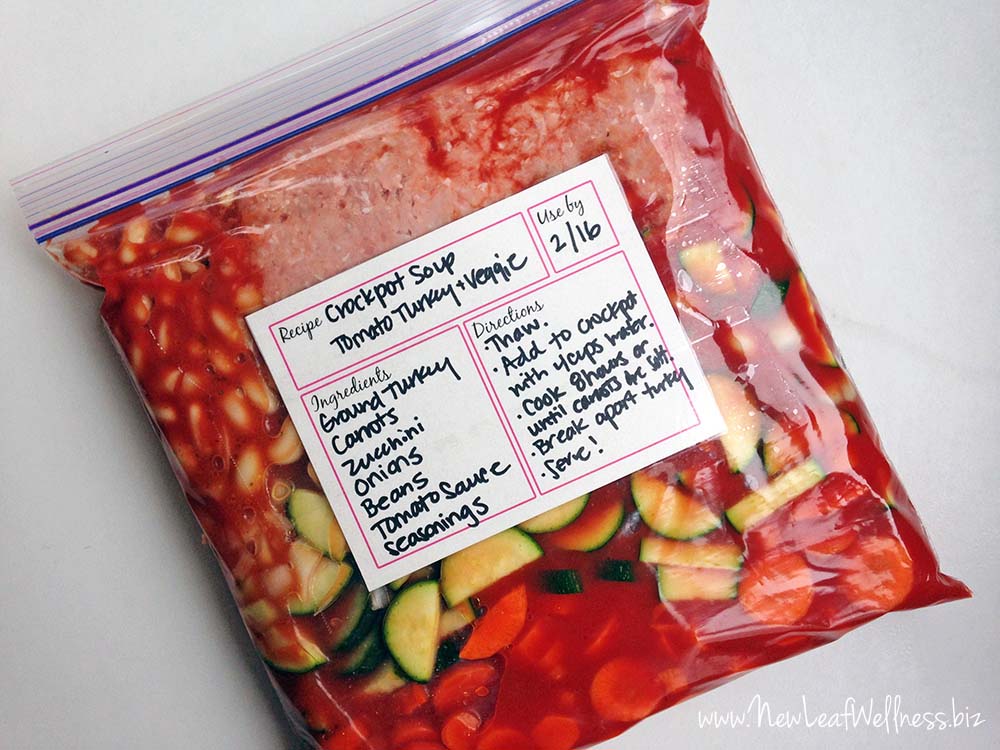 Making these 12 crockpot freezer meals was a lot easier than I thought it would be.  I got together with my mom last year and froze 16 meals to eat after my third baby was born, and they took a lot more time.  My meal planning skills have come a long way!
If you're brand-new to freezer cooking, here's how I prep my meals…
I print my recipes and fill out my freezer meal labels.
When possible, I grocery shop and prep my meals on different days.
I get out all of the necessary ingredients and chop all of the fresh vegetables first. (I use this food chopper for the onions.)
I fill my freezer bags in an assembly line, starting with fresh vegetables at the bottoms, followed by canned ingredients, spices, and meat.  (I add the meat last so it's the first ingredient poured into the crockpot.)
Remove as much air as possible, seal, and stack in the freezer.
Most freezer meals will stay fresh in a regular freezer for three months.  When you're ready to eat, thaw overnight in the refrigerator or in a bowl of water.  Cook, and enjoy!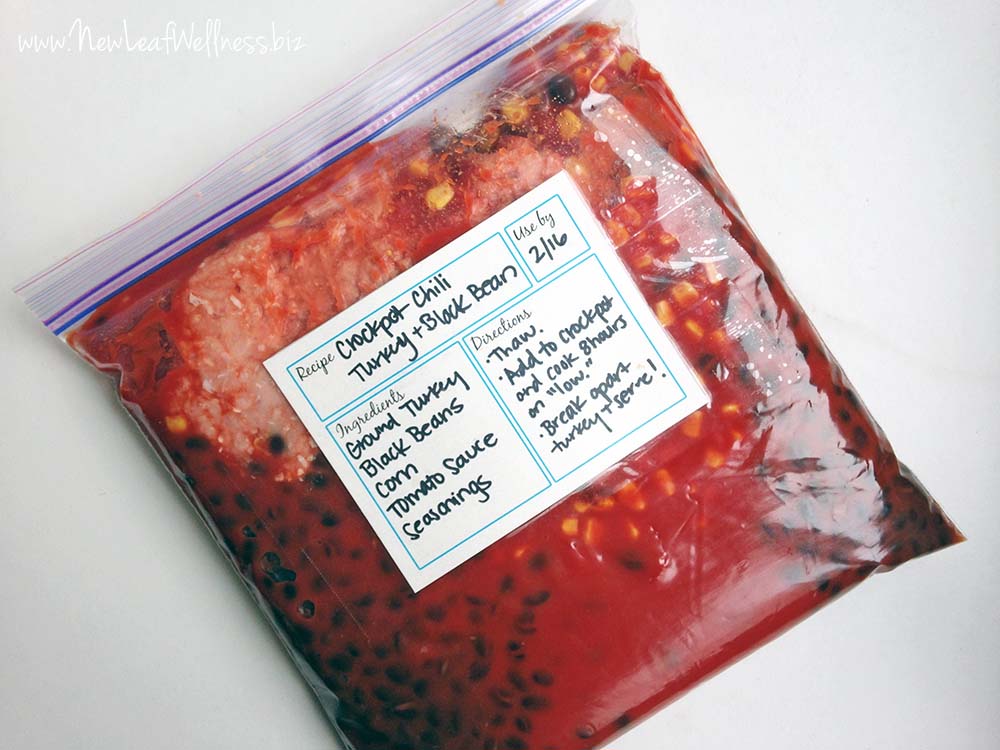 Thoughts or questions?  Leave a comment below.  I'd love to hear from you!