Cooking dinner doesn't have to take a lot of time.  One of my favorite shortcuts is prepping simple freezer meals for my crockpot.  Here are the recipes, grocery list, and info you need to make six meals in 30 minutes or less.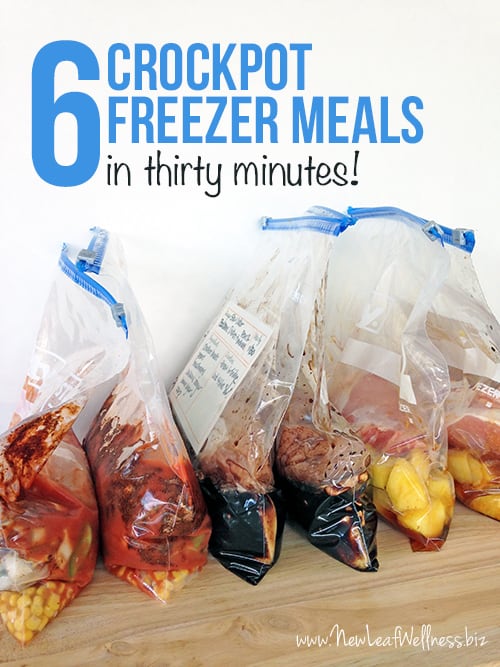 You know what's amazing about freezer crockpot meals?  Making them never gets old.  I've been freezing meals for years, but when I assembled these six meals in 30 minutes (including clean-up!), I still thought, "Holy crap.  I just made six dinners in half an hour!" 
Here's what I made…
CLICK HERE FOR THE FREE PRINTABLE RECIPES AND FULL GROCERY LIST
Added 2/4/16: Once A Month Meals updated their balsamic chicken with pears and mushrooms recipe to include less vinegar.  For the best result, use the recipe on their site instead of the one in the printable recipes. 

When I'm deciding which freezer crockpot meals to make, I look for recipes that can be frozen without any cooking ahead of time.  Since all of these meals were frozen raw, they were super quick to prep and won't taste like leftovers at all.  A win-win!
I also like to prepare meals that include at least one vegetable.  This saves me time the day of cooking because I won't need to prepare a vegetable as a side dish.  Plus, it helps my family to eat healthy.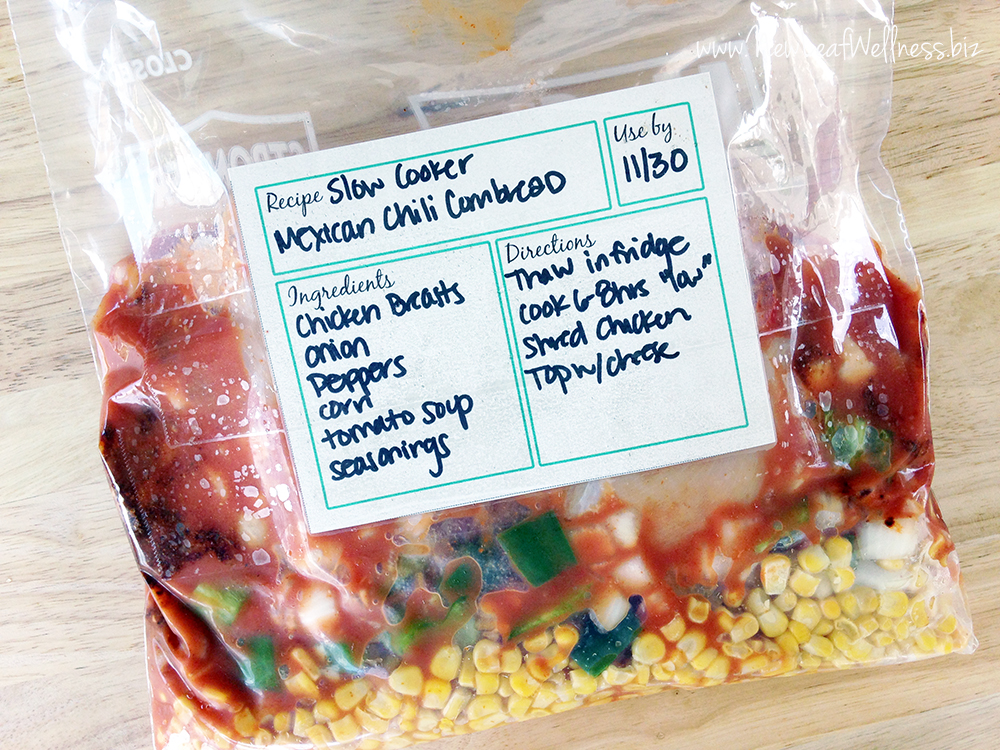 After I shared that I prepped seven slow cooker meals in an hour, someone asked why I make two of each meal at a time.  Here are the benefits of doubling the recipes…
You'll save money because you can buy the ingredients in bulk. (For example, buying more pounds of meat or a huge jar of tomato sauce.)
You'll save money when you can split the same ingredient across two meals. (For example, buying one lime and squeezing the juice into two separate freezer bags.)
You'll have less leftover ingredients. (For example, buying one container of mushrooms and splitting it between the two bags of Balsamic Chicken above!)
You'll save prep time because the same ingredients are used at least twice with the same measurements.
Freezer crockpot meals stay fresh in a standard freezer for at least three months and we always look forward to eating the same meal again after trying it the first time.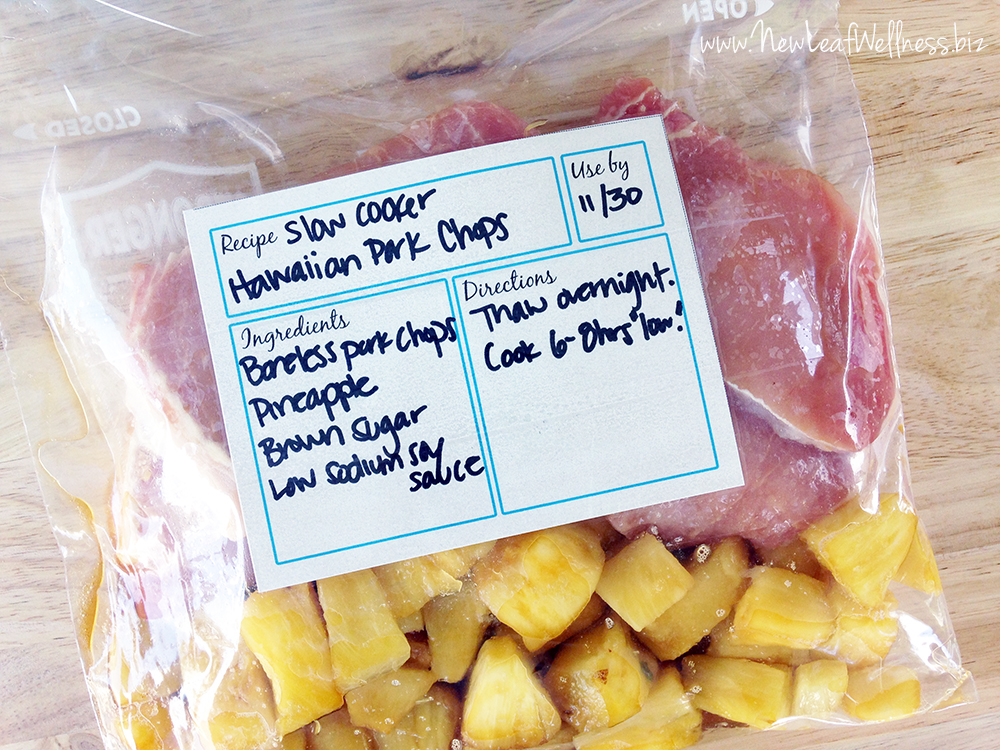 Here are my tips for prepping freezer crockpot meals quickly and efficiently…
If the price is similar, buy ingredients that are already prepped to save time.  (For example, I bought sliced mushrooms and sliced pineapple.)
Print the recipes so they're right in front of you and you don't have to look them up on your phone/computer/tablet.
Set a timer in your kitchen for 30 minutes so you're aware of the time and work quickly.
Label all bags with what's inside and "use by" date. (For meals stored in a standard freezer attached to a refrigerator, it will be 3 months from your prep day.)
Make an assembly line: Peel, chop, and slice all veggies and fruit, and add to bags.  Add sauces, spices, and everything else to bags in any order, except the meat.  Add meat to all the bags last.  (You want it to be on the top so it's poured into your crockpot first.)
Remove as much air as possible from all of the bags and freeze!
Then, when you're ready to cook, thaw overnight in the refrigerator.  Add to your slow cooker and follow the recipe's instructions.  Enjoy!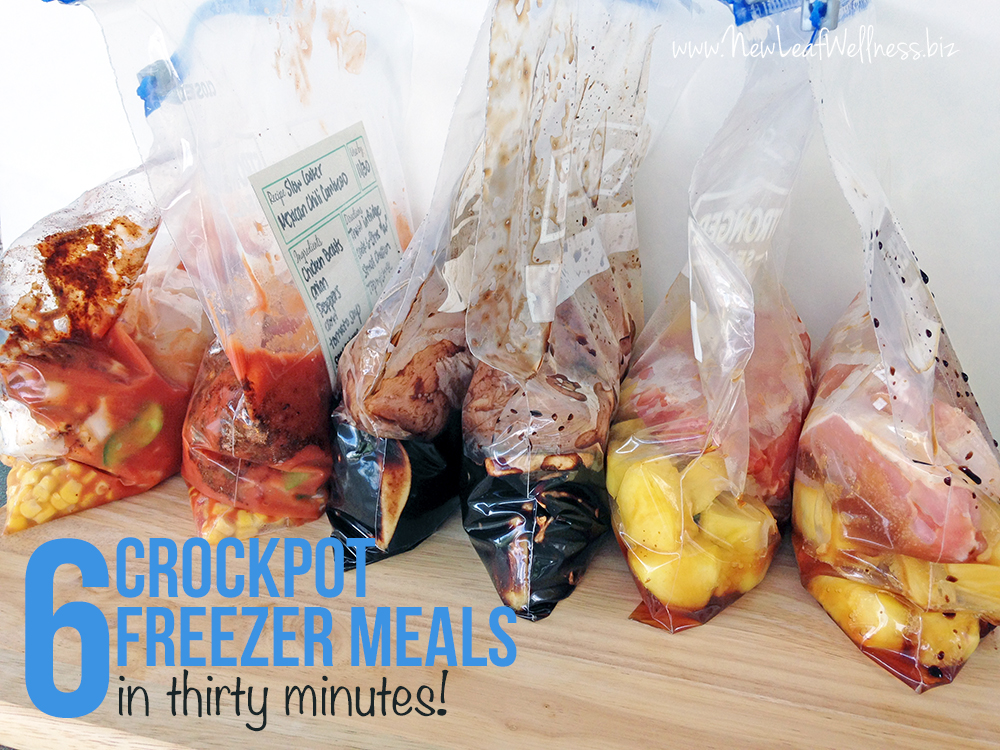 Questions? Leave a comment below and I'll be sure to get back to you as soon as I can!