Over the weekend, I prepped and froze five slow cooker meals in less than an hour (including clean-up!).  Here's my grocery list, recipes, and best freezer meal tips!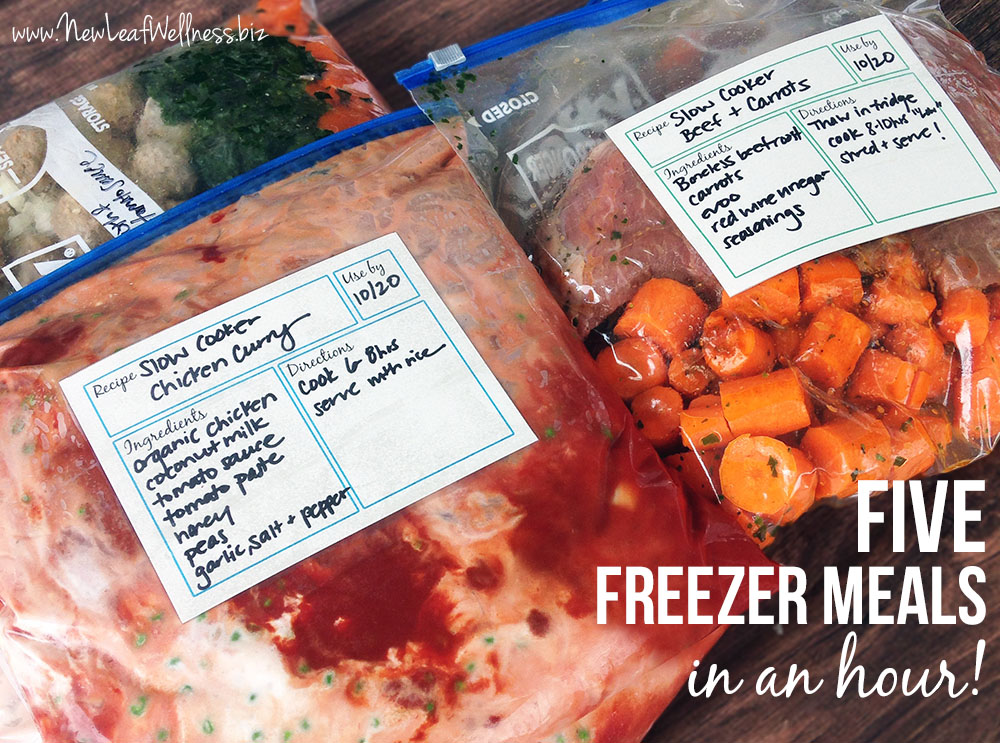 Before my third baby was born, I was a freezing machine.  In a previous blog post, I shared how I stocked our freezer with 27 homemade meals (mostly because of a big freezer meal day with my mom).
We loved having those freezer meals on-hand, but now that I'm balancing life with three little ones my freezer is empty again.  Most days I'm more worried about getting dinner on the table than stocking my freezer with meals.
Over the weekend I put on my big girl pants and devoted an hour to prepping some freezer meals that can be frozen raw.  I was able to assemble five slow cooker freezer meals in an hour – including clean-up! 
Here's what I made…
CLICK HERE FOR THE FREE PRINTABLE RECIPES AND FULL GROCERY LIST

Here's my freezer meal prep method…
Label all bags with what's inside and the "use-by" date.
Peel and chop all veggies and add to bags.
Add sauces, spices, and everything else to bags in any order, except the meat.
Cut all chicken into bite-sized pieces.
Add meat to all the bags (You want it to be on the top so it's poured into your slow cooker first).
Remove as much air as possible and freeze!
Since all of these meals were frozen raw, they were super quick to prep and won't taste like leftovers at all.  Yay!
Have you ever tried freezing meals for your slow cooker?  Please share in a comment below!