Are you quarantined for two weeks and trying to figure out what to buy at the grocery store?  Here are some of my best meal planning tips, printable recipes, and a shopping list.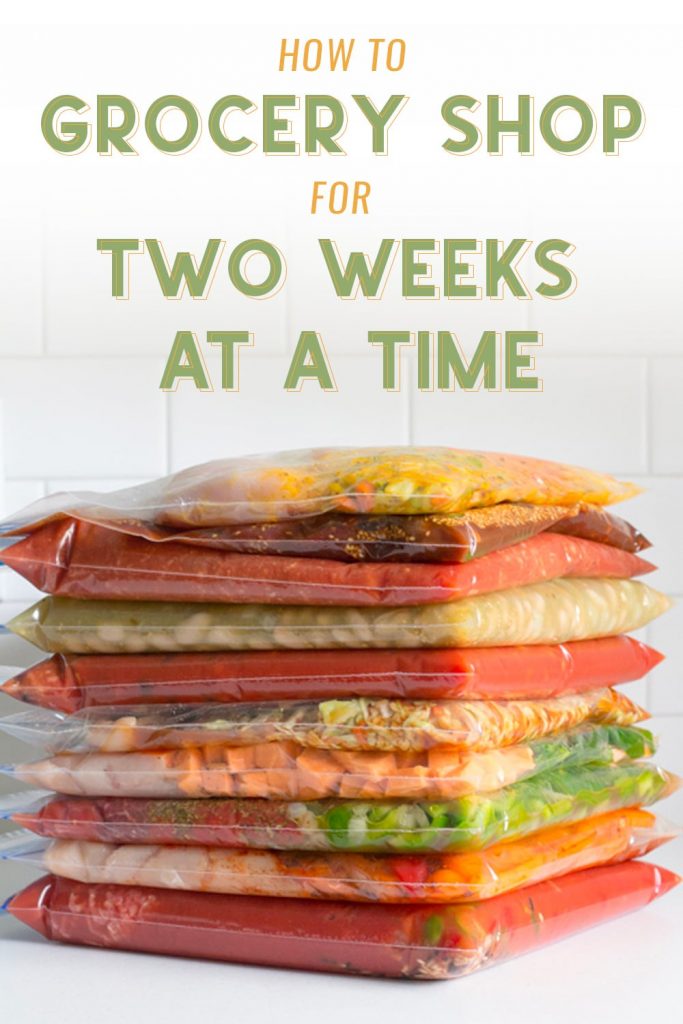 Like a lot of other people, we're going to be spending a lot of time at home over the next fews weeks.
Do I need to stock up at the grocery store?
What should I buy? 
How can I stay sane with my whole family stuck at home?
I don't have all the answers, but I'm good at meal planning so I'm happy to share my tips. There was a time when I was really into shopping for two weeks at a time and here's what I learned…
How to Grocery Shop for Two Weeks at a Time
1. Buy meats, vegetables, and fruits that have a long shelf life.
If you're going to grocery shop for two weeks, you need to make sure that some of the food you buy will still be good during Week Two. I have the most luck with chicken breasts, carrots, potatoes, apples, and frozen vegetables.
2. Allocate time during Week One to freeze some food for Week Two.
Even if you buy food with a long shelf life, you will probably still need to freeze some of the food that you want to eat during Week Two. This does not need to be complicated or take a lot of time. If you want to prep all of your meals at once, I'll share 12 meals below that I prepped in one hour and 40 minutes (including clean-up).
3. Get creative with fresh fruit.
Most fresh fruits will spoil after one week so you will have to find creative ways to include fruit in your family's diet during Week Two. I like to use browning bananas in muffins, freeze fresh fruit for smoothies, and take advantage of already-preserved fruits, like dried fruits and applesauce.
4. Buy extra household products.
Besides food, you'll need to have enough household products for two weeks so you don't have to run back out to the store.  You don't need to go crazy stocking up, but a back-up of each item that you typically use would be a good place to start. I recommend adding items like these to your grocery list: toilet paper, napkins, paper towels, dish soap, dishwasher detergent, laundry soap, dryer sheets, tissues, bar soap, hand soap, etc.
5. Buy the ingredients for at least one extra meal, just in case.
Trust me, you'll want to have a back-up if the store is out-of-stock, you forget an ingredient, you're not hungry for what you planned to cook, etc.  One simple idea would be to buy 1-2 pounds of ground beef to make tacos or spaghetti and sauce.
Two-Week Freezer Meal Plan
Want me to do all the planning for you? Here are 12 meals you can prep ahead of time and eat during a two-week time period.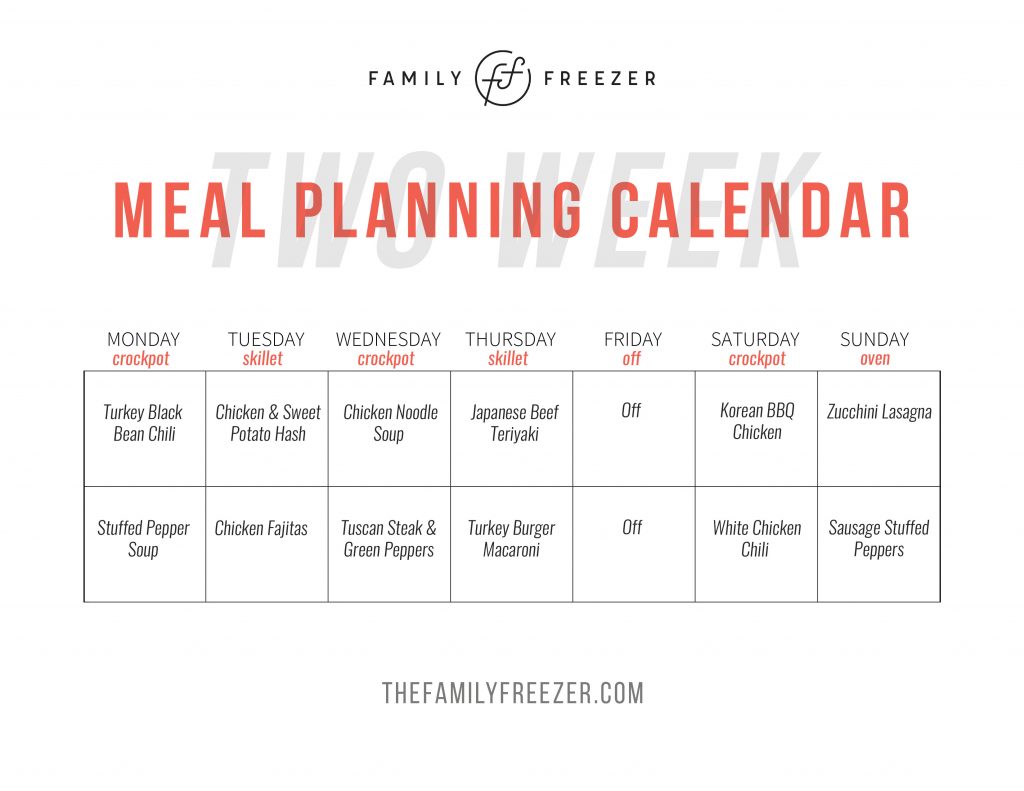 Recipe List
Turkey and Black Bean Chili (crockpot)
Chicken Noodle Soup (crockpot)
Korean BBQ Chicken (crockpot)
Stuffed Pepper Soup (crockpot)
Tuscan Steak and Green Peppers (crockpot)
White Chicken Chili (crockpot)
Chicken and Sweet Potato Hash (stovetop)
Japanese Beef Teriyaki (stovetop)
Chicken Fajitas (stovetop)
Turkey Burger Macaroni (stovetop)
Zucchini "Lasagna" (oven)
Sausage Stuffed Mini Peppers (oven)
Printable Recipes and Shopping List
CLICK HERE FOR THE FREE PRINTABLE RECIPES AND A FULL SHOPPING LIST.
More Info: 
I prepped all 12 meals in 1 hour and 40 minutes. (That works out to about 8 1/2 minutes/meal.)
I spent $139 on groceries. ($11.58/meal with 6 servings each) I spent $61 at ALDI and $78 at a local grocery store. This included shopping sales and purchasing the suggested side dishes.
All of the meals are healthy and delicious! Yay!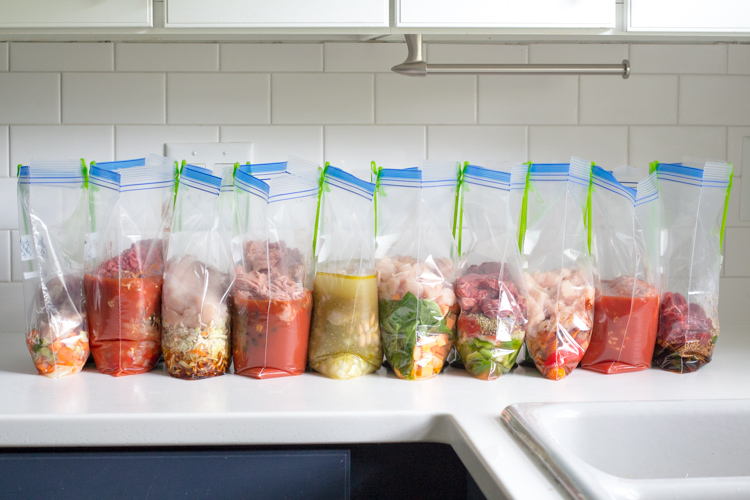 Thoughts or questions? Please leave a comment below and I'll respond asap! I know this is a crazy time, but we'll get through it together. -Kelly