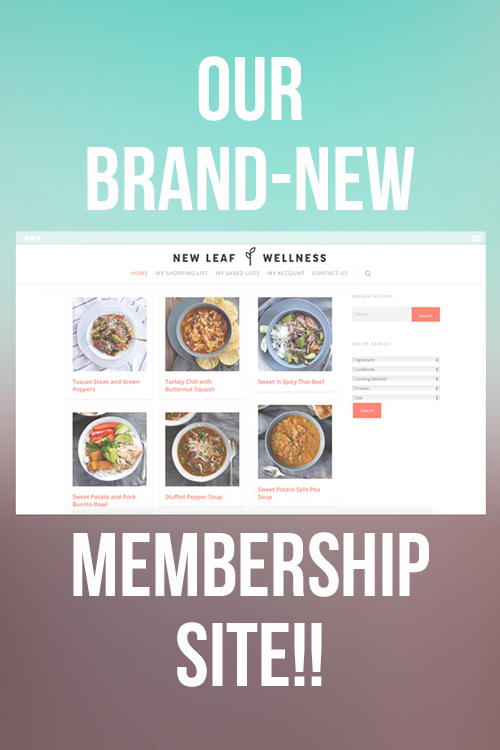 I'm so excited to tell you about something new that we've been working on…a freezer cooking membership site!  We're calling it Freezer Meal Pro and it contains all of my blog recipes and cookbook recipes.  You can search the recipes by ingredient, protein, diet, keyword, and more, and then create custom grocery shopping lists in seconds.  This is freezer cooking made easy, Friends!!
CLICK HERE TO SEE FREEZER MEAL PRO AND JOIN TODAY.
Here's a two-minute video that my husband put together to highlight some of our favorite features of Freezer Meal Pro:  
CLICK HERE TO SEE FREEZER MEAL PRO AND JOIN TODAY.
Frequently Asked Questions:
Will you still be sharing free content on your blog?
Yes! Freezer Meal Pro is a paid membership site for people who want to save time and money with freezer meals. I know that everyone can't afford to join Freezer Meal Pro, so I will still be sharing free content on my blog and with my email list. New Leaf Wellness is not going to change in any way.
Why should I pay to use Freezer Meal Pro instead of free recipes online?
Freezer Meal Pro is the only site of its kind.  It has over 200 recipes that can be frozen without any cooking ahead of time, plus the ability to search by ingredient, keyword, and diet, review nutritional information, generate custom shopping lists, and more.
Will I be able to search by ingredient? 
My favorite feature is that you can search by protein, cookbook title, cooking method (crockpot, oven, or stovetop), or ingredient.  That makes it easy to use up ingredients already in your fridge, freezer, and pantry.
Can I search the recipes by diet? 
The recipes are tagged by these diets: Whole30, Gluten-Free, Paleo, Keto, and Vegetarian. We would love to add more in the future.
How much does a membership cost? Is it a one-time fee or reoccurring? 
Freezer Meal Pro memberships are on sale for $69 this week and will increase to $97 after that.  We have estimated the total value to be over $240 but I don't think you can put a price on making it easy to feed your family healthy meals.  Membership is a one-time fee that gives you unlimited access to our site.
Can I join for a discount if I already purchased some of your cookbook eBooks?
All of our cookbook recipes are included with a Freezer Meal Pro membership.  (These are our best recipes and you're going to love them if you haven't tried them yet!!) If you already purchased the cookbooks, email me and I will consider discounts on a case-by-case basis.
Will new content be added to Freezer Meal Pro over time?
When new recipes are added to the New Leaf Wellness blog they will also be added to Freezer Meal Pro for free.  My husband and I have also considered adding collections of freezer meal recipes from other bloggers that can be "unlocked" for a small fee, but we aren't sure if that will be valuable to you or not.
CLICK HERE TO SEE FREEZER MEAL PRO AND JOIN TODAY.
But don't just take our word for it. Over 1,000 people have already joined!
"I think Freezer Meal Pro is wonderful! I love the way the shopping list generator works- there is nothing I despise more about grocery shopping than creating the list- I always leave out something.  My favorite thing is that it's easy to use! And I LOVE the search by ingredient option!!!" -Katie
"I used to spend 2-3 hours making my own custom shopping list from your freezer meals (I always pull from multiple lists), and this will help make the list SO MUCH EASIER!" -Autumn
"With Freezer Meal Pro, I can pick and choose from the recipes I currently own to build meal plans that my family eats. I am not bound to manually making a list or picking through the list already generated. There are several things that I truly love, but I love the pictures [the most], so I can see what I'm choosing to prepare." -Carrie
If you have any questions, leave a comment below and I'll respond as soon as I can.  xoxo, Kelly