My oldest daughter is going to first grade this year and she is most excited about riding the bus and eating lunch at school. I'm secretly hoping that she'll buy lunch so I don't have to worry about packing everyday, but if she wants to pack, I have a plan: Make everything ahead of time!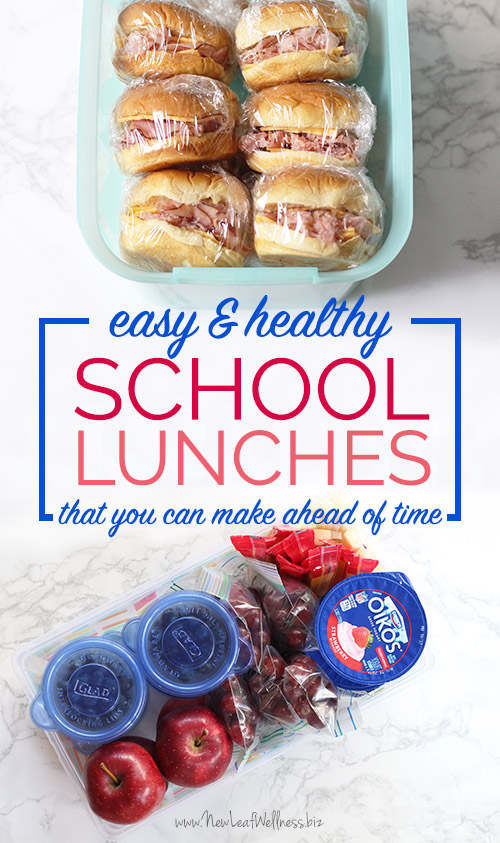 Last week, I made snack bins for our fridge and pantry with lots of healthy snacks.  Then, I made 12 mini ham and cheese sandwiches and stuck them in the refrigerator too.  Overall, it took me less than 40 minutes and the snacks will last us a long time.  Yay!
Combine a sandwich with two snacks in a paper bag and lunch is good-to-go.
Make-Ahead Ham and Cheese Sandwiches
Yields: 12 mini sandwiches
Ingredients
A pack of 12 slider buns
Sliced or chipped deli ham (about 3/4 pound)
12 slices of American cheese (about 1/2 pound)
Directions
Cut 12 pieces of plastic wrap and lay them on the kitchen counter in an assembly line.
Top each piece of plastic wrap with a slider bun, and then add ham and cheese.
Wrap and place in refrigerator for up to three days (although I ate one five days later and it was still fine).
To Freeze
Wrap sandwiches in plastic wrap or sandwiches bags.
Store in gallon-sized plastic freezer bags in the freezer for up to a month.
To thaw, add to a lunch box in the morning and it will be ready to eat by lunch time.

Make-Ahead Snack Ideas
Blueberries
Apples
Grapes
Baby carrots
Sliced bell peppers
Sliced cucumbers
Clementines
Cheddar cheese sticks
Mozzarella string cheese sticks
Yogurt
Peeled hardboiled eggs
Clif bars
Goldfish crackers
Graham crackers
Granola bars
Applesauce pouches
Pretzels
Raisins
Almonds (if nuts are allowed at your school)
Trailmix (watch for nuts)
Dips (like hummus, ranch dressing, or peanut butter if allowed)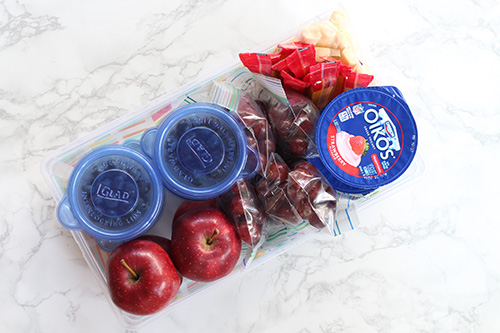 Thoughts or ideas?  Please leave a comment below!  I'd love to hear from you.  XO, Kelly