Do you want to simplify your dinner routine?  Stock your freezer with Instant Pot freezer meals! Here are 17 easy and healthy Instant Pot freezer meals that I made myself (shopping list included!).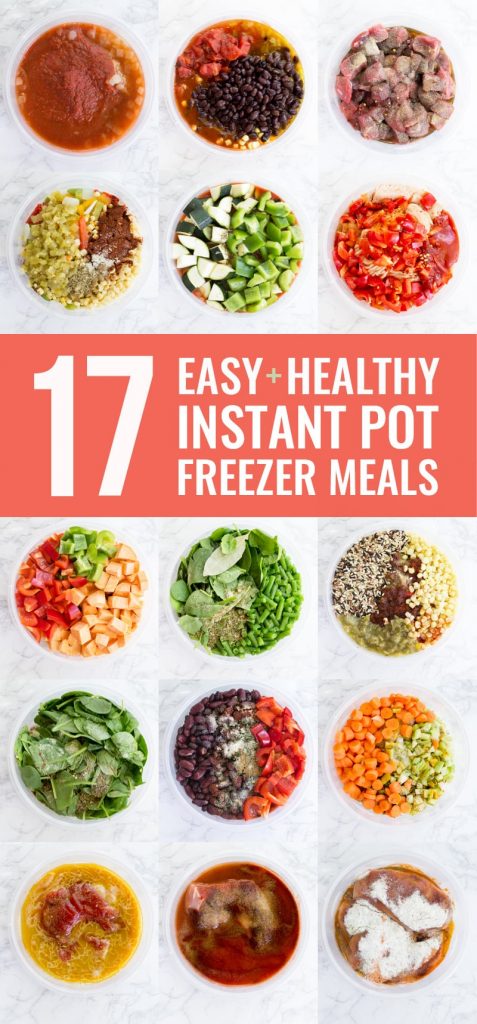 Oh my gosh, have I told you that I'm trying to push the "easy button" in every area of my life right now?  Life with five little kids is crazy (in the best way possible) and all I want to do is keep things simple so I have time for fun…and friends…and feeling on top of life instead of treading water 24/7.
I was thinking about how to put our dinner plans on autopilot when I came up with the idea to prep a bunch of freezer meals for the Instant Pot. To keep things simple, I picked recipes that could be quickly assembled and frozen for months. That way I could pop a frozen meal into my Instant Pot at dinnertime and relax. I've even been asking my 5, 7, and 9 year olds to help set the table!
Which recipes did I use?
Honey Garlic Beef and Sugar Snap Peas (from

Freezer Meal Pro

and shared for free below)

Orange Chicken adapted from

Sweet and Savory Meals

Healthier Pulled Pork from

Sweet Peas and Saffron

Easy Chicken Cacciatore

(only 5 ingredients!)

Crack Chicken

Lazy Lasagna from

Meal Plan Addict

Salsa Verde Chicken from

The Girl on Bloor

Beef Stew

Chicken Tortilla Soup from

Kristine's Kitchen

Vegetarian Minestrone Soup (adapted from

my cookbooks

and shared for free below)

Chicken Enchilada Soup from The Girl on Bloor
CLICK HERE for a free printable with exactly how I made the meals and a full shopping list!
What's so great about these Instant Pot freezer meals?
They're quick and easy to make. I was able to prep all 17 meals in 90 minutes, including cleaning up my kitchen! That works out to less than 6 minutes per meal!!  (Note: I spent an additional 15 minutes labeling the lids of my containers with the cooking instructions, but I think it's easier to print the recipes and keep them on-hand until you cook the meals.)
They're budget-friendly. I bought $210 worth of ingredients and then used a 20% loyalty discount (frequent shopper "perks") to bring my total down to $166. That works out to only $9.78 per meal!
They're healthy and delicious!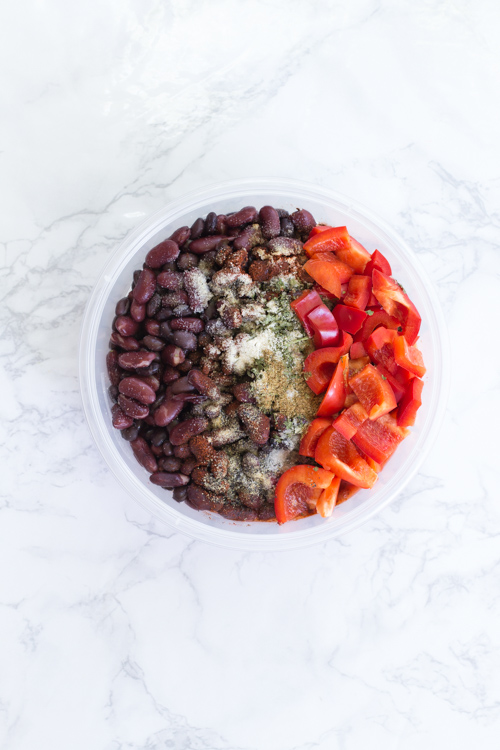 Are these Instant Pot freezer meals right for you?
If you already love your Instant Pot, then you're going to love these meals.
If you like simple recipes, these are the easiest Instant Pot meals ever. For real.
If you don't start thinking about dinner until mid-day, you're going to love grabbing a meal from your freezer and adding it straight to your Instant Pot.
As much as I love these Instant Pot freezer meals, I think I'm still a crockpot girl at heart.  Since I have five young children (ages 9-1), it's hard for me to remember to add these meals to the Instant Pot in the middle of the day.  They're delicious though, and I love having a stocked freezer.
Since I've made thousands of freezer meals myself, let me share how I made these meals so quickly:
I used frozen diced onions instead of spending a lot of time (and tears!) cutting fresh ones.  Frozen diced onions only cost $1 per bag at my local grocery store.  Please buy them – you will thank me later!!
I replaced fresh garlic with garlic powder. I think it tastes the same and it smells better than having fresh garlic all over my fingers.
I bought pre-peeled baby carrots and pre-diced celery. Totally worth it!
I made the meals when my neighbor was babysitting my little kids so I could concentrate.
I set a timer on my microwave so I would remember to hustle.
I listened to a mix of songs from Meghan Trainor so the whole process would be more fun.
Thoughts or questions? Please leave a comment below and I'll respond asap! xoxo, Kelly