Free recipes and shopping list below!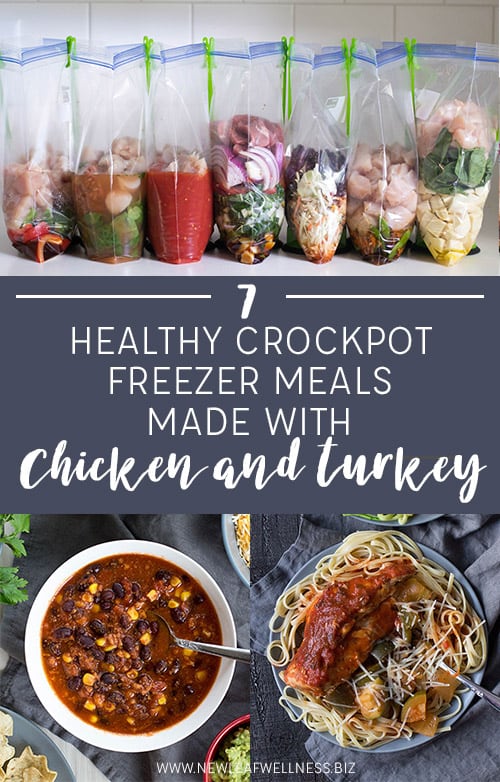 I'm so excited to share a new blog post series with you!  Each post highlights a New Leaf Wellness fan and the custom freezer meal plan that I made for them. If you want to know exactly why I'm obsessed with freezer meals and custom meal plans, read this blog post first.
Basically, I sent out an email newsletter asking people to tell me how many meals they wanted to make, who they're cooking for, and what kind of ingredients they love/hate.  Then I went through the hundreds of recipes that I've tasted-tested myself and came up with recommendations for them.
I already received 300 requests, so I can't create freezer meal plans for everyone, but I'm in the process of picking my favorites that I think a lot of people can relate to.  I'll share their info in a blog post along with the free printable recipes and shopping list so you can make them too.
First up is seven crockpot freezer meals for Eva!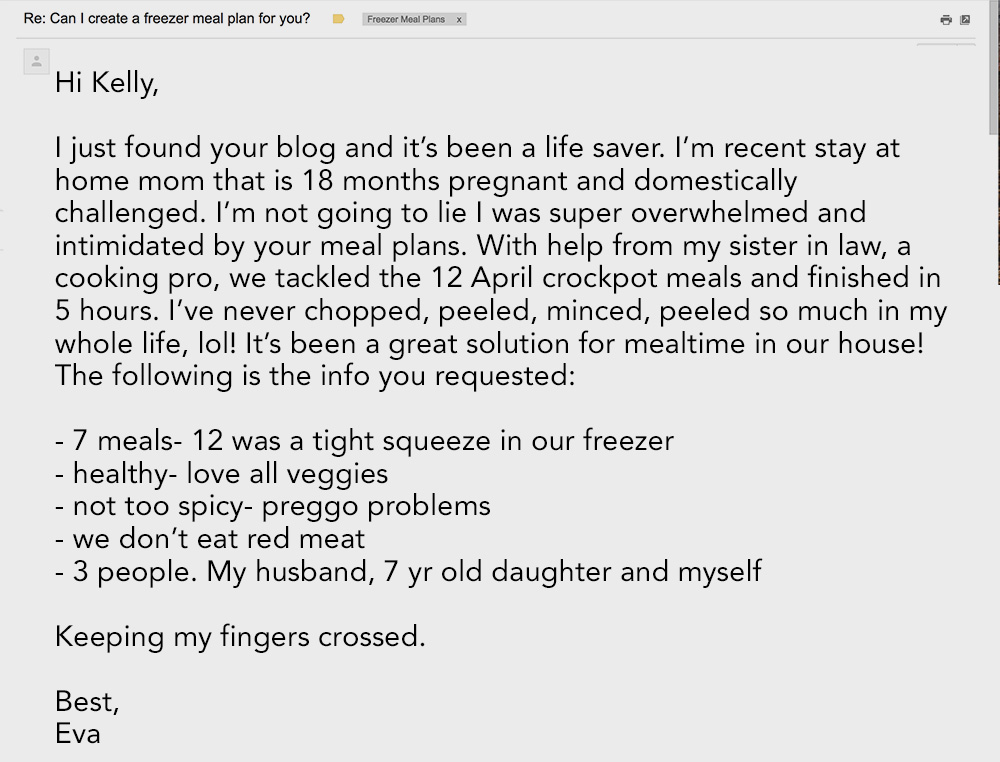 Here is my response:
Hi Eva!
I give you so much credit for jumping into freezer cooking while pregnant.  It sounds like a lot of work went into your first prep session, but now that you see how amazing it is to have healthy and delicious meals on-hand, you're hooked.  I promise you'll work even quicker next time!
To come up with some crockpot freezer meal ideas for you, I logged into our freezer cooking membership site, sorted by protein (chicken first and then turkey), and looked for our favorite recipes that include veggies and are super easy to make.
I would make these seven healthy crockpot freezer meals:
If you have more time, you might also want to make a pan of Zucchini "Lasagna" before your little one arrives.
Note: None of these recipes are very spicy, but feel free to omit or decrease the amount of pepper or red pepper flakes if you're worried about any of them.
CLICK HERE FOR THE FREE PRINTABLE RECIPES AND SHOPPING LIST.
I am also giving you a free membership to our Freezer Meal Pro site so you can make any changes that you want to this list.  It should make your future freezer meal prep sessions easier than ever.
If you are logged into Freezer Meal Pro, click here to view and edit the menu.
Let me know what questions you have!
Kelly

Friends, stay tuned for more custom meal plans on my blog.  I can't wait.
If you have a suggestion for Eva or a question for yourself, please leave a comment below. xoxo, Kelly