For the first time ever I am LOVING my Instant Pot. I came up with the idea to freeze stir fry "packs" with meat, sauce, and veggies that I could cook in my Instant Pot or crockpot.  Oh my gosh, they are so good.  If you want to make them too, I'll share my recipes and shopping list below.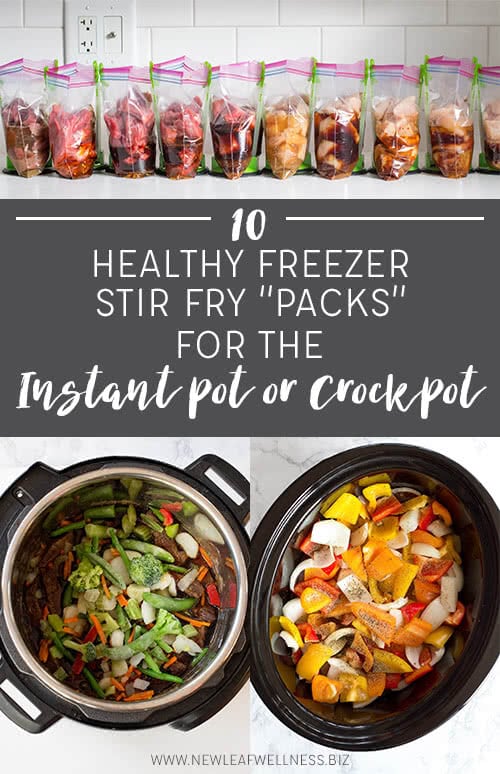 First, let me give you an update and admit that life with five little kids is crazy.  Reese is six weeks old now and we haven't settled into any kind of routine yet, so I'm constantly trying to juggle cooking, cleaning, work, and life in general. It's overwhelming. The kids adore their new baby sister though and I am obsessed with cuddling her.
I came up with the idea to freeze some meals that I could cook later in my Instant Pot or crockpot and it's been the best thing ever.  They're healthy, delicious, and so easy to make.
Click here for my free printable recipes and shopping list:
What did I make?
Honey Garlic Chicken (my personal favorite)
Sweet Hawaiian Chicken
Chicken Teriyaki
Chicken Fajitas
Chicken and Broccoli
I doubled each recipe and made a second set with beef for a total of 10 different meals. Woot!
What's so great about these freezer stir fry packs?
They're easy to prep ahead of time. None of the recipes required any cooking before freezing, so I was able to prep all 10 stir fry packs in 50 minutes (including cleaning up my kitchen). That works out to only five minutes per meal.
They're budget-friendly. I already had most of the simple ingredients on-hand, so I only had to buy meat, frozen vegetables, honey, canned pineapple, beef broth, and limes at the grocery store. The total bill was $105 or $10.05/meal with six servings. (I bought all-natural, antibiotic-free meat. If you can find a deal on meat you'll save a lot more money.)
The meals are healthy and delicious. (We already ate all of them and loved them.)

Here's how it works:
To prep, I mixed the meats with their marinades and froze them. (I've made a lot of freezer meals like this and they are good in the freezer for at least three months.)
To cook, I took a frozen bag and ran it under water to separate it from the bag. Then I dumped it into my Instant Pot or crockpot.
The cooking times were 15 minutes in the Instant Pot (plus time to build pressure and release pressure) or 4-6 hours in the crockpot. (I did a lot of testing with the cooking times and included detailed instructions in my free printable recipes above.)
Last, I added one pound of vegetables and cooked for another one minute in the Instant Pot or 30-60 minutes in the crockpot (You can also add the veggies to the crockpot at the beginning of the cooking time – we prefer to cook them with the sauce but I know some people like them al dente, so it's up to you.).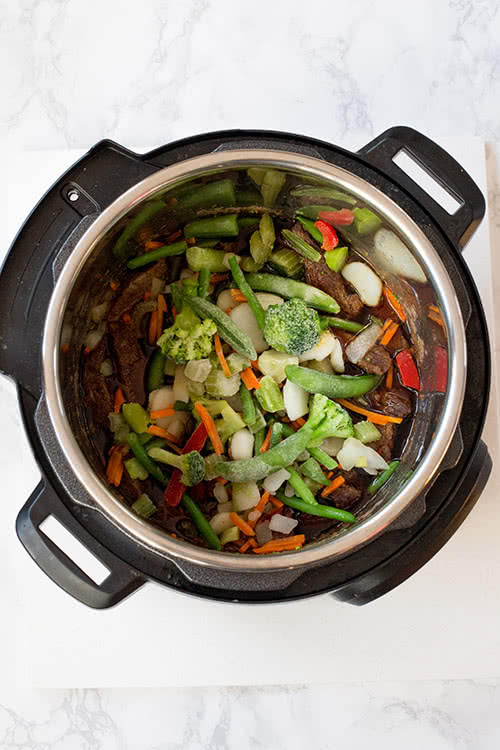 I typically cook with fresh vegetables, but decided to use frozen for these meals because…
They were cheap. I only spent $1-2 per one pound bag.
They saved me a lot of prep time. No extra peeling or chopping required.
Fresh broccoli doesn't freeze well. For some reason it oxidizes more than other fresh vegetables in the freezer and tastes bad if it isn't cooked ahead of time. I knew I wanted to make beef and broccoli, so fresh vegetables weren't an option for that recipe.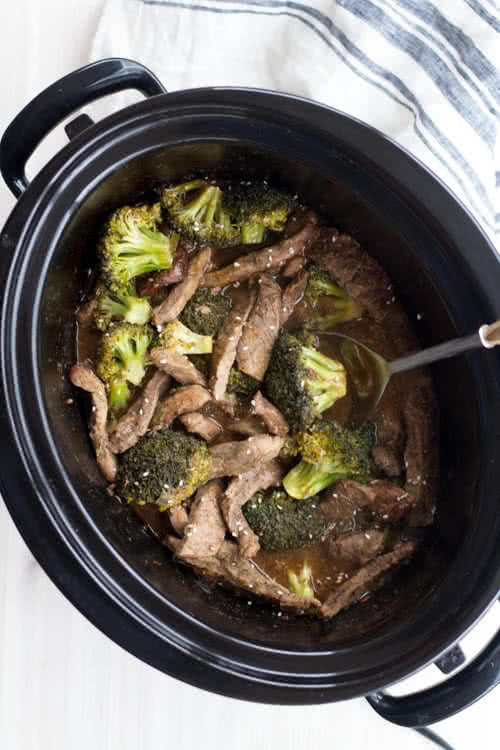 I could go on and on about these meals, but I'll stop now and just say that I can't wait to make them again.  If you have any questions, let me know.
Thoughts or questions?  Please leave a comment below and I'll respond as soon as I can.  I'd love to hear from you. xoxo, Kelly