Do you know what is the most expensive ingredient in crockpot recipes?  Meat!  (Trust me.  I've made hundreds or thousands of meals and have analyzed the costs.) That's why when I saw epic meat sales at the grocery store last weekend I knew I had to stock up.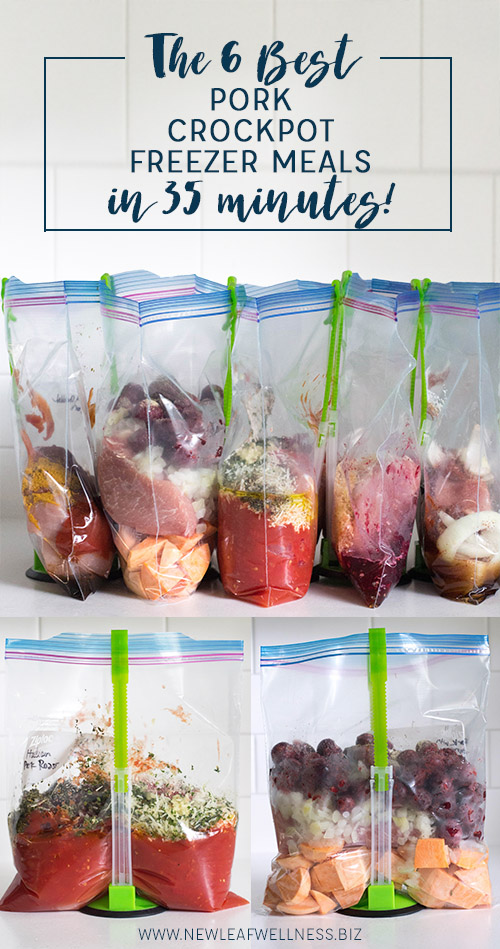 I ended up buying 10 packages of all-natural chicken breasts and six boneless pork roasts.  That's how much I could buy without blowing my food budget.  It also seemed like a good amount to stock our freezer without overflowing it.  Freezer meals are good for at least three months and I knew we'd have no problem eating them during that time.
It only took me an hour to turn the chicken breasts into 10 crockpot freezer meals and then I turned to the pork.  I focused on our favorite recipes and added in two new ones from Six Sisters' Stuff and Sweet Peas and Saffron (Yum!).
Here's what I made:
Cranberry Pork Roast (only 4 ingredients!)
Company Pork Roast from Six Sisters' Stuff
Shredded BBQ Pork
Maple Pulled Pork from Sweet Peas and Saffron
Cherry Pork Roast with Sweet Potatoes (inspired by a recipe in my Freezer Cooking Cookbook eBooks and shared for free below)
CLICK HERE TO VIEW AND SAVE THE RECIPES & SHOPPING LIST. NO STRINGS ATTACHED.
What's so great about these meals?
They're all pork recipes, so I made them when boneless pork roasts were buy one, get one free at the grocery store and saved $30!!  (The recipes were pretty simple, and I had almost all of the ingredients on-hand, so I only spent $33 total or $5.50 per meal.)
None of the recipes required any cooking ahead of time, so I was able to make all six in 35 minutes (less than 6 minutes/meal).
They're healthy and delicious!

Tips for making this specific group of crockpot freezer meals:
These recipes were very easy and straightforward.  I focused on one freezer bag at a time and filled it with its ingredients.  I used Jokari-Hands Free Baggy Racks to keep the bags from spilling everywhere and bribed my one year old with popsicles, applesauce, and pretty much anything else that he wanted because I knew I could make these meals quickly while he was awake (my daughters were outside playing with friends).

Thoughts or questions?  Leave a comment below and I'll respond as soon as I can.  I'd love to hear from you.  XO, Kelly