This eCookbook will teach you how to prepare easy freezer meals for your oven. Simply combine the meat, vegetables, sauces, and spices in 9×13″ baking pans.  None of the ingredients require any cooking ahead…not even the sauces or noodles!
These oven freezer meals are the perfect compliment to your crockpot freezer meals.  They add the variety of tastes and textures that you can't make in a crockpot (for example, breaded pork chops and layered casseroles).  Make your crockpot recipes during the workweek and enjoy these yummy oven meals as Sunday dinners.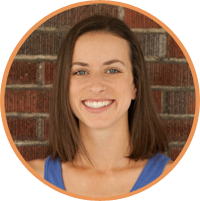 Hi!  I'm Kelly.  I'm a crockpot-loving mom of four living in Pittsburgh, PA.  After trying thousands of freezer meals myself, I worked with my husband, Andy, and cousin, Jill, to package the very best recipes into digital eCookbooks.  Over the course of four years we created healthy freezer recipes with enough different flavors, textures, and cooking methods for every night of the week. These recipes were taste-tested by our families and thousands of happy customers.  I know you're going to love the new recipes in this oven mini eCookbook.
What's inside this mini eCookbook?
Seven delicious recipes that can be frozen without any cooking ahead of time and then baked in your oven
Full nutritional information for every recipe
A printer-friendly format
A super-organized grocery list
Color photos of the cooked meals
Cooking instructions that you can print on Avery water-resistant labels and stick to your freezer meals
Tips for freezing and cooking freezer meals safely and efficiently
Full List of Recipes (each with 10 ingredients or less!)
Breaded Pork Chops
Cheesy Chicken & Veggie Casserole
Chicken Cordon Bleu Casserole
Jalapeno Bacon Mac 'n Cheese
Roasted Chicken with Honey Lemon Carrots & Red Potatoes
Sausage & Peppers
Zucchini "Lasagna"
Every recipe cooks for the first time in your oven so it tastes exactly like a freshly prepared meal (just without all the work!).
Over 35,000 people already bought my eCookbooks and changed the way they cook.
"What really sets your cookbooks aside is the level of organization and planning you put into the meal preparation process. Everything from the grocery lists, nutritional information, and freezer labels was so well thought out I was throughly impressed. It is so nice to come home after working 10-11 hours to have a meal ready to go. I don't have to look up the directions again on the Internet, I don't have to guess the calorie count, I don't have to make a a shopping list. It's all there." -Natalie
"I made a double batch of the breaded pork chops. One for dinner last night and one to freeze for a later date. I am new to freezer meals so I was very excited about this!  The pork chops smelled so good while baking and did not disappoint at all. They were extremely flavorful. I will definitely make this re one regularly as all 4 of us liked it, that isn't always the case. I have a pretty picky little one!" -Amy
"I like the selection of meals you've created for this new Oven e-book – they are varied and have real cross-appeal, whether for a family dinner or even a more special occasion! I chose to prep and make the "Chicken Cordon Bleu" meal, as it just fit the need for something a bit different. I have to say your recipe is delicious, and very creamy!! It's one that's perfect for a Sunday dinner!" -Shelle
Do the meals need to be thawed?
No. I bake my meals straight from the freezer.
How long do the meals need to cook?
They range from 90 minutes to 2 1/2 hours, depending on how many layers are in the dish. If you want to decrease the cooking time, you can partially thaw in the refrigerator. I recommend cooking these meals on the weekend when you're at home and making crockpot and skillet freezer meals during the week. (You can find all of my freezer cooking methods in this eCookbook bundle.)
Do I have to freeze the meals before cooking them?
No. You can skip the freezing step and bake for one hour instead.
Which containers do you recommend for freezing and baking?
I use 9×13" aluminum baking pans. I do not recommend glass because it is not meant to go straight from the freezer to the oven. If you want to freeze all seven recipes at once and don't own seven aluminum pans I recommend these disposable baking pans. (They also make clean-up a breeze!)
How many servings are in each recipe?
6-8.  If you are cooking for less people, you can split each recipe into two 9-inch pie pans.
Are the recipes healthy?
Yes.  You won't find any ingredients like condensed soup or soda pop.  I try to eat as many vegetables as possible and very limited amounts of processed foods.  The ingredients in these eCookbook recipes are healthy, delicious, and sold at most local grocery stores.
Are the recipes budget-friendly?
Yes. Most of my recipes cost less than $10 to make and every recipe is made with 10 ingredients or less. No extra ingredients need to be added before cooking and very few side dishes are required when serving.
How long do the meals last in the freezer?
Most meals will last at least three months in a standard refrigerator/freezer combo.
Can I re-freeze the leftovers?
Yes. Once the meals are cooked they are the same as non-frozen meals.
One last question – What's an eCookbook?
All of my eCookbooks are PDF eBooks that can be read on computers, tablets, and smartphones.  (No special e-reader required!)  They are also formatted to print on regular 8.5×11″ computer paper so you're welcome to print a copy if you want.
After making a purchase, you will be automatically redirected to a page where you can download your copy of the eBook.  You will also be emailed a copy to save to your computer.  Thank you for your support!