Since sharing my list of 31 crockpot freezer recipes, I've had a lot of requests for vegetarian crockpot recipes that freeze well.  So, here you go!  I've compiled a list of 11 vegetarian recipes that you can make ahead of time and freeze for your crockpot…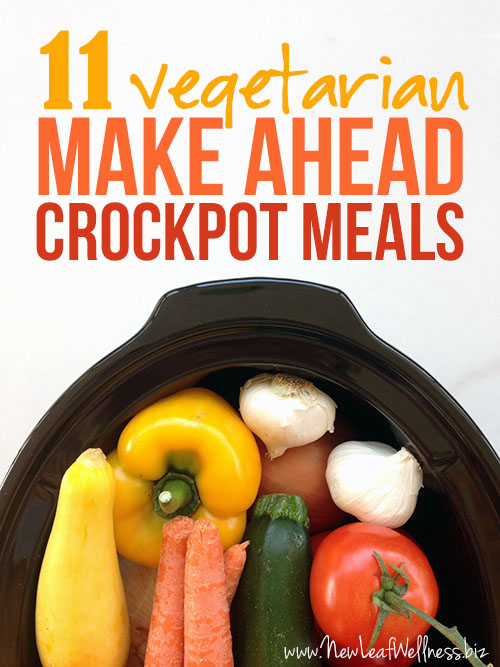 I'll be honest and tell you that my family eats meat with dinner every night, except for when we have lasagna or the garden vegetable soup or bean and cheese burritos from my freezer cookbooks.  That doesn't mean I don't know a good vegetarian crockpot recipe when I see one, though.
I've made hundreds of make-ahead crockpot recipes, and I can tell you that these vegetarian recipes will freeze perfectly.  And, the best part is that you don't have to do any cooking ahead of time – simply combine the ingredients and freeze!
Even though we eat meat, some of these recipes look so yummy that I'm convinced we need to give them a try.  Such as easy way to save money.  (And, a huge time-saver, if you prep a bunch of make-ahead crockpot meals at once.)
Eleven Vegetarian Make-Ahead Crockpot Recipes
If the recipe doesn't contain freezer directions, simply combine all of the ingredients in a gallon-sized plastic freezer bag, remove as much air as possible, and freeze for up to three months.  (I wait to add water/broth until the day of cooking.)
When you're ready to eat, thaw the bag in your refrigerator overnight or in a bowl of cold water.  Cook according to the recipes instructions and add 1-2 hours if the meal isn't totally thawed.  Enjoy!

Thoughts or questions?  Leave a comment below and I'll get back to you as soon as I can!