Okay, so you know that I'm obsessed with freezing meals for my crockpot, but did I tell you that I've been freezing meals for my stovetop too?  They're just like my crockpot recipes, frozen without any cooking ahead of time, but they can be cooked in a pan in 15 minutes or less.  Wahoo!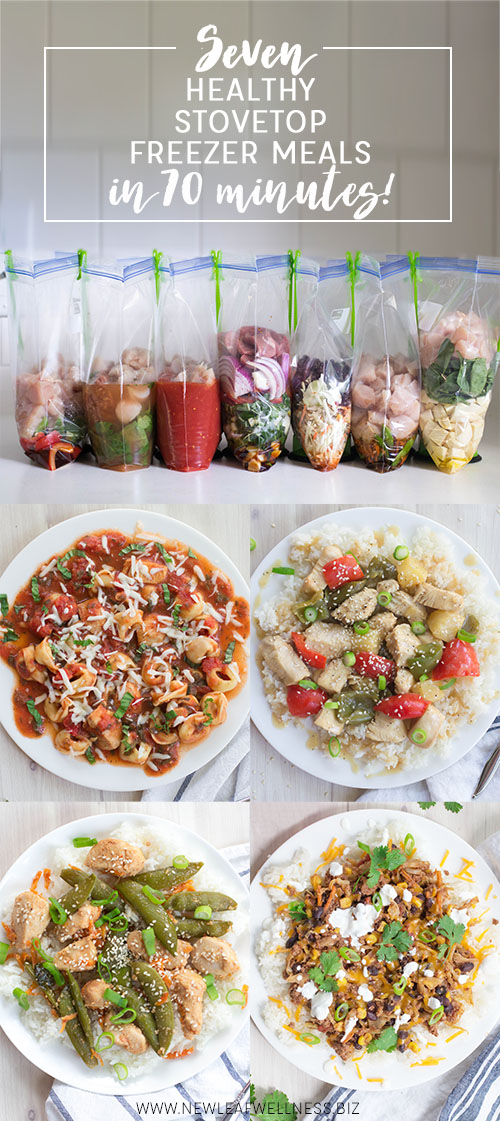 The fall is super busy for us with back-to-school, holidays, and birthdays so I've been working ahead to stock our freezer with healthy meals.  I recently published a new cookbook eBook with our favorite freezer-to-stovetop recipes and I wanted to see what it was like to freeze all of the recipes at once. It only took me 70 minutes to make all of them and clean up the kitchen.
Here's what I made:
Chicken and Sweet Potato Hash (yum!)
Chicken and Sausage Orzo
Hawaiian Chicken and Peppers
Honey Garlic Chicken and Peas
Steak Stir-Fry and Bok Choy
Tex Mex Beef and Cabbage (my fave)
Tuscan Chicken Tortellini (our cookbook reviewers' fave)
CLICK HERE FOR THE E-COOKBOOK WITH PRINTABLE RECIPES, GROCERY LIST, NUTRITIONAL INFO, FREEZER BAG LABELS, AND MORE.
What's so great about these stovetop freezer meals?
They don't require any cooking before freezing so I was able to make all seven in 70 minutes (10 minutes per meal).
The ingredients are simple, so I only had to spend $78 at the grocery store ($7.80/meal).
They're healthy and delicious!

Here are my tips for making all seven at once:
Print the recipes, shopping list, and freezer labels ahead of time and go grocery shopping.
When you're ready to prep the meals, use the shopping list to get out everything that you need to make the meals (except the meat – leave it in the refrigerator until you're ready for it).
Label your freezer bags with the pre-formatted freezer meal labels. (They're formatted to print on water-resistant Avery Stickers).
Fill the bags one-by-one or in an assembly line.
Add the meat last so it's the first ingredient dumped into the pan.
Remove as much air as possible from the bags, stack them in the freezer, and clean up.
Don't forget to play music, have fun, and give yourself a pat on the back when you're done.
There are a lot of free recipes on my blog, but the recipes in my Cookbook eBooks undergo a much more rigorous testing process so I can guarantee that you will love them.  They also include freezer cooking tips, a super organized shopping list, full nutritional information, printable freezer labels, and color photos of the finished cooking meals (see below).
If you have any questions, please leave a comment below and I'll respond as soon as I can. Thank you for your support!  XO, Kelly