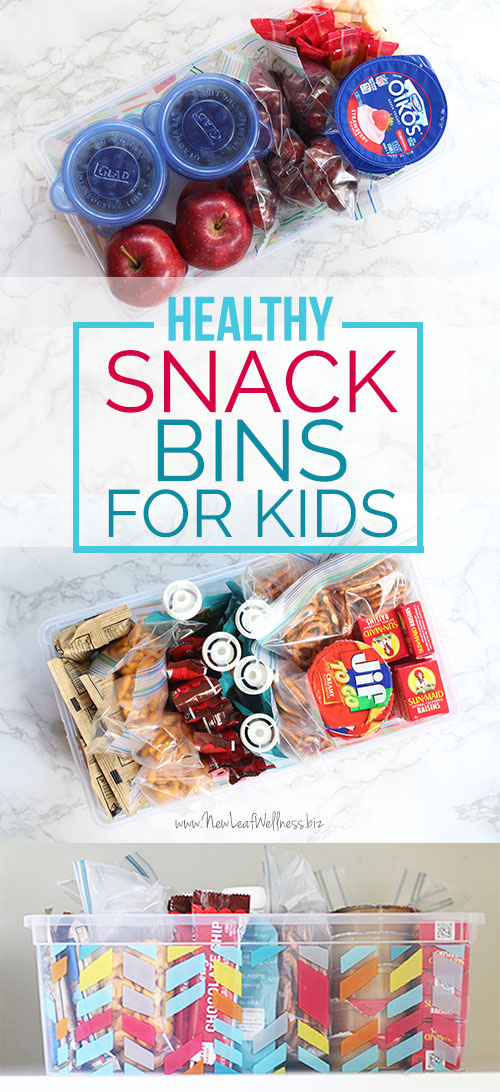 I'm on a mission to be super organized this fall.  I stocked my freezer with 40 healthy crockpot freezer meals (most of them during this freezer meal prep session) and now I'm moving on to breakfasts and snacks.  
I went shopping with my 5 and 6 year olds and let them pick out their favorite healthy-ish snacks.  Then, I bought two bins from Target and organized them in our fridge and pantry.  It took less than 30 minutes and now we're stocked with tons of healthy snacks!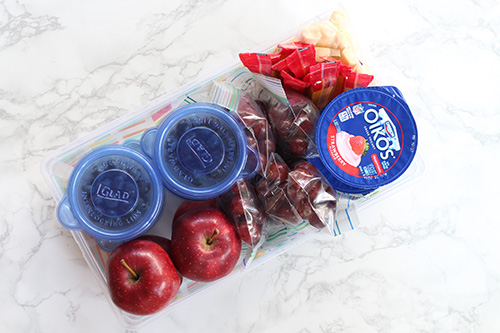 I don't know if you think our choices are healthy or not, but at least they're not chips and pudding.  Feel free to make your own bins with lots of veggies if your kids will eat them.  And if you want to buy chips and treats, go ahead.  I'm not here to judge.
I didn't make anything fancy, but that's what I love about these bins – they're so easy to make.  We've been grabbing bags to take to the pool and my kids love helping themselves to a snack before bed.  I even got my 2-year-old to eat a bag of grapes last night, which is a huge win because she's going through a picky stage right now.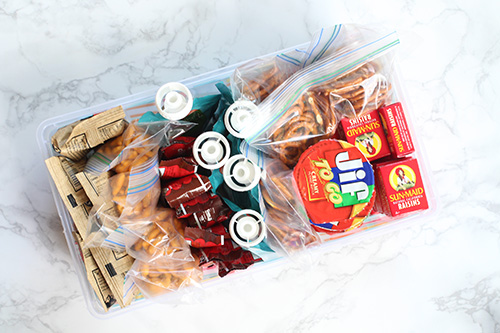 I can imagine these being great for packing school lunches too and for after-school snacks.  Yay!
Here's what's in our bin for the fridge:
Blueberries
Apples
Grapes
Cheddar cheese sticks
Mozzarella string cheese sticks
Yogurt
Here's what in our bin for the pantry:
Clif bars
Goldfish
Granola bars
Applesauce pouches
Pretzels
Peanut Butter
Raisins

More healthy snack ideas:
Baby carrots
Sliced bell peppers
Sliced cucumbers
Hummus
Ranch dressing for dipping
Clementines
Graham crackers
Trail mix
Almonds
Peeled hardboiled eggs
Thoughts or ideas of your own?  Please share in a comment below! XO, Kelly