Want to eat homemade meals this summer without all the work? Stock your freezer with these crockpot freezer meals and spend your time outside instead.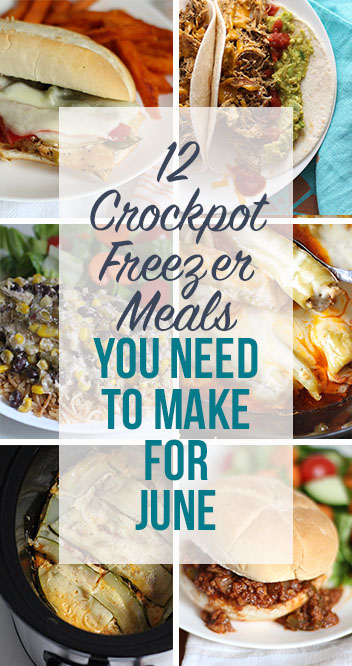 What's so great about crockpot freezer meals?
None of the recipes require any cooking before freezing so they're very quick and easy to make.
The meals cook for the first time out of the freezer and don't taste like leftovers at all. Yay!
You can take advantage of great deals at the grocery store and save lots of $$$.
Is it safe to freeze raw meat with veggies?
Yes! I did a lot of research when I was writing my No-Cook Freezer Meals eBook and the USDA Food Safety and Inspection Service explains that freezing food inactivates any microbes that are present in the food (like bacteria, yeasts, and molds). That means that it's perfectly safe. Keep in mind that you're going to cook all of the food before eating it.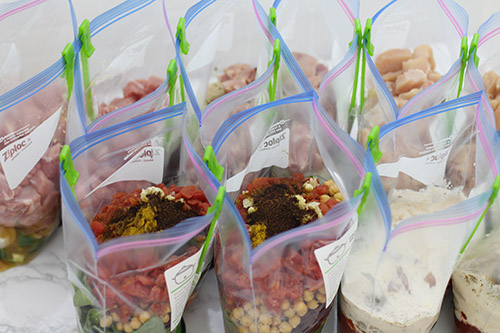 Since I've made hundreds of crockpot freezer meals I decided to compile a list of 12 favorites that are perfect to eat in June.  This is my 5th summer making freezer meals and I can't wait to spend time with my kids at the playground, beach, and pool.  Enjoy, Friends!
12 Crockpot Freezer Meals You Need to Make for June
1. Zucchini "Lasagna"
2. Shredded BBQ Chicken
3. Stuffed Banana Peppers
4. Jalapeño Lime Shredded Pork Tacos from my best-selling freezer eCookbooks and shared for free below
5. Meatball Veggie Soup (can be made with other fresh veggies like yellow squash and spinach)
6. Chicken Philly Cheesesteak
7. Banana Pepper Shredded Beef
8. Sloppy Joe's from one of my freezer eCookbooks and shared for free below
9. White Wine Chicken with Artichokes
10. Salsa Verde Chicken
11. Cool Ranch Chicken Tacos (yum!)
12. Chicken Chili made with fresh tomatoes from this freezer meal prep session
CLICK HERE FOR ALL OF THE FREE RECIPES, GROCERY LIST, AND A CALENDAR WHERE I PLANNED THE MONTH OF JUNE FOR YOU.

Thoughts or questions?  Leave a comment below and I'll respond as soon as I can.  I'd love to hear from you.