Will you think I'm totally crazy if I tell you that I've been washing my face with foaming hand soap for months?  With two little kids and a baby who's attached to me 24/7, most nights I'm just happy to wash my face before bed.  Maybe you'll think I'm a little less crazy if I tell you that it's an all-natural foaming hand soap that I make myself in 60 seconds or less.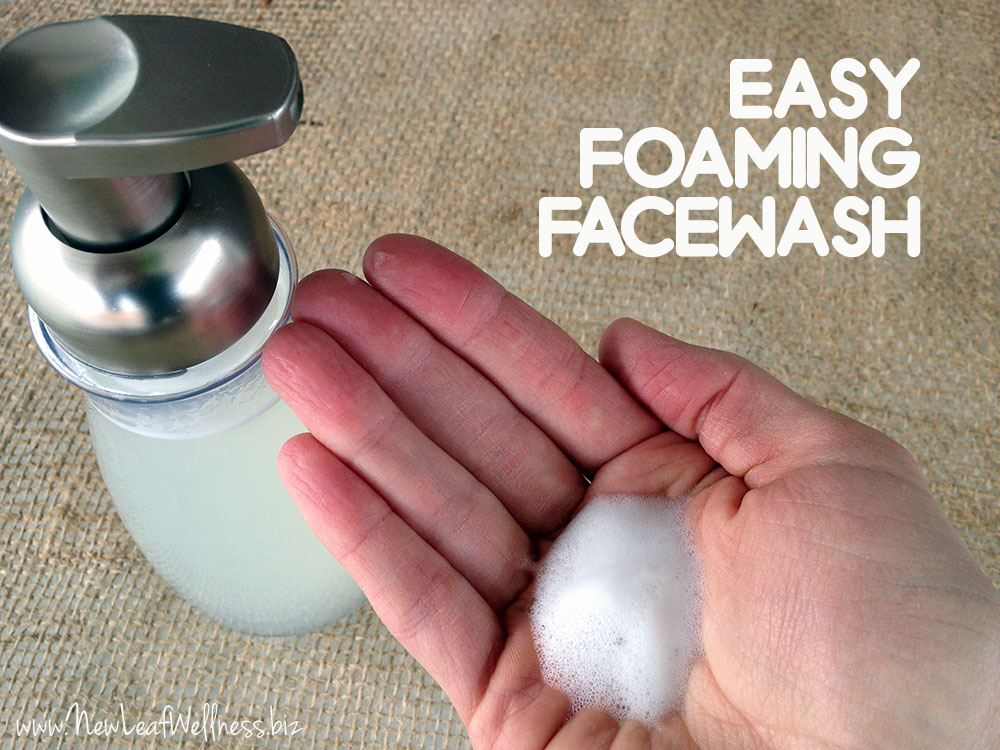 I love using my homemade coconut oil sugar scrubs to exfoliate my face in the shower, but I need something right by the sink to keep me accountable for washing my face at night.  So, I started adding a little bit of tea tree essential oil to my foaming hand soap to turn it into an all-purpose foaming soap that works for hands and faces alike!
Tea tree essential oil is one of my most favorite essential oils because it's great for skin.  It's often used to treat acne, cuts, burns, and fungal infections (more info from Web MD).  Plus, it smells amazing and reminds me of being in a spa!
Looking for motivation to make this foaming face wash yourself?  It's all-natural,  mild, and won't dry out your skin!  And, like all of my DIY projects, it's super cheap and easy to make. (See the detailed cost breakdown below.)
Easy Homemade Foaming Face Wash
Materials
Directions
Measure the amount of liquid that will fit in your foaming soap dispenser by filling it with water and then pouring the water into a liquid measuring cup. (Make sure to leave about 1/2 inch of empty space at the top.)
Fill your foaming soap dispenser with 5 parts water and 1 part liquid Castile soap. (Use a funnel or liquid measuring cup to avoid a mess.)
Add essential oil.
Shake gently to combine.
5:1 water to soap measurements:
1 cup (8 oz) = about .75 cup and 1 tablespoon water + 3 tablespoons liquid soap
1.5 cups (12 oz) = 1.25 cups water + .25 cup liquid soap
2 cups (16 oz) = about 1.5 cups and 2 tablespoons water + 6 tablespoons liquid soap
Storage
I originally bought the foaming hand soap dispensers that we use in our kitchen and bathrooms at a local craft store, but they're also for sale on Amazon.com here: Foaming Soap Dispensers.  I tried reusing a disposable foaming hand soap container for my foaming cloth wipe solution, but it only lasted a few months.
Use
Add one or two pumps of soap to clean hands and massage onto your face.  Splash with water and towel dry.  (If I have any remaining eye makeup, I use straight coconut oil and a tissue to remove it.)
Detailed Cost Breakdown to make 12 oz of Foaming Face Wash
Tap water = a few pennies or free
Dr. Bronner's Baby Mild Unscented Liquid Castile Soap from Amazon.com: $7 for 8oz bottle or $1.75 for 1/4 cup in this recipe
Certified organic tea tree essential oil from my online store: $11 + $3 S&H for 10ml bottle or $1.75 for 1/4 teaspoon in this recipe
Repurposed soap dispenser = free
That means 12 oz of homemade foaming face wash only costs $3.50!  That's a huge savings over store-bought face wash, let alone the natural stuff!
Please Share: What are you using to wash your face?  Do you have trouble remembering to wash your face at night too?  Please share your thoughts in a comment below!