Here's everything you need to know to make your own natural foaming hand soap.  This foaming hand soap takes less than a minute to make and only requires two ingredients!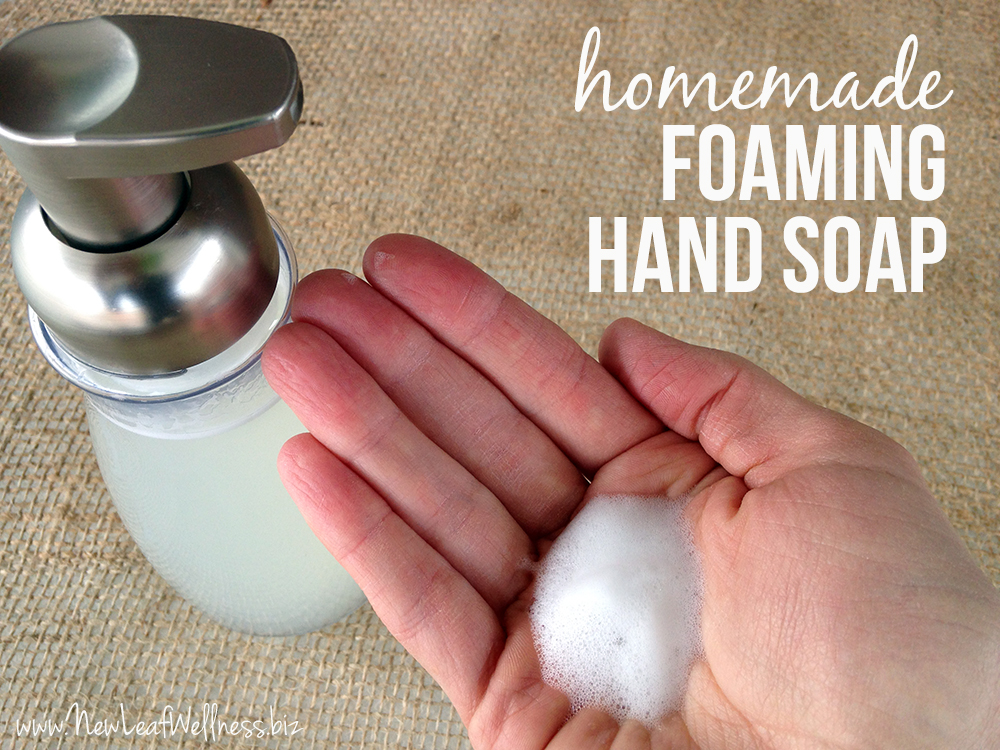 There are a lot of DIY foaming hand soap recipes out there, but I'm going to make this as simple as possible for you. (Afterall, my two-ingredient coconut oil lotions and sugar scrubs are two of my most popular blog posts ever.)  All you need to make your own foaming hand soap is water and liquid soap!
Not only is this homemade foaming hand soap simple, it won't dry out your skin like antibacterial soap!
This homemade foaming hand soap is all-natural, which is important to me since the Center for Environmental Health found a cancer-causing chemical in nearly 100 common commercial soaps and shampoos.  The soap base comes from Dr. Bronner's Magic Pure Castile Soap.  Dr. Bronner's soaps are certified organic, all-natural, biodegradable, and environmentally-friendly and can be used to clean just about anything in your house. (Some people even use Dr. Bronner's instead of toothpaste!)
Did you know that commercial soaps that contain "fragrance" or "parfum" in their list of ingredients can contain hundreds of harmful chemicals known to be "carcinogens, endocrine disrupters, and reproductive toxicants"?  (source)  Instead, you can make your own foaming hand soap with Dr. Bronner's Castile Soap scented with organic oils like lavender, peppermint, or citrus.  I'm still working my way through a gallon of Dr. Bronner's Baby Mild Unscented Soap, so I add 1/4 teaspoon (about 25 drops) of essential oils to scent our foaming hand soaps. (Lemon, peppermint, and mint-rosemary essential oils all smell great.)
Need even more motivation to make this foaming hand soap?  Search "natural foaming hand soaps" on Amazon and you're looking at spending $5-$15 per bottle.  This homemade all-natural foaming hand soap only costs $1.75 per 12 oz bottle (and that includes ordering the liquid Castile soap online and paying for shipping!).  Let's say you buy a conservative estimate of three bottles of $5 foaming hand soap per month (one for your kitchen and two for your two bathrooms).  If you replace those store-bought soaps with this homemade foaming hand soap you'll save $117 per year!
Homemade All-Natural Foaming Hand Soap
Materials
Directions
Measure the amount of liquid that will fit in your foaming soap dispenser by filling it with water and then pouring the water into a liquid measuring cup. (Make sure to leave about 1/2 inch of empty space at the top.)
Fill your foaming soap dispenser with 5 parts water and 1 part liquid Castile soap.  (Use a funnel or liquid measuring cup to avoid a mess.)
Shake gently to combine.
5:1 water to soap measurements:
1 cup (8 oz) =  about .75 cup and 1 tablespoon water + 3 tablespoons liquid soap
1.5 cups (12 oz) = 1.25 cups water + .25 cup liquid soap
2 cups (16 oz) = about 1.5 cups and 2 tablespoons water + 6 tablespoons liquid soap
Storage
I bought my foaming hand soap dispenser at Jo-Ann Craft Store for about $8.  (It was originally $12.99, but I used a 40% off coupon from their app.).   I loved it so much that I went back and bought a second one, and I'll be buying a third soon.  You can reuse a disposable foaming hand soap container that comes filled with soap at the grocery store, but it won't last as long or be as cute.
Use
Use your homemade foaming hand soap in place of store-bought hand soap in your bathrooms and kitchen.