A homemade foaming wipe solution for cloth diapers?  Sign me up!
I'm so excited to be using cloth diapers with my third baby, thanks to some awesome advice from a cloth diapering expert.
Not only do I love cloth diapers, but cloth wipes are AWESOME.  I even started making my own foaming solution for them.  I know most people use a regular old spray bottle with cloth wipes, but I like how this foaming wipe solution can be pumped right onto a wipe instead of surprising my baby with a spray to her bottom.  Plus foam is so fun!
Here's what I love about my homemade foaming cloth diaper wipe solution:
It's cheap
I can make it in less than 60 seconds
It's all-natural
It's antibacterial, but won't dry out baby's skin
It works great
It smells great
All you need to do is combine some soap, coconut oil, essential oils, and water in a foaming soap dispenser and you're ready to change some diapers.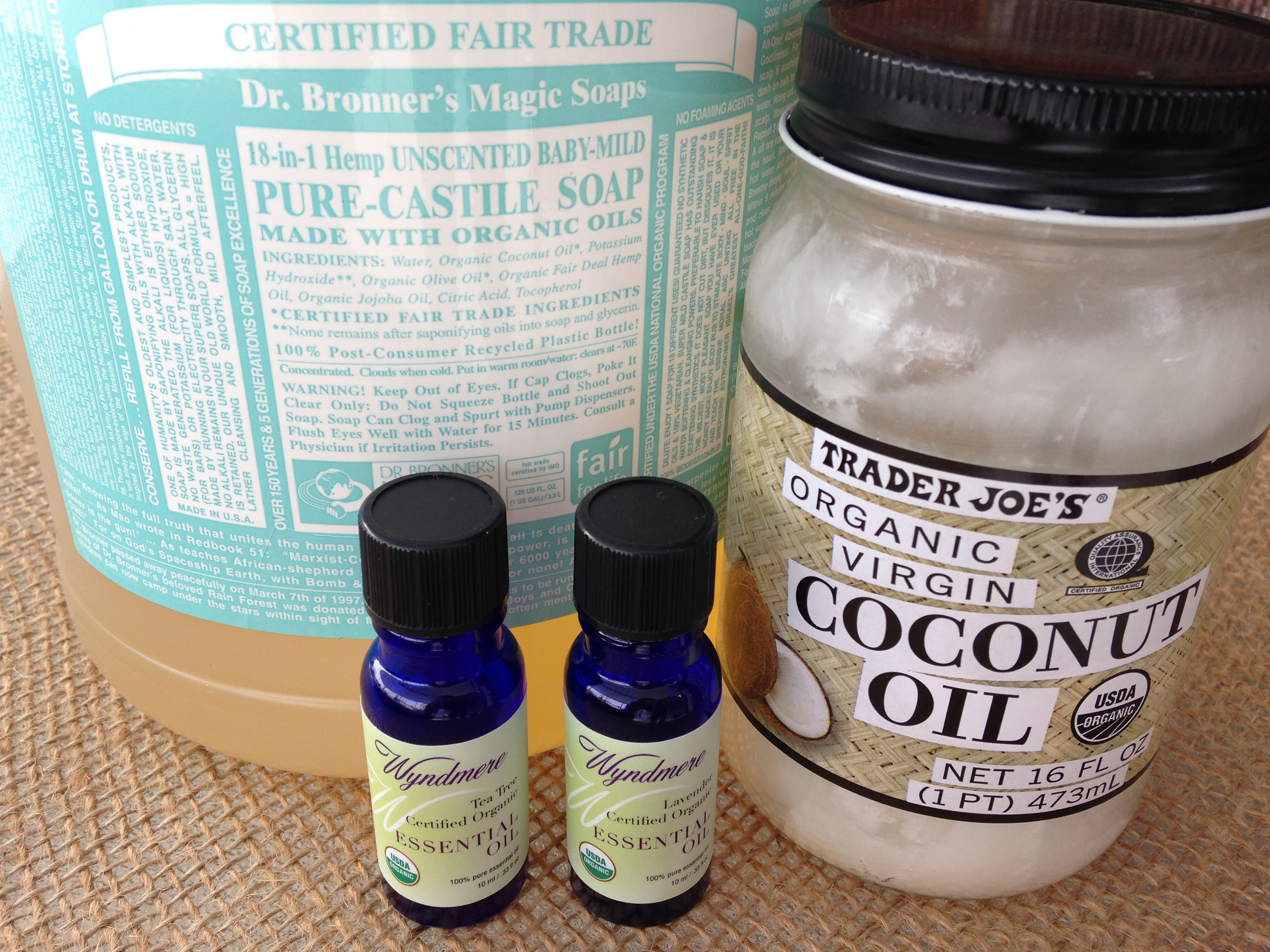 I add coconut oil to my homemade cloth diaper wipe solution because it's moisturizing and has antibacterial properties.  (More info about the benefits of coconut oil here.)
I also add tea tree and lavender essential oils.  They up the antibacterial properties of the wipe solution and they smell great.  (More about using tea tree oil with cloth diapers here).
Since I only want to use products that are all-natural and safe for my little one, I use high-quality essential oils from  Wyndmere Naturals and a 1% dilution.  (That means my wipe solution is 99% water, soap, and coconut oil and 1% essential oils.)  Some recipes for wipe solution call for less than a 1% dilution, but I don't see how  you can get much of the antibacterial benefits with that amount.  (Here's a great article about the safety of essential oils, if you're interested.)
Homemade Foaming Cloth Diaper Wipe Solution
Yields: 7.5 fl oz foaming cloth diaper wipe solution
Materials
Directions
Pour all ingredients in your foaming soap dispenser.  (A funnel will help you avoid making a mess, but you can also add ingredients carefully with the spout of a liquid measuring cup.)
Shake gently to combine.
Storage
You have a couple of options for storing your foaming cloth diaper wipe solution:
You can buy a foaming hand soap container (filled with hand soap) on Amazon or at your local grocery store.  Just use the soap and wash out the container.  (I've done this a couple of times and they work just fine.  After a month or two the containers wear out and you need to replace.  They also start to leak so I don't recommend putting one in your diaper bag for on-the-go.)
You can buy an empty container with a foam pump that's designed for use with essential oils from Wyndmere Naturals.  (Convenient if you're also ordering essential oils from them.)  This 7oz plastic bottle with foam pump would work great and it has a lid so I think it would work for traveling, too.
You can buy an empty soap container with a foam pump.  This empty foam pump on Amazon looks like it will work and it comes in a lot of fun colors.  (Note: This container holds 13.2 oz so this recipe won't fill it to the top.)
Use
Some separation of the wipe solution may occur, so shake gently before each use.
Pump once onto a cloth wipe (or a tissue, in a pinch) and wipe away!
This foaming cloth diaper wipe solution will stay good for about two weeks and you should have no problem using it in that time if you're regularly using cloth wipes.  Happy diaper changing!