I'm so excited to share my favorite face wash!  It's a homemade lavender sugar scrub that I use as an exfoliator and moisturizer too.  You're going to love this stuff!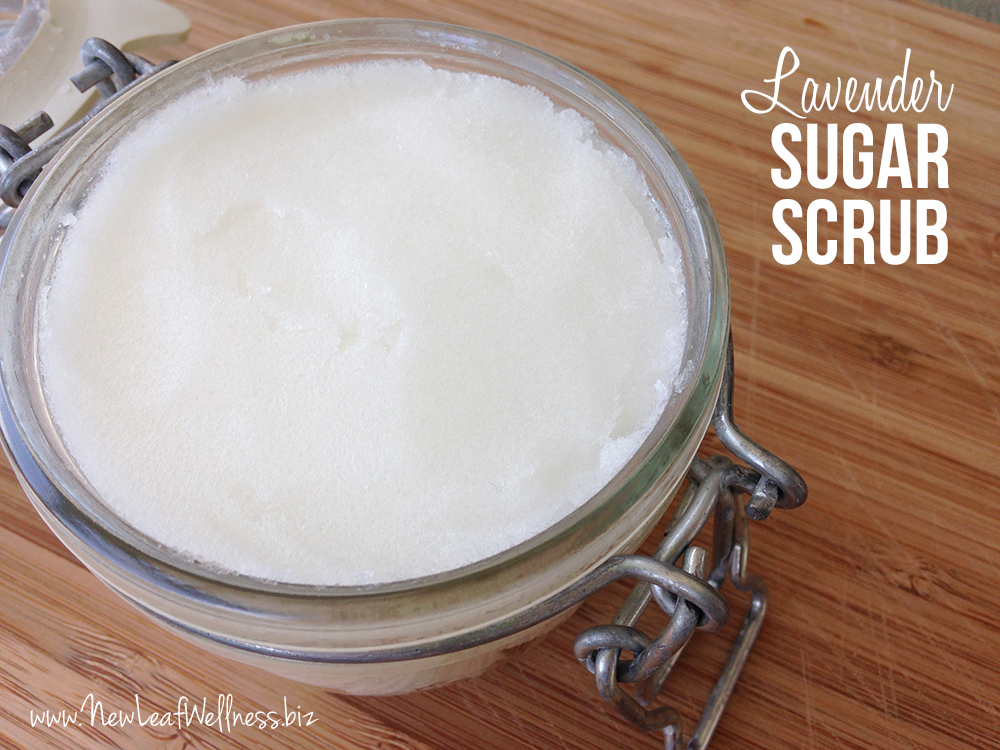 What makes this homemade lavender sugar scrub so great?
It smells fantastic
It's the perfect exfoliator for sensitive skin
You can use it to replace your face wash, make-up remover, AND moisturizer
You can make it in five minutes or less
It makes a fantastic homemade gift!
Plus, this homemade lavender sugar scrub is also so much cheaper than other high quality scrubs!  (More info on pricing below.)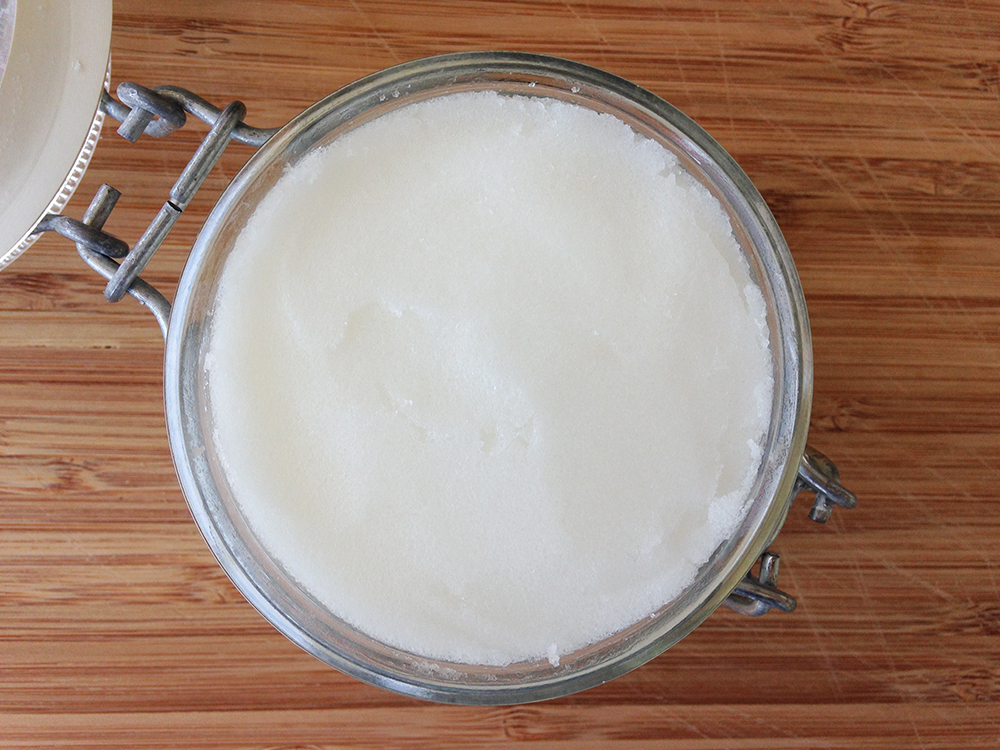 The base for my lavender sugar scrub is a mix of coconut oil and granulated sugar.  The sugar is a cheap exfoliator that most people already have in their pantry.  The coconut oil is edible, so it's perfectly safe to use on your skin.

Here are some of my other favorite beauty products to make with coconut oil: Lavender coconut oil lotion, whipped body butter (smells like chocolate!), and edible lip scrub.
I started making citrus sugar scrubs with coconut oil last year and absolutely fell in love.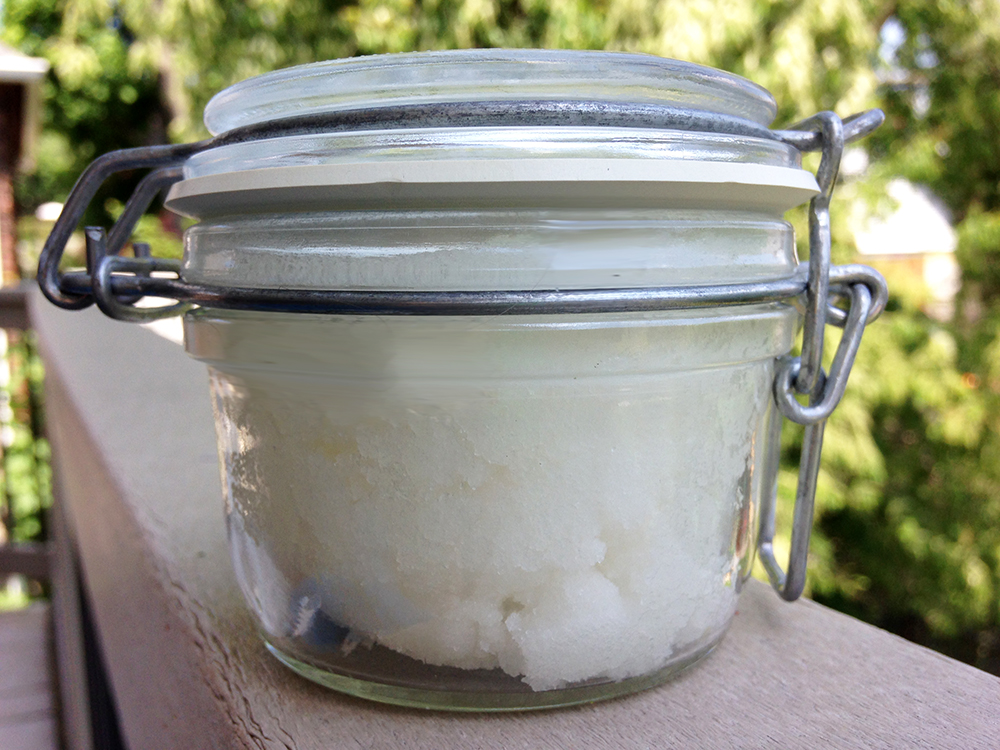 I love making sugar scrubs with lavender essential oil because it's calming and smells great.  Lavender is a popular oil that practically everyone likes and is a good introduction to the world of essential oils.  (If you're new to essential oils, they're simply all-natural, highly concentrated extracts from the aromatic parts of plants.)
I turned 32 years old this year, so I also add some liquid Vitamin E to my lavender sugar scrubs to help lock in moisture and act as a natural antioxidant.
And, if that wasn't enough, I designed a cute label for lavender sugar scrubs stored in mason jars: Free Lavender Sugar Scrub Printable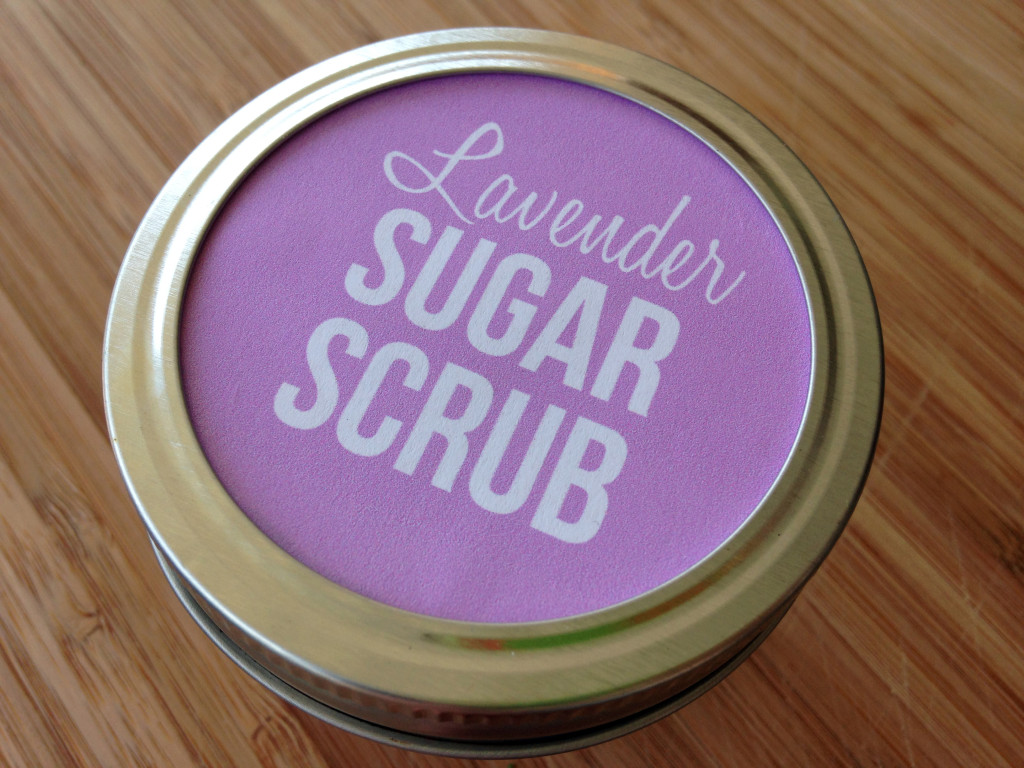 When you make your own skincare products, I recommend using the best ingredients possible.  I like to use organic virgin coconut oil and organic essential oil from Wyndmere Naturals.
Since I always seem to be pregnant or breastfeeding, I make my lavender sugar scrub with a 1% dilution.  (That means my sugar scrub is 99% coconut oil and sugar and 1% essential oils.)  Here's a great article about the safety of essential oils, if you're interested.
Homemade Lavender Sugar Scrub with Coconut Oil
Yields: 4oz homemade lavender sugar scrub
Materials
1/2 cup organic coconut oil
1/4 cup granulated sugar (you can use up to 1/2 cup if you want your scrub to have a more coarse, sand-like texture)
1/4 teaspoon organic lavender essential oil (about 25 drops)
2, 400 IU soft gels of 100% Vitamin E (optional)
Container (more info below)
Free printable label (optional)
Directions
Combine all ingredients in a medium-sized bowl.  (Unlike my coconut oil lotions, I do not recommend heating the coconut oil because it will dissolve the sugar.)
Spoon into storage container.
If you're using the free printable label, print it, cut it out, and secure it to the top of your jar with a rolled piece of tape.
To Use
On your face – Use at the sink or in the shower.  Massage in circular motions for 30 seconds.  (Avoid hairline so it doesn't get greasy.)  Rinse and pat dry.  The oil will absorb immediately.
On your hands – Massage into your hands and fingernails for 30 seconds.  Rinse and pat dry.
On your legs and feet – Massage into your legs and feet while in the bath or sitting on the side of the bathtub.  Rinse and pat dry.  (Never use on your feet in the shower because the coconut oil is slippery and you risk falling.)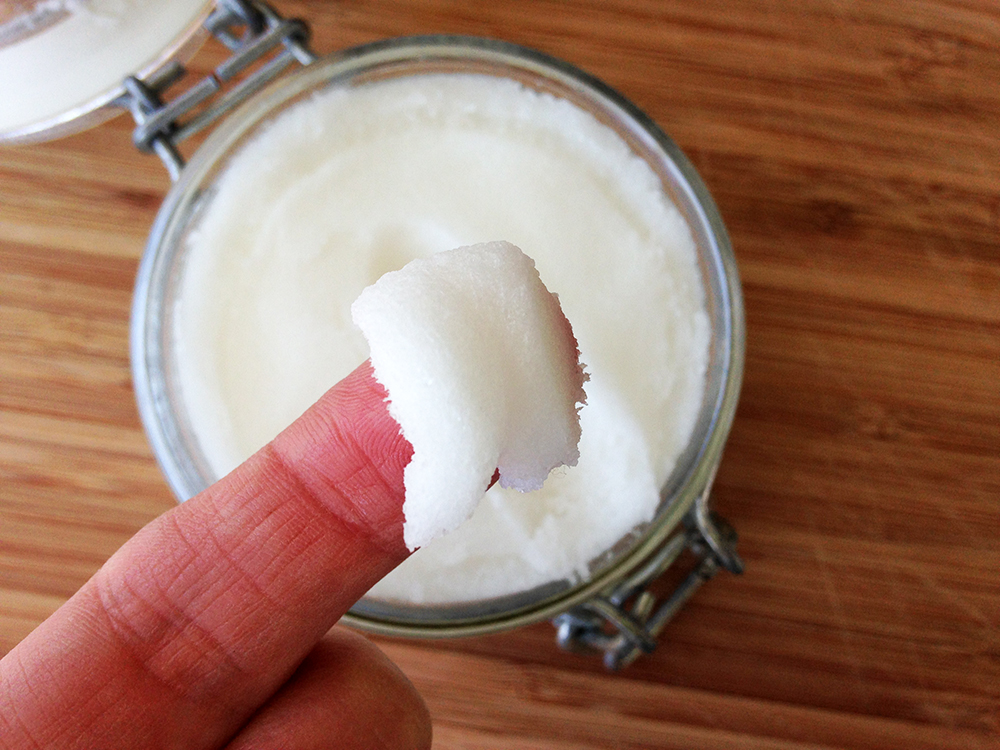 Storage Options
Cost
If you already have sugar and a container, you will spend a total of $32.94 buying organic coconut oil ($12.95 for 16oz) , organic lavender essential oil ($13) for 10ml), and Vitamin E oil ($6.99 for 100 soft gels).  You will only use a small portion of those ingredients to make one lavender sugar scrub. In fact, you'll only use 4oz of the coconut oil ($3.24), 1/8 of the essential oil ($1.63), and two soft gels ($.14). That means 4oz of lavender sugar scrub will cost you $5.01!
For the convenience of ordering all of the materials from your home, I think this price is worth it and you can use the leftovers to make more as gifts. If you want to save money, you can shop around. Coconut oil is often sold at Target, Walmart, local health food stores, and grocery stores.
Do you use coconut oil for anything outside the kitchen?  Please share in a comment below!