This lavender coconut oil lotion is seriously amazing.  I use it on my face everyday and I've already made jars for all of my family and friends!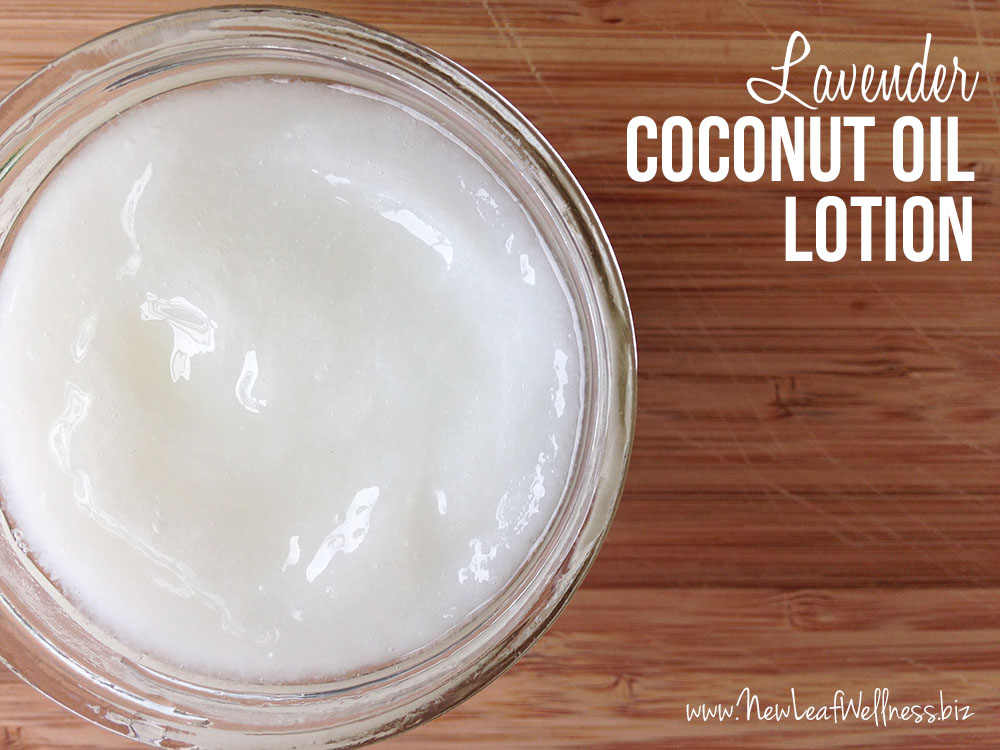 What makes this lavender coconut oil lotion so great?
It's the perfect moisturizer for sensitive skin
It's all-natural
You only need two ingredients to make it
You can make it in five minutes or less
It makes a fantastic homemade gift!
It's cheaper than the crappy lotion that you'll find at the drug store and much, much cheaper than the good stuff! (More info on pricing below.)
I love scented coconut oil lotion so much that I made 18 to use as Christmas gifts last year and shared the tutorial and pics in a previous blog post.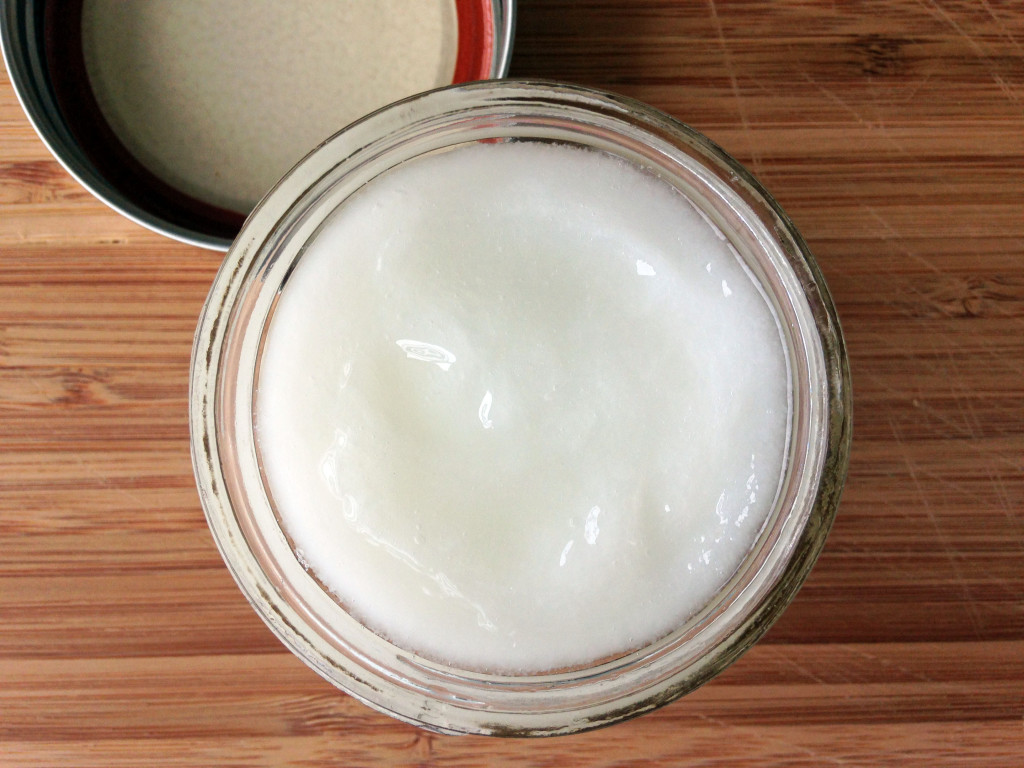 To make lavender coconut oil lotion, I simply combine coconut oil and lavender essential oil.  If you want to get technical, it's simply a scented coconut oil.  Lotions are meant to smooth, rehydrate, and soften skin, and this lotion does just that.
Here are some other homemade lotions that I've made: whipped body butter, lavender lotion bars, and these cute, little lavender lotion "sticks."
If you've never used coconut oil or essential oils before, let me break them down for you.  Coconut oil is solid at room temperature and turns into a liquid oil above 76 degrees F.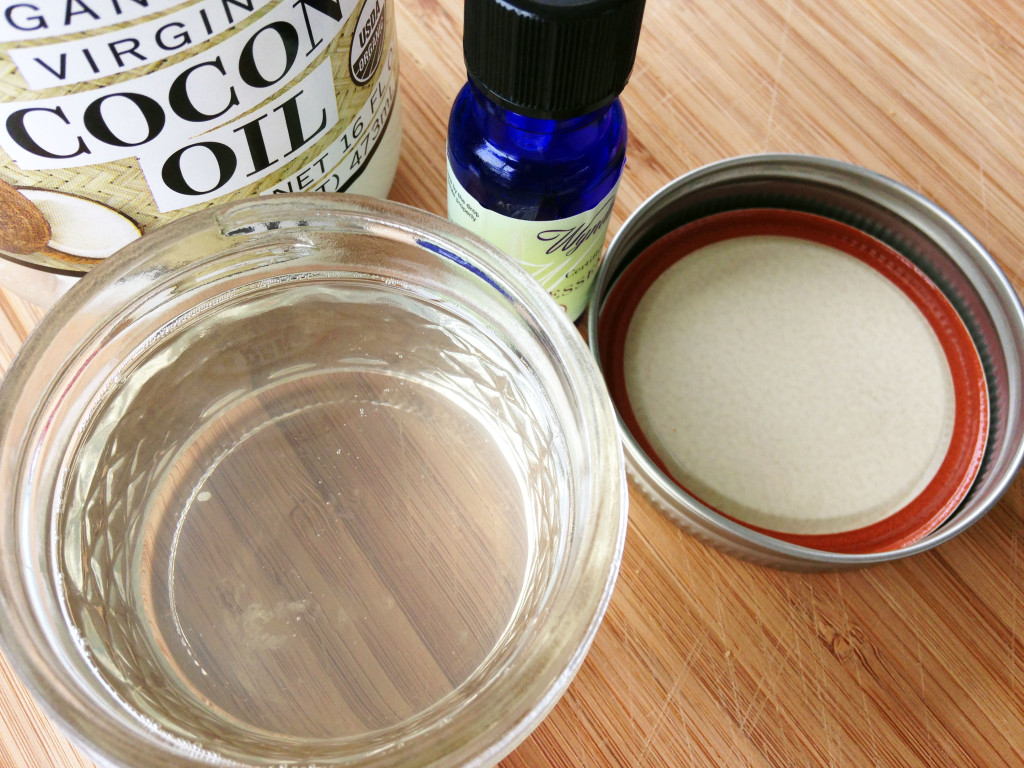 Coconut oil is most commonly used in cooking, so it's perfectly safe to use on your skin and it makes a wonderful moisturizer. You only need a to use a pea-sized amount, and it absorbs quickly into a matte texture.
I add lavender essential oil to my lotion to give it a great scent.  Essential oils are all-natural, highly concentrated extracts from the aromatic parts of plants.  Lavender essential oil is used to calm, soothe, balance, and restore.
Coconut oil + Lavender essential oil = Perfection.
I even designed a cute label for the top of a mason jar: Free Lavender Coconut Oil Lotion Printable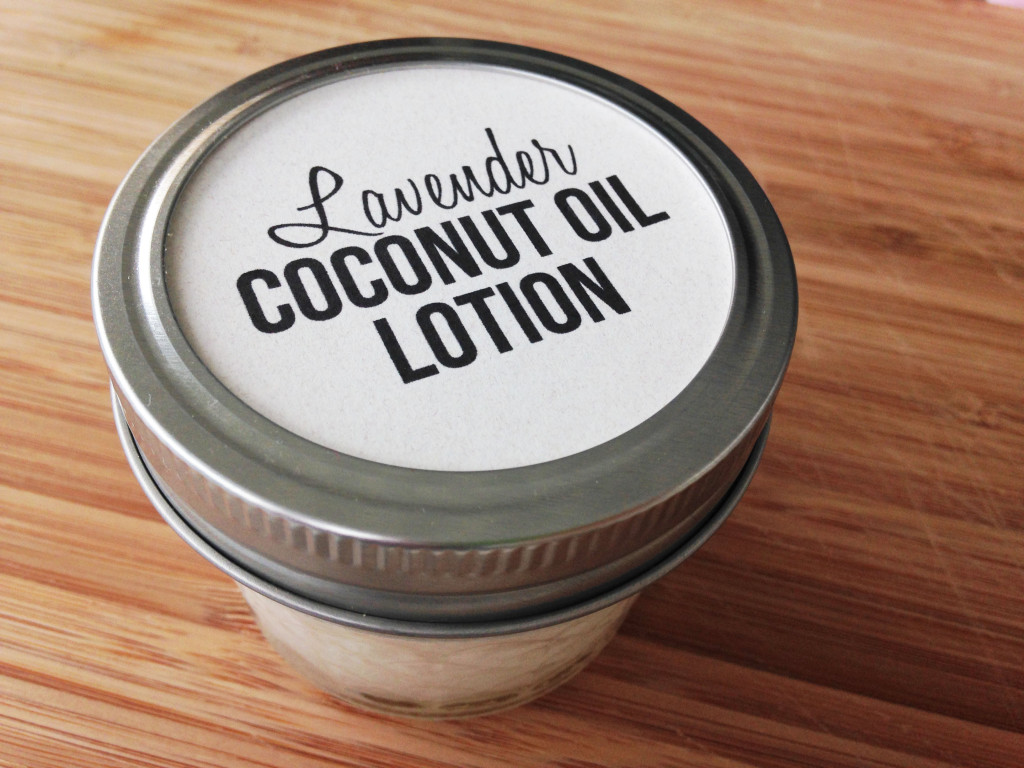 Whenever you make your own skincare products, I recommend using the best ingredients possible.  I like to use organic virgin coconut oil from Trader Joe's or Whole foods and organic essential oil from Wyndmere Naturals.
Since I always seem to be pregnant or breastfeeding, and I like to use this lotion on my little ones, I make it with a 1% dilution.  (That means my lotion is 99% coconut oil and 1% essential oils.)  Here's a great article about the safety of essential oils, if you're interested.
Lavender Coconut Oil Lotion
Yields: 4oz of lavender coconut oil lotion
Materials
Directions
If your coconut oil is solid, melt it in your microwave or in a small saucepan on your stovetop.
Add lavender essential oil and stir to combine.
Pour into container.
Let cool to room temperature. (It will harden.)  Cover with lid.
Print free label and cut along dotted lines.  Secure to lid with a roll of tape.
Store in a cool, dry place, and use often!
If you use high quality coconut oil and essential oil, it will stay good for a very long time.  I made a big batch eight months ago and I'm still using them!
Use
To use as a lotion, simply apply a pea sized amount to your skin.  It will turn to a liquid on contact and absorb quickly into a matte texture.  Your skin won't feel greasy at all.
I use this lotion on my face, arms, legs, and belly (when pregnant). I also use it on my baby's skin and on her bottom to prevent and treat mild diaper rash.
Cost
If you buy the ingredients linked to above, you will spend a total of $42.28 ($12.95 for 16 oz organic virgin coconut oil, $13.34 for organic lavender essential oil, and $15.99 for 12 glass jelly jars), but you will only use a small portion of them for one 4oz jar of lavender coconut oil lotion.  In fact, you'll only use 4oz of the coconut oil ($3.24), 1/8 of the essential oil ($1.67), and one jar ($1.33).  That means one jar of lavender coconut oil lotion will cost you $6.24 and will last a very, very long time!      
For the convenience of ordering all of the materials from your home, I think this price is worth it and you can use the leftovers to make more as gifts.  If you want to save money, you can shop around. Coconut oil and jars are often sold at Target, Walmart, local health food stores, and grocery stores.
Want to make a big batch of these as gifts?  Check out my tutorial!
Do you use coconut oil or essential oils?  Please share in a comment below!