Here's a two-ingredient lip scrub that you can whip up in 60 seconds flat. This edible sweet coconut lip scrub smells and tastes great and will make your lips oh-so-soft.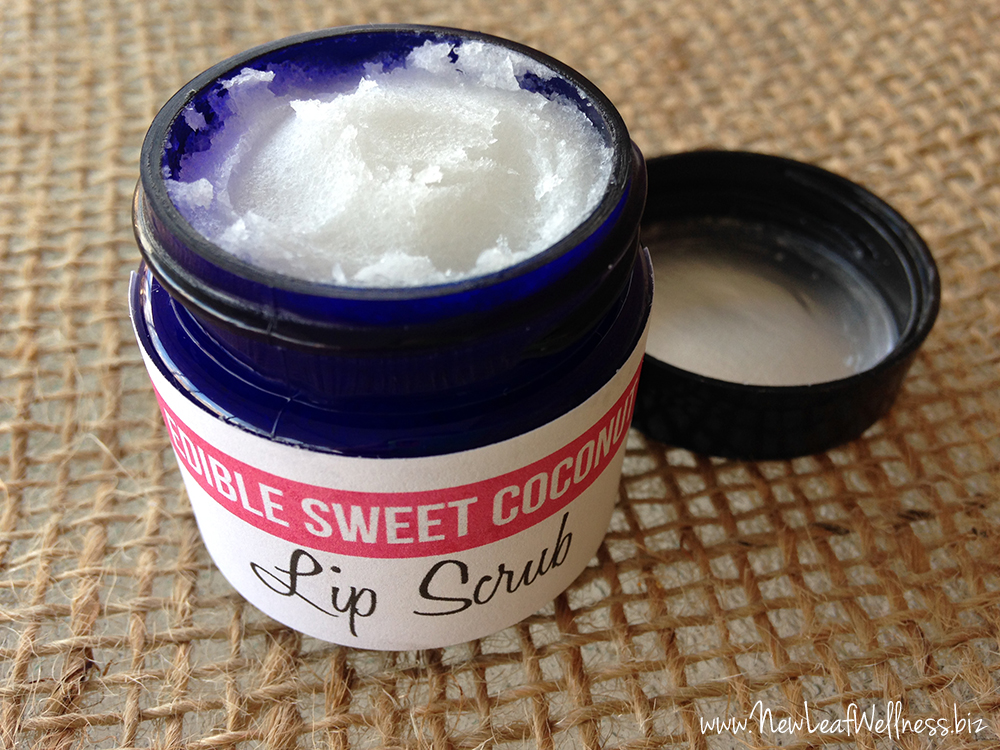 I have super sensitive skin.  In the winter it's even worse because it's dry, and my lips are no exception.
I've slowly been curing myself with homemade all-natural beauty products.  I started making a simple coconut scrub for my face and it's never felt better. (I've also been lathering up with some homemade whipped body butter.  Smells so good!)
My lips are smiling with my homemade chapsticks, so some lip scrub seemed like the obvious next step.
This sweet coconut lip scrub is so easy to make.  All you need is some sugar and coconut oil and you'll be ready to exfoliate, moisturize, and pucker up.
Since I love pretty little things, I designed a label to stick on my lip scrub container.  Here's the free printable so you can use it too: Lip Scrub Label
Edible Sweet Coconut Lip Scrub
Yields: one, 1oz container of homemade lip scrub
Materials
2 tablespoons coconut oil (I like Whole Food's and Trader Joe's organic virgin coconut oil)
1 tablespoon granulated sugar
Address label paper to print label, optional (I use address label paper compatible with the Avery 5160 address label template.)
Directions
In a small bowl, combine coconut oil and sugar with a spoon. (Coconut oil is solid at room temperature, but you can kind of smash them together.)
Use the spoon or a butter knife to add the mixture to your container and screw on the lid.
Label with printable label (optional).
To use your lip scrub, scoop out a pea-sized amount with your finger and massage onto your lips. Lick off the excess.  Yum!
P.S. If you're looking for ways to use up the leftover coconut oil from this recipe, check out my simple coconut oil lotions and cute lavender lotion "sticks".