I used to think making soap was complicated and time-consuming. NOT TRUE.  I'm giving one lucky reader all of the materials they need to give soap making a try!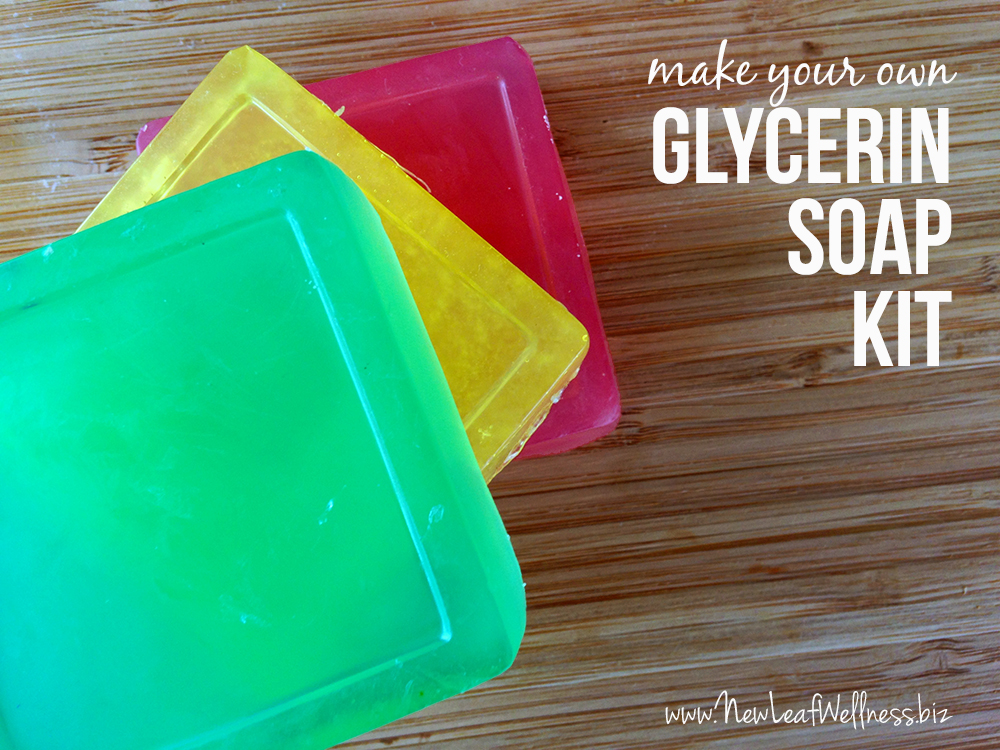 Have you ever wanted to make a "DIY" that I've posted here on New Leaf Wellness but not wanted to buy the ingredients?  You know, like my homemade chapsticks, lavender lotions, and naturally tinted lip balms?
If you're nodding your head, you're in luck!  I'm giving away kits with all of the materials you need to make your own at home.
Today's giveaway is a kit with everything you need to make my 'melt and pour' glycerin soaps. These glycerin soaps are gentle on the skin and so easy to make!  Simply melt the soap base in the microwave, personalize with your favorite colors and scents, and let them harden in their molds!
Give these glycerin soaps as gifts to your friends, let your kids play with them in the bath, or use them all yourself.  Enter the contest below to win!
Make Your Own Glycerin Soap Kit GIVEAWAY
Yields: Eight, 4oz bars of glycerin soap
Inside the Kit
Two pounds clear glycerin melt and pour soap base
Peppermint and orange essential oils from Wyndmere Naturals (for scent)
Three soap molds
Spray bottle with rubbing alcohol to dissolve bubbles
Eight homemade labels for your finished glycerin soaps
Step-by-step directions
All of the ingredients will be individually wrapped and shipped to one lucky winner via priority mail shipping.
To Enter
This giveaway ends Monday, April 28th at 11:59pm EST.  Open to U.S. residents ages 18 and older.
Answer this question in a comment below: "What kind of soap do you normally use?"  Then, click "I commented."
Earn up to four additional entries by following Wyndmere Naturals on Facebook and New Leaf Wellness on Facebook, Pinterest, and Instagram!
a Rafflecopter giveaway

Trust me, you'll want to follow along because there are more giveaways coming in the following weeks!