I used to think making soap was complicated and time-consuming. NOT TRUE. You can buy soap base at the craft store, melt it in the microwave, and add your favorite colors and scents. Here's everything you need to know to make homemade glycerin soaps!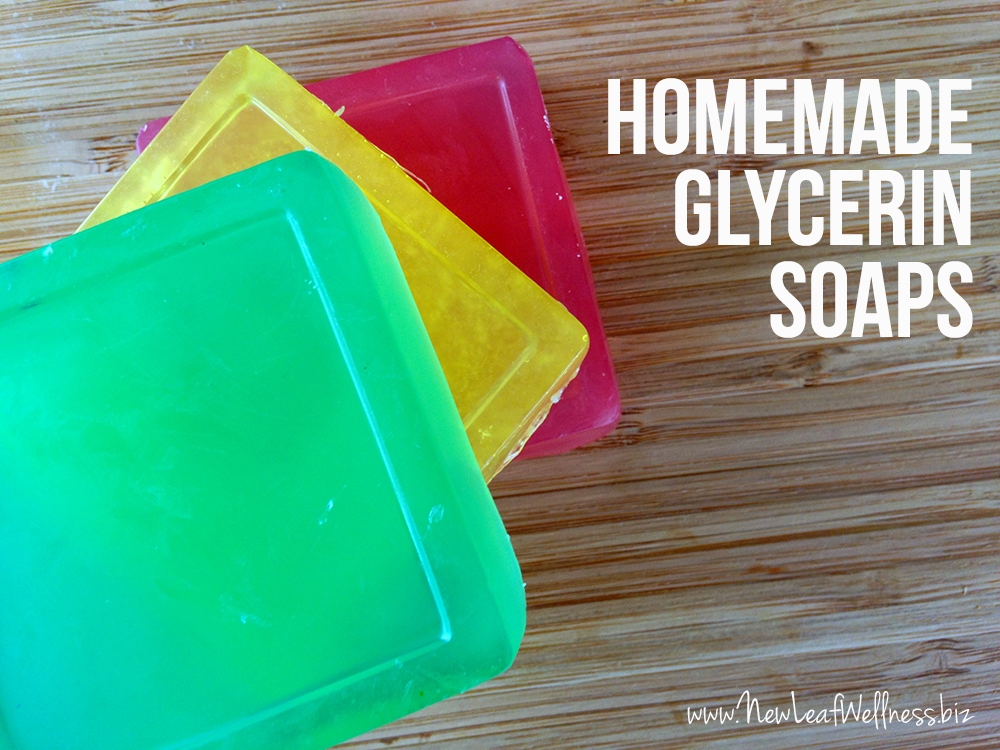 First, let me tell you what's so great about glycerin soap: Glycerin is moisturizing and gentle on the skin (source), so it's perfect for my dry skin and mild enough to use on my little ones.  Clear glycerin soap also mixes well with soap dye to make the prettiest bars of soap!
To make these glycerin soaps, all you need to do is melt the soap base in the microwave, add some coloring and essential oils, and let the mixture cool and harden in soap molds. SO EASY.  (Note: I also tried making these glycerin soaps in a double boiler, but the microwave was much faster, easier, and cleaner.)
It only cost me about $10 to make eight bars of glycerin soap. I bought all of the materials at Michael's craft store and used a 40% off coupon on the glycerin soap base ($10).  The coloring and molds were $2 each and I already had some essential oils on-hand.  Now that I have the coloring and molds, future batches of eight bars will only cost $6 each. (That's only 75 cents per bar!)
The real benefit to making these glycerin soaps is that they're so stinking fun to make. Each bar of soap comes together in less than two minutes and is so dang cute.  These homemade glycerin soaps would be great thank you gifts, Christmas gifts, housewarming gifts, birthday party favors, I could go on and on…
I melt the soap base for one bar of glycerin soap at a time, so it's up to you whether you make all eight bars of soap in one day or only as needed in your home.
How to Make "Melt and Pour" Homemade Glycerin Soaps
Yields: Eight 4oz bars of homemade glycerin soap
Materials
2lbs clear glycerin melt and pour soap base
Pack of 3, 4oz soap molds
Spray bottle filled with rubbing alcohol
Directions
With a knife, cut a 4oz piece of soap from the soap base and place it in a glass liquid measuring cup.  Microwave for 40 seconds and then stir every additional 10 seconds until fully melted.  (Mine melted in 60-80 seconds.)
Add dye and stir to combine.  (Add one drop to make primary colored soaps – yellow, red, and blue – and two drops to make soaps with secondary colors – green, orange, and purple.)
Add essential oil and stir. (Optional.  Twenty-five drops or 1/4 teaspoon would be a 1% dilution.  You can also add less to conserve your oils.)
Pour into soap mold and spray once or twice with rubbing alcohol to remove bubbles on top.
Repeat Steps 1-4 to make soaps in your other two soap molds.
Let your soaps harden. (Mine took about an hour.)
Loosen around the edges of the soap molds and remove your bars of soap.
Repeat all of the steps until you're finished making all eight bars of soap.
Lather up!
P.S.  Remember when I gave away all of the materials needed to make my homemade lip balms?  Well, I picked up some extra soap base, soap colors, and soap molds at the craft store. That means a giveaway will be coming soon so someone else can make homemade glycerin soaps too!
*Update*
I designed free printable labels so I can give my soaps as gifts.  Here's the file so you can use them too: Homemade Glycerin Soap Label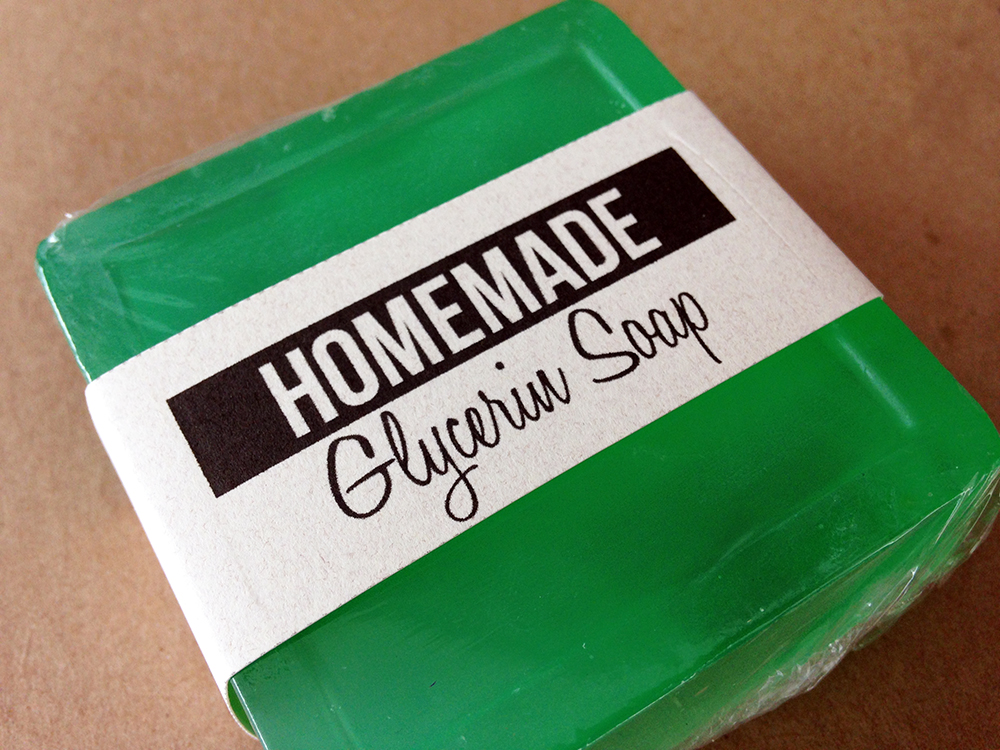 The .pdf contains seven printable labels per page.  If you need eight labels or more, print more pages.
To use: 1) Wrap each bar of glycerin soap with plastic wrap like a present.  2) Make sure the plastic wrap is pulled tightly across the front of the soap and tape the ends together on the back of the soap.   3) Print the file on regular 8.5×11″ computer paper (I used a natural-colored cardstock from Kinkos).  4) Cut along the dotted lines. 5) Wrap around your soap and secure on the back with a piece of tape.