Here are the tried-and-true freezer meals that I like to give as gifts.  I'm including my family's faves as well as options for picky eaters, vegetarians, and people with food allergies.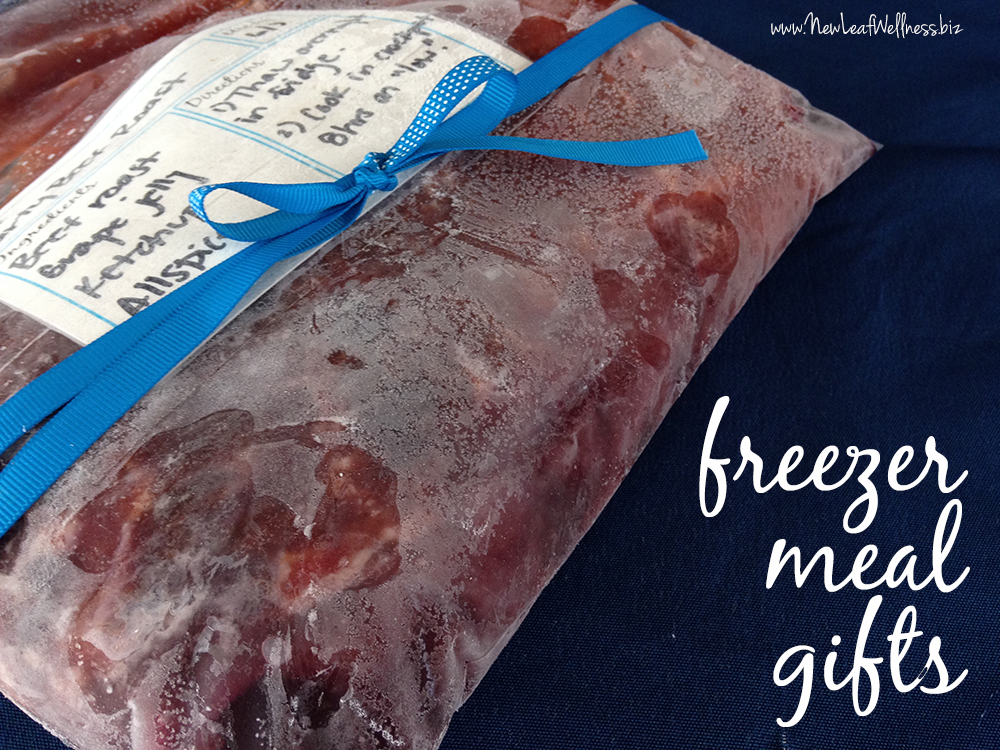 When my friends give birth, I make them a freezer meal or two as part of a new baby gift.  I've also given freezer meals as housewarming gifts and for friends who are sick or recovering from surgery.  Freezer meals make great gifts for elderly parents and grandparents too.
Freezer meals are better than fresh meals because the recipient can eat them whenever they want.  They don't have to wait for someone to deliver a hot meal right at dinner time.  They can also wait to eat them because most freezer meals will last in a standard freezer attached to a refrigerator for at least three months.
Since I have two freezer meal cookbooks (15-Minute Freezer Recipes and No Cook Freezer Meals), I get a lot of questions about which recipes to make for other people.  Here are my top picks.
The Best Freezer Meals to Give as Gifts
My Favorite Freezer Meals (from my No Cook Freezer Meals cookbook)
Spicy Sausage and Veggie Soup
Incredibly Easy Beef Roast and Carrots
Turkey and Black Bean Chili
Traditional Freezer Meals (great for picky eaters)
Vegetarian Freezer Meals
Food Allergy-Friendly Freezer Meals (soy-free/dairy-free/gluten-free/nut-free)
Stuffed Pepper Soup (sometimes I sub ground sausage for the ground beef)
The Shredded Pork Taco recipe from my No Cook Freezer Meals cookbook.  I adapt it by omitting the tortillas and using the lime-honey marinade on pork or beef.  You can also add a pound of peeled and chopped carrots to make a more complete meal.
Note: Anytime you're cooking for someone with a food allergy or food intolerance, please be sure to read the list of ingredients on every single label.  You'd be surprised how many foods have hidden allergens.
Label your freezer meal gifts with the following: the name of the recipe, cooking instructions, and expiration date.  It's also nice to include a list of ingredients or the recipe itself in case the recipient wants to make it again.
Happy Gifting!