Want to learn how to make your own glycerin soaps with toys inside?  They're the perfect gifts for your kids and their friends!  You'll love these homemade soaps because they're super cute and easy to make.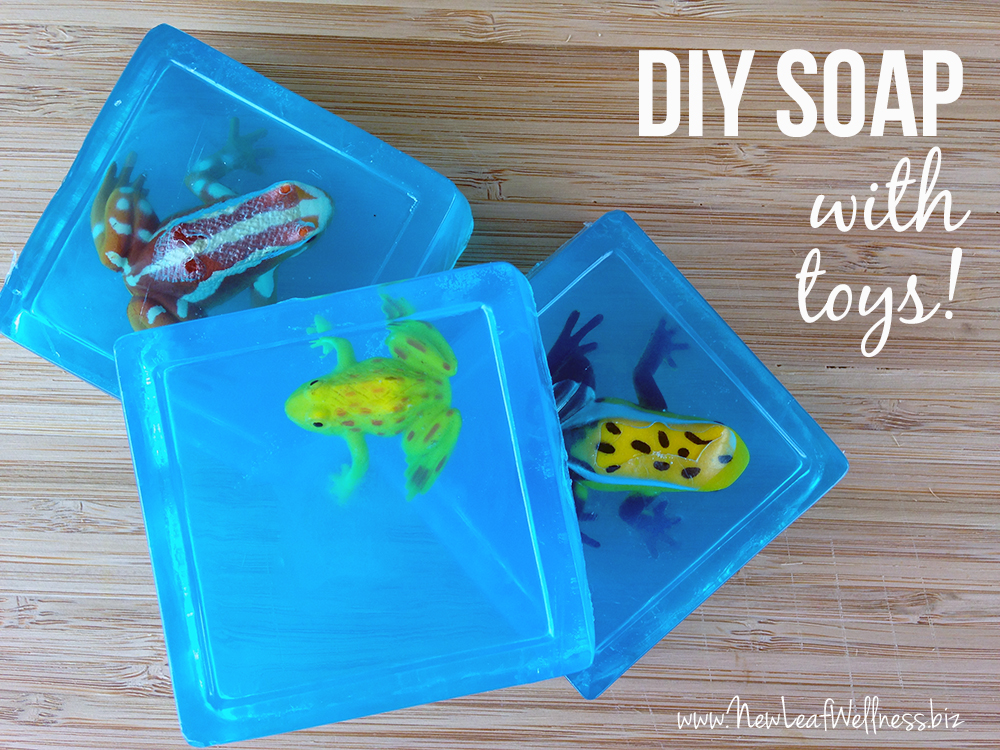 I used to think making soap was complicated and time-consuming. NOT TRUE.  In a previous blog post, I shared how to make easy "melt and pour" glycerin soaps.
Today, I want to take the process one step further and show you how to add toys to your homemade glycerin soaps.  So fun!
All you need to do is buy soap base, melt it in the microwave, and add some kind of small plastic toy.  I've used frogs and dinosaurs, but I think fish, butterflies, and bugs would be fun too.  You can also personalize your soaps with your favorite colors and scents.
You'll love these homemade soaps because glycerin is moisturizing and gentle on the skin (source).  Plus, these soaps are cheap, adorable, and easy to make!
When I make these homemade glycerin soaps, I buy the soap base, coloring, and molds at Michael's craft store and use whatever essential oils and toys I have on-hand.  (Tip: Download the Michael's app on your iPhone for coupons!)
Homemade Glycerin Soaps with Toys
Yields: Eight, 4oz bars of homemade glycerin soap with toys
Materials
Directions
Place one toy in each of your three soap molds.  Remember that the bottom of the mold will end up being the top of the soap, so make sure your toys are upside-down.
With a knife, cut your soap base into eight pieces (4oz each).
Make one soap at a time by placing a 4oz piece of soap base in a glass liquid measuring cup.  Microwave for 40 seconds and then stir every additional 10 seconds until fully melted.  (Mine melt in 60-80 seconds.)
If you want to add color to your soap, add dye and stir to combine.  (Add one drop to make primary colored soaps – yellow, red, and blue – and two drops to make soaps with secondary colors – green, orange, and purple.)
If you want to add scent to your soap, add essential oil and stir. (Twenty-five drops or 1/4 teaspoon is a 1% dilution.  You can add less if you want to conserve your oils.)
Pour liquid into soap mold and spray once or twice with rubbing alcohol to remove bubbles on top.
Repeat Steps 3-6 to make soaps in your other two soap molds.
Let your soaps harden. (Mine take about an hour.)
Loosen around the edges of the soap molds and remove your bars of soap.
Repeat all of the steps until you're finished making all eight bars of soap.
Your kids or grandkids are going to love these soaps!  They also make great party favors, gifts for friends at school, and holiday and birthday gifts for all of the little ones in your life.  Add some nice bubble bath and a wash cloth (I love these and these), and you have a really thoughtful gift.
P.S. If you want to give your soaps as gifts, I shared a free printable label in my first glycerin soap blog post.