Meet my newest slow cooker recipe obsession: Slow cooker taco chili.  This chili recipe is quick and easy to make and oh-so-delicious.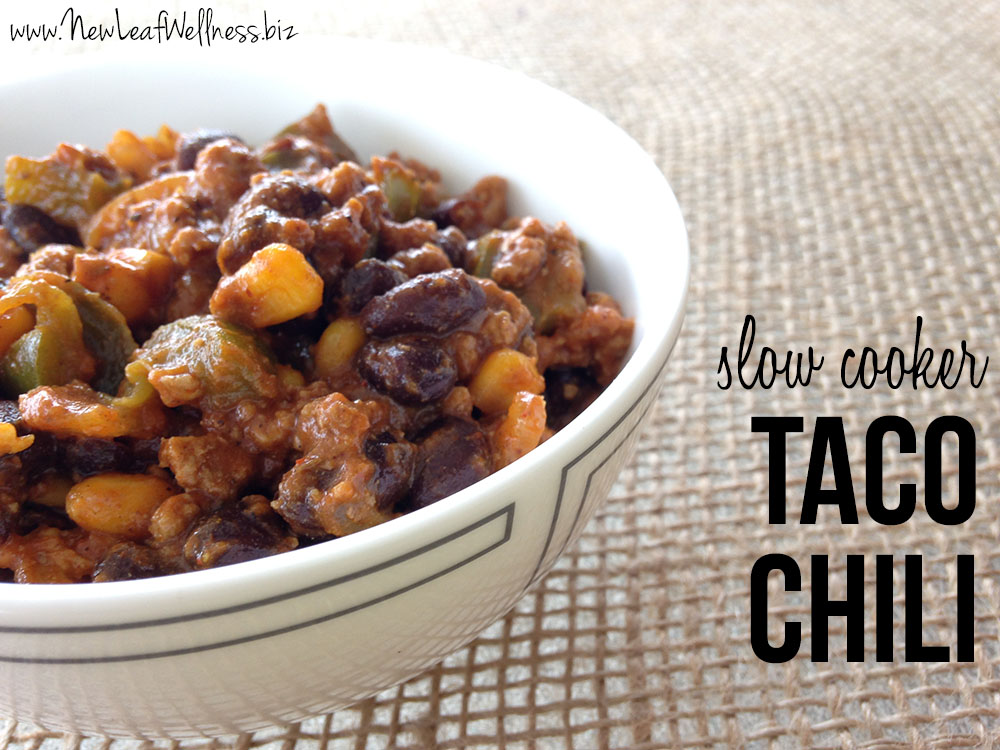 Clearly I have a thing for slow cooker chili recipes.  In the past, I've shared these four favorites:
Let me tell you what sets this slow cooker taco chili apart from the rest: The homemade spice mix.  This ain't no packet of taco seasoning, Ladies!
In fact, I'm calling this recipe "taco" chili because it includes many of the same seasonings that I use to make taco seasoning mix.
I also love the addition of corn and green peppers in this slow cooker taco chili recipe.  In my world, a one-pot-meal with vegetables means no need to cook a separate vegetable on the side.  Yay!
This slow cooker taco chili is thick and hearty.  It tastes great topped with shredded cheese and tortilla chips or with a piece of freshly-baked cornbread on the side.  (I buy the cheap, little boxes of Jiffy cornbread mix.)  The sweet flavor of the cornbread is the perfect balance to the semi-spicy chili. (Kinda like my favorite recipe for Mexican Chili Cornbread Casserole.)
Use the leftovers from dinner to make taco salads for lunch the next day.  If there are any leftovers, that is.
Slow Cooker Taco Chili Recipe
Ingredients
1lb 93% lean ground beef
1 medium yellow onion, peeled and diced
1 medium-sized green pepper, seeded and diced
3 cloves of garlic, peeled and minced
1 cup frozen corn
1, 28oz can of tomato sauce
1, 15oz can of black beans, drained and rinsed
1 tablespoon chili powder
2 teaspoons curry powder
1 teaspoon salt
1 teaspoon black pepper
1/2 teaspoon paprika
1/2 teaspoon dried oregano
1/4-1/2 teaspoon crushed red pepper flakes (I use 1/2 teaspoon because we like spicy chili.)
Directions
Brown ground beef in a pan.
Add ground beef and remaining ingredients to your slow cooker and stir.
Cover, and cook on "low" setting 4-8 hours or until onions and peppers are soft.
Enjoy!