Let me set the record straight: Fat does not make you fat.  And that's a pretty darn good thing because the Ritz cracker topping on this chicken broccoli cheese casserole has a whole stick of butter in it.  I don't know about you, but in my world, butter = delicious.
My first inspiration to make a Chicken Broccoli Cheese Casserole came from this recipe on Pinterest.  After making it many, many times, I figured out exactly how to tweak it to my family's liking.
I love this recipe because it's a one dish meal.  You have a lean meat, vegetable, dairy product, and starch all in one casserole dish. Plus my one year old goes crazy for it.  Bonus!
This Chicken Broccoli Cheese Casserole recipe is easy enough that anyone can make it.  Seriously.  Let me hold your hand and walk you through it…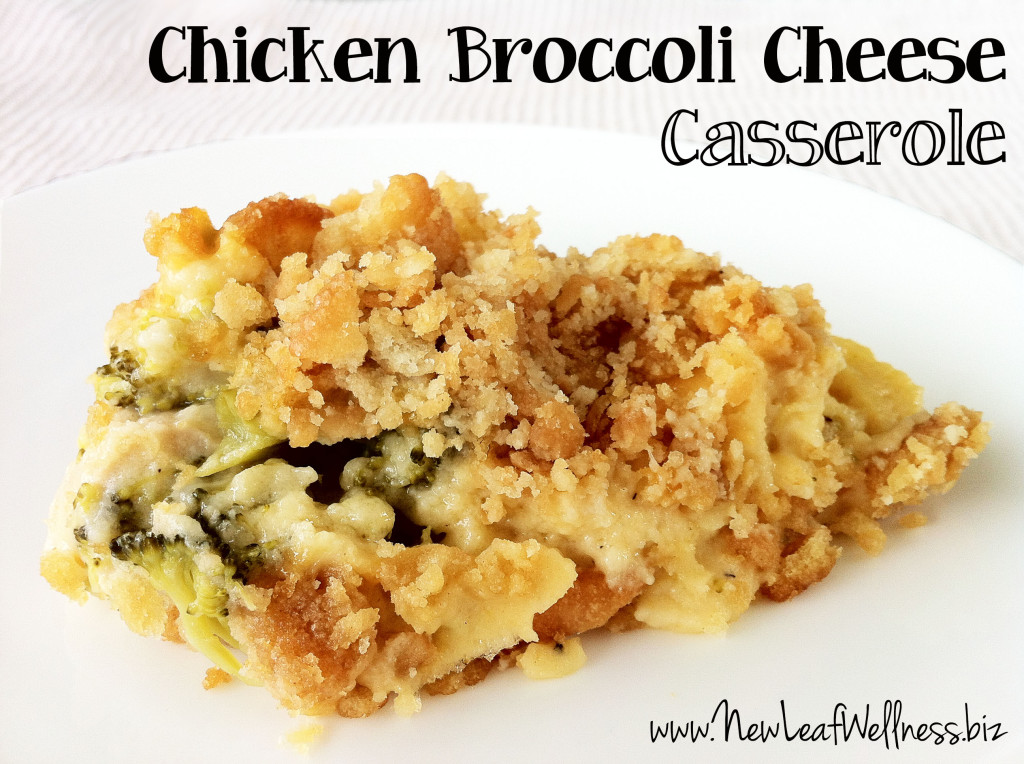 Chicken Broccoli Cheese Casserole
Ingredients
1 pound fresh broccoli
1 pound boneless skinless chicken breasts
3 cups shredded mild cheddar cheese, divided
2 tubes Ritz crackers, crushed
1 stick unsalted butter, melted
cooking spray
Sauce
1/3 cup unsalted butter
1/3 cup all purpose flour
1/4 teaspoon salt
1/4 teaspoon pepper
2 1/2 cups milk (I use 2% or skim)
1/3 cup chicken broth (You can substitute milk if you don't want to open a new can/carton of broth)
1 1/2 cups of above cheddar cheese
Directions
Preheat oven to 350 degrees F.  Spray an 8×8 casserole dish with cooking spray.
Cut chicken into bite size pieces.  Put into a medium-sized pot and cover with water.  Boil 12 minutes or until cooked through.
Steam broccoli for 5 minutes.  (Sometimes I just throw the broccoli in with the chicken for the last 5 minutes.)
Prepare cheese sauce by melting the butter in a sauce pan.  Add flour, salt, and pepper and stir into a paste.  Add milk and chicken broth and bring to a boil.  Boil for one minute, until sauce thickens.  Stir in 1 1/2 cups cheddar cheese until it melts.
Combine chicken, broccoli, and cheese sauce.  Pour into prepared pan.
Sprinkle remaining 1 1/2 cups cheddar cheese on top.
Combine crushed Ritz crackers and melted butter, and spread on top of casserole.
Bake 30 minutes or until top is golden brown and casserole is bubbly.
For more of my awesome oven recipes, check these out:
And be sure to follow me on Pinterest (@kellymcnelis) to stay up to date on what I'm cooking!
—————————-
PS Have you checked out my Easy & Healthy Slow Cooker Recipes Cookbook yet?  It's full quick and delicious Crockpot recipes.  You're gonna love it!