I'm so excited to share this new Instant Pot Cinnamon Applesauce Recipe with you.  It's gluten-free, dairy-free, Whole30-Compliant, and full of magic (kidding).  Oh, and for real, it only requires three ingredients and eight minutes to make!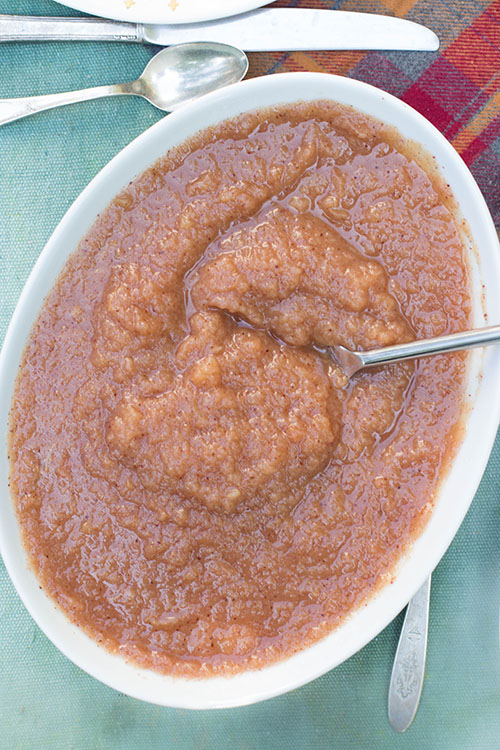 I went to a Pittsburgh Food Blogger Potluck last month and everyone brought an apple-themed dish. (The event was hosted by my friends at My Heart Beets and With the Grains, by the way, and it was so fun.)  I decided to adapt my favorite crockpot applesauce recipe for the Instant Pot.  The results? An absolutely delicious applesauce that only took eight minutes to make.
I'm still getting the hang of my Instant Pot, but geez, this thing is amazing.  I can't wait to adapt more of my crockpot recipes.
What's so great about this Instant Pot Cinnamon Applesauce Recipe?
It only takes eight minutes to make.
It's naturally sweetened with apple juice. No extra sugar required.
It's delicious! It's sweet, but not too sweet.  The cinnamon adds a bunch of flavor, and the texture is perfection.

Instant Pot Cinnamon Applesauce Recipe
Ingredients
3 pounds apples, peeled, cored, and cut into 4's (I used golden delicious)
1 cup 100% apple juice
1 tablespoon cinnamon
Directions
Add all ingredients to Instant Pot and pressure cook on high for 8 minutes.
Quick release (wear an oven mitt!).
If you have a ton of apples, I'm sure you could combine all of the ingredients (raw) in a gallon-sized plastic freezer bag and freeze for up to three months.  Then you can enjoy Instant Pot applesauce all season long.  Yum.
Thoughts or questions?  Leave a comment below and I'll respond as soon as I can.  I'd love to hear from you.  xoxo, Kelly