Do you want to pack your kids healthy school lunches?  Look no further!  Here are 10 combinations that are healthy, delicious, and fun!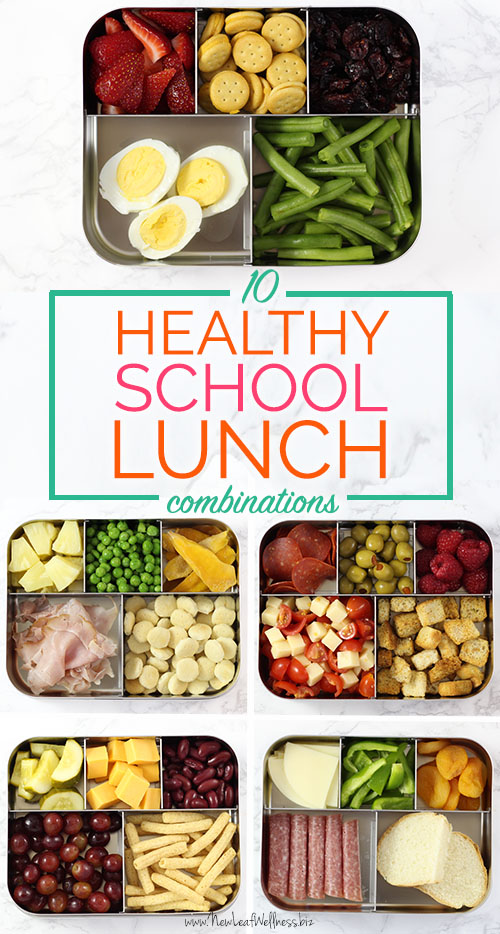 My kids are not picky eaters, but they are definitely pickers!  This summer, I have gotten into the habit of pulling out our muffin tins and filling each spot with something different.  The boys love to take their trays out to the patio and have picnic lunches.
As our oldest prepares for 1st grade, I knew that I wanted to pack his lunches the same way.  After all, variety is the spice of life!
There are several bento-style containers that work well for packing foods to pick from.  However, after researching like crazy, I decided to try out LunchBots Stainless Steel Cinco Bento.

Why do I love the LunchBots Bento Cinco container?
It has five compartments!  LunchBots does make single, double, triple, etc. containers, but, as mentioned we like options!!  When creating this list of options, I tried to include a protein, a vegetable, a fruit, a carbohydrate and a treat in each box.
It's stainless.  Trust me, we own our fair share of plastic, but we are really trying to minimize using it with our food as much as possible.  If you choose a plastic bento, please choose BPA-free.
It fits in most standard sized lunch boxes.  However, the sections are not sealed so the items can leak into each other if/when the container is placed on it's side.  (LunchBots does make an an insulated lunch bag that keeps the container upright.)
CLICK HERE TO BUY NOW ON AMAZON
(We earn a small percentage of the sales price and it doesn't cost you anything extra.  Thank you!)
10 Healthy School Lunch Combinations That Kids Love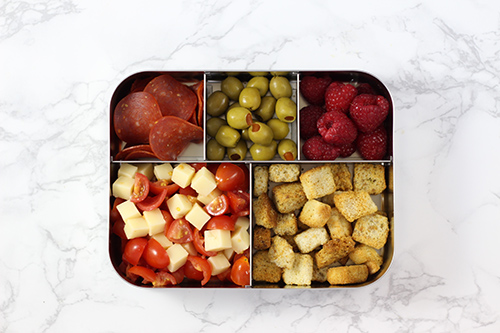 1. Pizza-Inspired Lunch Combo
Who doesn't love pizza?!  This fun bento includes pepperoni, tomatoes & mozzarella, but instead of crust we opted for crunchy croutons!  My five year old LOVES olives, so a big ole pile of them truly is a treat.
Turkey pepperoni
Tomato and mozzarella salad
Raspberries
Croutons
Olives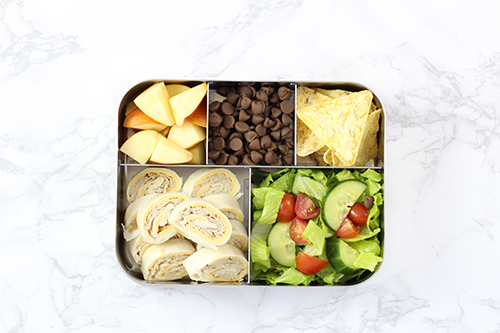 2. All-American Lunch Combo
Turkey, cheese, apples, popcorn, chocolate chips…need I say more?!
Turkey, cheese & mayo wrap
Garden salad
Apples
Popcorn chips
Chocolate chips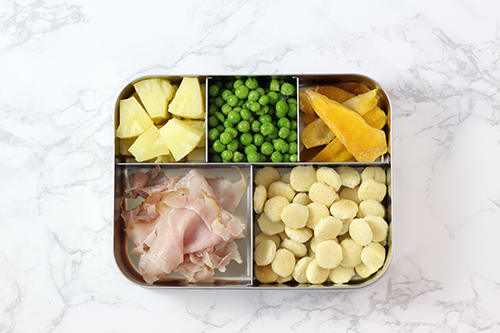 3. Ham and Pineapple Lunch Combo
My husband is a ham and pineapple guy.  What vegetable goes better with ham than peas?!  Oyster crackers and dried mango are two of our favorite things to munch so they round this lunch off perfectly.
Ham
Peas
Pineapple
Oyster crackers
Dried mango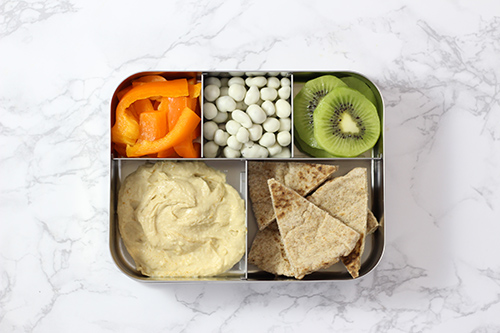 4. Hummus Lunch Combo
My kids LOVE dipping vegetables in hummus (and ranch dressing), so when I make this next time I'm going to use LunchBots three tiny containers for hummus, ranch dressing, and yogurt raisins and then fill the Bento with all kinds of delicious vegetables for dipping…peppers, carrots, cucumbers…yum!
Hummus
Orange rainbow peppers
Kiwi
Pita triangles
Yogurt raisins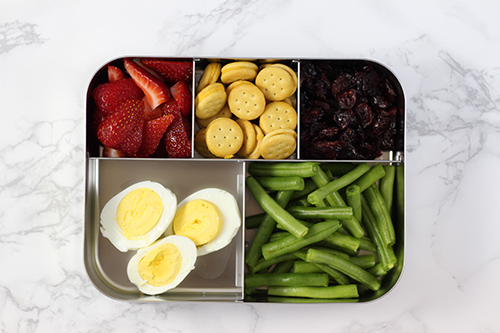 5. Hard-Boiled Egg Lunch Combo
My kids love hard boiled eggs.  They are fun to eat and full of nutrients!  If your child is adventurous you can pack their favorite hot sauce for dipping!
Hard boiled eggs
Green beans
Strawberries
Mini sandwich crackers
Dried cranberries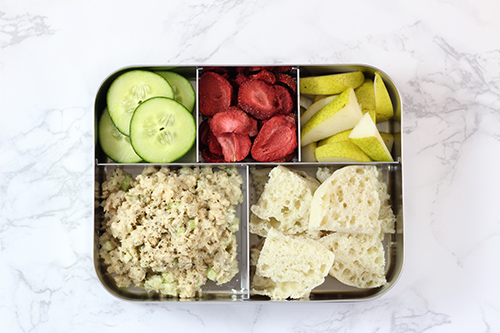 6. Salmon Salad Lunch Combo
My father-in-law lives in Alaska, so the boys are already huge fans of salmon.  When Pop Pop's salmon isn't available, I stock up on these Wild Salmon Pouches.  The boys will eat it right out of the pouch, but it makes good salmon salad too.  Plus it's super fun to stack on top of an english muffin and top it off with a cucumber.
Salmon (or tuna) salad
Cucumber
Pears
English muffin
Dried strawberries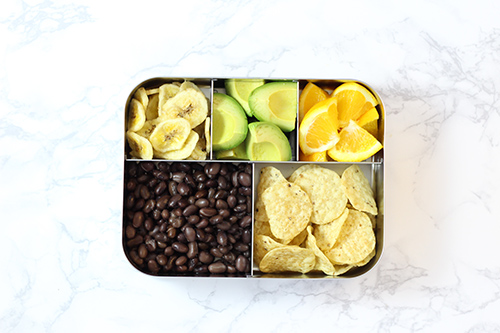 7. Mexican-Inspired Lunch Combo
Ever since my kids were babies they've been polishing off avocados left and right!  So why not throw in some black beans for protein and tortilla chips for dipping action.  You can even pack a side of salsa if you'd like.
Black beans
Avocado
Oranges
Tortilla chips
Banana chips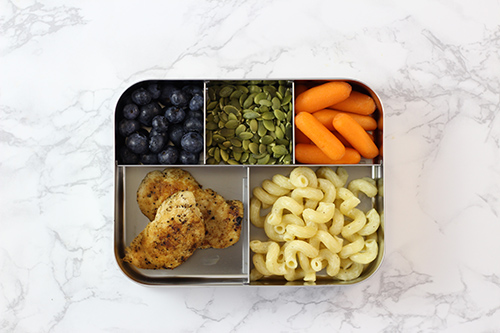 8. Leftovers Lunch Combo
When we're not crock-potting (Gasp!  Yes, we actually eat something else every now and then), my husband likes to grill chicken breasts with a little olive oil and our favorite spice blend.  We usually throw it over a big salad, but the boys like to pick it up and eat it like a chicken tender too.  We're also notorious for making too much pasta salad (coleslaw, potato salad, fill-in-the-blank).  Thankfully, it's a perfect thing to pack for lunch the next day.
Grilled chicken breast
Baby carrots
Blueberries
Pasta salad
Pepitas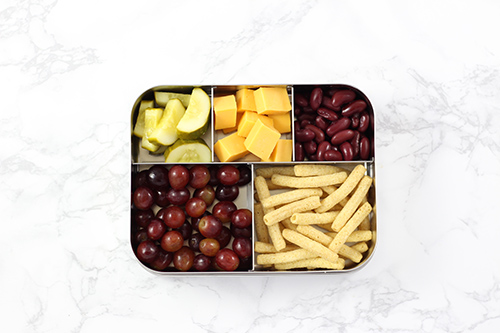 9. The Ultimate Pickers Lunch Combo
Every once in a blue moon I'll skip dinner all together, pour a glass of wine and pick.  These are some of my family's favorite picking foods.  Feel free to pack your kid a (grape) juice box. 😉
Cubed cheese
Dill pickles
Grapes
Kidney beans
Cinnamon apple straws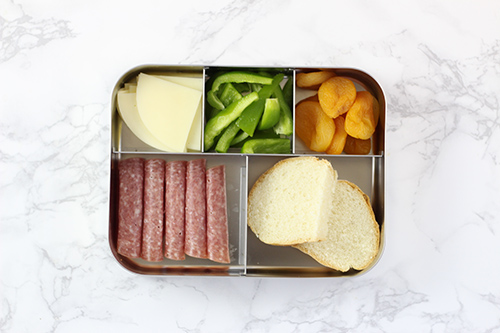 10. Italian-Inspired Lunch Combo
When I was a kid I would sit on my Grandparent's porch and eat salami and provolone sandwiches made on the freshest Italian bread imaginable.  I also used to "steal" dried apricots out of a big glass jar on their counter.  We can leave the part out about the Faygo soda…or Pop as they say here in Pittsburgh!  Yep, making this bento makes me what to run to my Grandma's house and sit on her porch (she'll be 91 this month!).
Salami
Provolone
Green bell peppers
Italian bread
Dried apricots

Bonus! Tiny Container Ideas
Last but not least, here are some fun ideas for LunchBots' adorable leak-proof containers.  One of the things that my kids LOVE to snack on is nuts.  Sadly, many schools do not allow nut products in school lunches due to rising nut allergies, so I left them out of the lunch ideas above.  IF nuts are allowed in your child's school, these sweet little containers are the perfect carrier.  If not, no worries…there are a ton of other fun ways to use them.
Sweet Treats
Chocolate chips
Granola
Fruit snacks
Protein-Packed Snacks
Cashews
Peanuts
Sunflower seeds
Sauces & Dips 
BBQ sauce
Dijon mustard
Ranch dressing
I hope you have as much fun making bentos as I do!  The possibilities are truly endless, so please share your ideas with me in a comment below!
---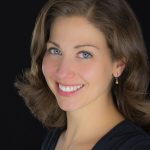 Jill Petrush Rogers is an artist and former bookbuyer/seller. Jill recently moved back to her hometown of Pittsburgh, PA with her husband, Tom, and their two energy-filled boys. Jill loves to channel her creativity by coming up with recipes as a contributing writer for New Leaf Wellness.