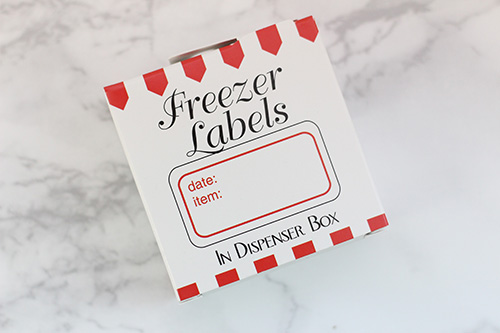 Most of our ebook labels are formatted to print on Avery Rectangular Labels, but so many of our readers were interested in these little freezer labels that I decided to buy them myself and give them a try.
Q1: Why use freezer labels in the first place?
They're an easy way to add the name of the food item and expiration date (if you prefer, you can add the date that you froze the food instead of when it expires).
You can fill them out a day or two ahead of time to save time on your freezer prep day.
If you use larger labels, you can add the ingredient list, cooking instructions, and/or full recipe.
It's nice to label food that you plan to give to someone else as a gift.
These particular labels are so, so sweet (think 1950's retro kitchen).  They will make you smile and that, in my book, is worth the money!
If you decide to purchase these labels, please use our Amazon links so we receive a small commission without any extra cost to you.  Thanks!!
CLICK HERE TO BUY NOW ON AMAZON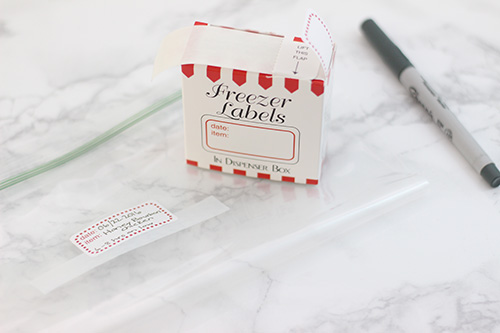 Q2: What is the quantity and dimensions of these labels in particular?
There are 100, 2″x 1″ labels per box.
Q3: How much do they cost?
As of June 2016, they were $6.39/box on Amazon.com (that works out to about 6¢ per label).  If you love them as much as I do, you can save even more money by ordering a 2-pack.
Q4: What details are on the labels?
The labels are preprinted with "date" & "item".  If you can write small enough I highly recommend also including temperature and cook time.  I suggest using Sharpie Ultra Fine Point Markers (black will due, but who wouldn't want all of these amazing colors!).
Q5: What materials can you use them on?  Is there anything they DON'T stick to? 
These labels are incredible for glass, plastic (including freezer bags), and freezer paper.  They are even the perfect size for the top of canning jars, which makes me want to start canning tomorrow!  Unfortunately, they do not stick on parchment paper or foil.
Q6: Will the labels stick on previously frozen containers, prepackaged store-bought items, or vacuum-sealed plastic?
Yes, yes, and yes.  As long as it is completely dry before adhering.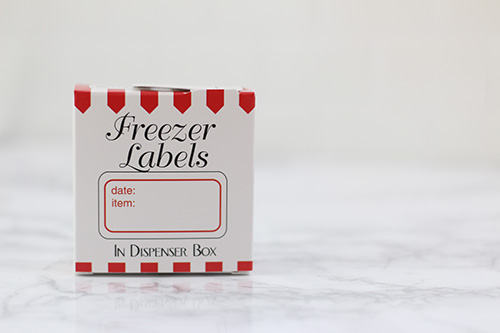 Q7: Do the labels peel off easily?
The labels are not meant to be reusable.  However, they do peel off easily UNLESS they get wet!
Q8: What do you do if they get wet and stick to a container that you want to reuse?
If a label gets wet, peel off as much as you can.  Then, soak a cotton ball with either your favorite citrus-based essential oil or Goo Gone and place on label.  Let sit.  The remaining glue should scrape off rather easily.  Wash appropriately before using the container again.
Q9: Do they dissolve in the dishwasher? 
Miraculously, the label DID completely come off of a glass jar when I put it in the dishwasher.  However, my husband was skeptical and asked if it was now clogging the filter.  After a brief inspection, I found what was left of the label stuck on another item on the lower rack.  So, I'm going to recommend peeling any labels off of containers before placing them in the dishwasher.
Q10: What is my overall impression after testing these labels myself? 
I definitely think these adorable little labels are a great investment.  They work well, remove easily, and are budget-friendly.  The Avery stickers are better for the detailed labels in our eCookbooks, but these simple labels are perfect for adding basic information to your freezer meals.  You can fill them out ahead of time and they won't smear like markers on a freezer bag or lid.  Plus, they'll bring you joy while preparing your freezer meals AND when you take the meals out of the freezer to cook them.  If you plan on making freezer meals for friends they add the perfect amount of flare too!
CLICK HERE TO BUY NOW ON AMAZON
Thought or questions? Please leave a comment below and I'll respond as soon as I can.
---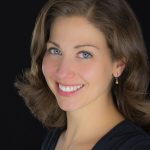 Jill Petrush Rogers is an artist and former bookbuyer/seller. Jill recently moved back to her hometown of Pittsburgh, PA with her husband, Tom, and their two energy-filled boys. Jill loves to channel her creativity by coming up with recipes as a contributing writer for New Leaf Wellness.