Are you looking for a reusable option for storing freezer meals? I decided to test reusable silicone bags against plastic freezer bags and write up a full review. Here are my thoughts…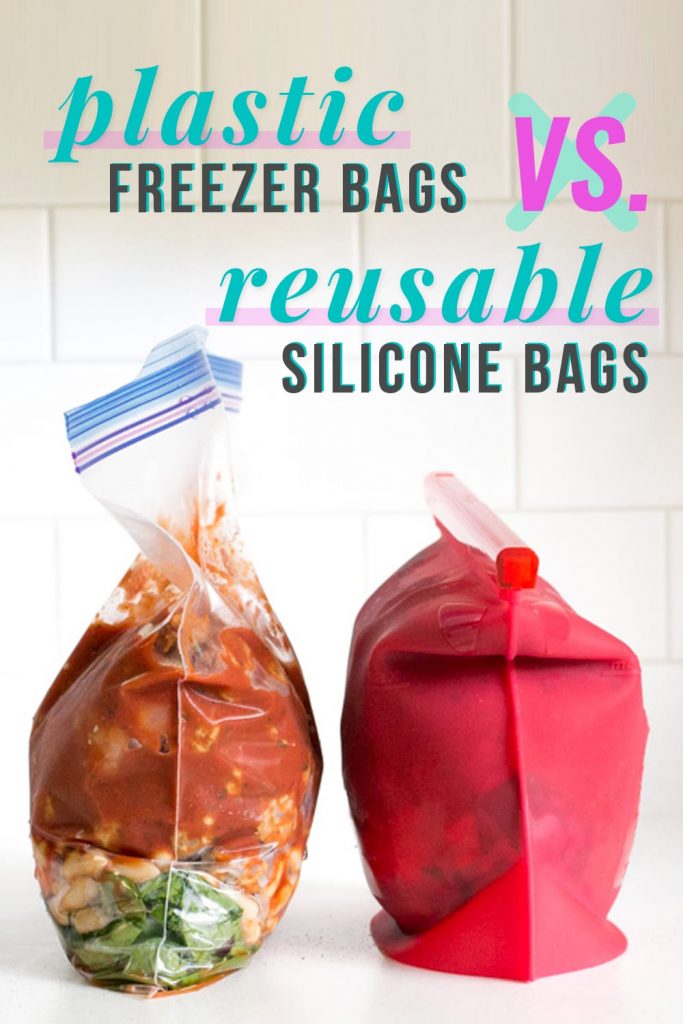 Now that some of my kids are in school, I finally had a chance to do something that I've been wanting to do for months…thoroughly test reusable silicone bags vs regular plastic freezer bags!
I typically use plastic freezer bags to store all of my freezer meals, but I realize that can be wasteful, since the bags are usually thrown away after one use.
A lot of people on Instagram have been asking me about reusable options and I like the idea of reusable silicone bags over Tupperware containers because bags take up less space in the freezer. (Although, I still use circle containers to store my Instant Pot freezer meals because I prefer the circle shape.)
Here's what I put to the test:
Saffron Goods reusable silicone bags (1500ml/6cups) vs. Ziploc freezer bags (gallon-sized).
I tested these crockpot freezer recipes in both types of bag:
Pot roast with carrots (typical crockpot recipe)
Chicken fajitas (lots of veggies)
Meatball veggie soup (lots of everything!)
I figured these recipes would give me a well-rounded view of how reusable silicone bags compare to plastic freezer bags.
I doubled each recipe so I could put one batch in a reusable silicone bag and one in a plastic freezer bag.
Pros and Cons of Reusable Silicone Bags
Pros
Eco-friendly. Probably the biggest benefit of reusable silicone bags is that they're good for the environment.
Less likely to leak! This was a surprise benefit that I loved!  For some reason, my plastic freezer bags have been leaking A LOT lately while thawing, so relieved that I didn't have to worry about that while thawing the reusable silicone bags.
Cons
Expensive. The reusable silicone bags require an upfront investment that may or may not save money over time. At the time of writing this, Saffron Goods reusable bags cost $27.99 for a 4-pack, which works out to $6.99/bag.  Ziplock gallon-sized plastic freezer bags cost .22 cents/bag at my local grocery store (Giant Eagle) and 10 cents/bag at Sam's Club. That means I would have to use each reusable silicone bag 32-70 times before it cost the same as plastic freezer bags.
Take up more space in the freezer.   The reusable silicone bags don't flatten the way plastic freezer bags do.
Take time to wash. Reusable silicone bags are dishwasher-safe, but there are days when tossing a bag in the trash seems a lot easier to me.
Less attractive. I hate to even mention this, but I don't like the appearance of the reusable silicone bags. I think this is because I have to take photos for this blog and the multi-color reusable bags aren't as attractive as the clear plastic freezer bags. I like how the plastic freezer bags showcase the food inside and would prefer clear reusable silicone bags.  The reusable silicone bags also have to be clearly labeled because it's harder to see what's inside.
Q&A
Which reusable silicone bags did you use and why?
Great question, because there are a lot of different brands of reusable silicone bags.  I used Saffron Goods silicone bags for this test because they are the biggest ones that I've found (They hold 1500ml/6 cups). I bought silicone bags from Stasher and Always Fresh last year, but to be honest, I haven't used them because they are smaller (1/2 gallon and 1000ml, respectively).  Saffron Goods sent me their bags for free a few months ago (with no strings attached), and when I saw how big they were I knew my readers would be interested in hearing how they compared to plastic freezer bags.
Did you have to modify the recipes at all for the reusable silicone bags?
I totally thought the ingredients would overflow the reusable silicone bags, but that didn't happen in my test. The silicone bags are smaller, but I was able to fit all of the ingredients without making any changes.
Do they thaw differently?
I thawed the two pot roast freezer meals head-to-head to see there was a difference in how the type of bag impacted this step.  To thaw them, I placed both bags in water for three minutes. At the end of the three minutes, both bags were thawed enough to remove the meal and place it in the crockpot to cook.  The meal in the plastic freezer bag was slightly more thawed.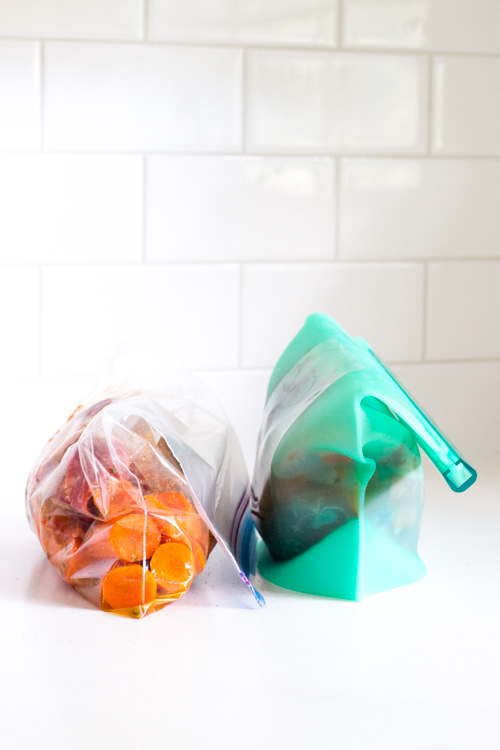 What about freezer burn?
I did not notice a difference. If anything, the plastic freezer bags seemed to have a little bit more ice inside than the reusable silicone bags.
Are the reusable silicone bags easy to wash?
I hand washed one of the reusable silicone bags by turning it inside out and letting it dry that way.  It was a very quick and easy way to wash the bag.  I also tested washing a reusable silicone bag inside out in the dishwasher and it came out clean.
Do the reusable silicone bags smell after use?
I noticed a slight smell in the reusable silicone bag that previously held the meatball soup. (It smelled a little big like garlic.)  I'm hoping it will fade over time. Regardless, I know it's clean and I don't think the faint scent will impact the taste of future freezer meals.
Results
Overall, the reusable silicone bags worked just as well as, if not better than, plastic freezer bags.  I plan to continue to use the reusable silicone bags when I'm making 1-4 freezer meals at a time (because I only have four bags). For large groups of meals, and meals that I have to photograph for my blog, I will probably use plastic freezer bags.
If you're interested in buying Saffron Good's reusable silicone bags, I'd love for you to use my link so I receive a small commission. Thanks!
CLICK HERE to purchase reusable silicone bags on Amazon.
Thoughts or questions? Leave a comment below and I'll respond asap! -Kelly